🚀 Innovation Heroes launches its highly-anticipated Season 4 with an inspiring episode featuring Kal K. Sahota, the CEO of HeroX, and Steve Rader, Program Manager, NASA Tournament Lab and the CoECI (Center for Excellence and Collaborative Innovation).
NASA and HeroX have been working in crowdsourcing-based innovation together for years now. In this episode of Innovation Heroes Adam, Steve & Kal explore the role of open innovation and crowdsourcing in the world of federal organizations, punctuating the importance of adopting this highly adaptive tool to ideate rapidly, fail fast, and keep ahead of the tech curve.
Get a direct view into the world of open innovation and crowdsourcing, and how it is driving innovation and solving complex challenges at large federal organizations, such as NASA.
Understand the future of innovation strategy for organizations in the ever-evolving technological landscape and how crowdsourcing offers a gift of "massive failure" to meet the concept of failing fast to prove product relevance, affirmed by the best minds in any industry.
Discover how Steve tackled resistance to crowdsourcing at NASA by demonstrating its value as an innovation starting point and showing repeated success through case studies.
Host: Adam Olsen, Podcast Host - HeroX
Guests: Steve Rader, Program Manager - NASA Tournament Lab and CoECI and Kal K. Sahota, President & CEO - HeroX
🔉 Click to listen 👇
Highlights from Season 4: Episode 1
This is an episode in the Innovation Heroes Podcast - tune in to the full episode above or watch it on YouTube.
Below, we've pulled some highlight excerpts from our interview with Kal K. Sahota from HeroX and Steve Rader from NASA as they explore the power of crowdsourcing and open innovation. Their firsthand experiences and shared examples reveal the transformative impact this approach has had on driving innovation and solving complex challenges. Let's delve into the highlights of this engaging conversation and hear directly from the experts themselves.
The Power of Crowdsourcing
Kal K. Sahota emphasizes that crowdsourcing is about "harnessing the collective intelligence of diverse people." Steve Rader agrees, stating that it enables NASA to tap into external perspectives, accelerating problem-solving in ways that wouldn't be possible internally. As Steve puts it, "It's really hard to predict [the future], but I think people will be doing bigger and bigger challenges... I think the platforms will start to actually become an innovation machine in the way they tap into that human cognition."
The future of problem-solving is here! Tapping into global brainpower through crowdsourcing is a key enabler for finding innovative solutions.
NASA's Experience with Crowdsourcing
Steve Rader passionately shares NASA's success with crowdsourcing, boasting a remarkable 95% success rate in delivering value-added results. He highlights the various challenges crowdsourced by NASA, ranging from technical problems to innovative solutions for space exploration. He emphasizes that tapping into global brainpower through crowdsourcing is a key enabler for finding innovative solutions, having revolutionized problem-solving for NASA and the Federal government.
Introducing crowdsourcing at NASA... initially, engineers at NASA were resistant to the idea of outsourcing their favorite part of projects to external contributors. However, they changed their messaging to highlight that crowdsourcing is a tool to find the best starting points for innovation. Ultimately, they overcame resistance by building a portfolio of successful cases, demonstrating the effectiveness of crowdsourcing in solving complex problems at a lower cost and with better results.
Accelerating Failure to Attain (or Affirm) Success
Steve emphasized that failure is an essential aspect of innovation and is often overlooked. Crowdsourcing offers a gift of "massive failure" and numerous attempts to address challenges quickly, providing valuable insights and shots on goal. The case study of Roche Diagnostics exemplified this point where, after struggling for 15 years to develop a precise measurement method, they turned to crowdsourcing. Within just 60 days, two individuals found an existing technology that solved the problem. While some submissions replicated previous research, the process allowed Roche to understand what didn't work and validate their own efforts.
Steve goes on to share more examples of how crowdsourcing has solved complex problems and driven innovation at NASA. Here are two compelling stories on how crowdsourcing brought forth unique perspectives and solutions:
The first example was related to time delay communications, a critical concern for space missions to places like Mars, where communication delays can range from 15 to 50 minutes. NASA faced a challenge in implementing secure network protocols for time-delayed communications. Despite extensive internal efforts, they couldn't find a solution. However, through crowdsourcing, they received an innovative suggestion inspired by the "Byzantine generals problem," a theoretical problem in computer science. An external contributor proposed this approach, and it turned out to be the key to successfully addressing the security issue.
The second example involved galactic cosmic ray radiation, a significant problem beyond Earth's magnetosphere. NASA aimed to find better magnetic field definitions and materials layup for astronaut protection during long space missions. While their own scientists had made progress in this area, crowdsourced submissions surprised them. The top seven submissions were from nuclear physicists worldwide who had invested substantial time and effort in their research. Although none surpassed NASA's scientists, the experience validated the organization's work and reinforced the importance of embracing failure in the innovation process.
Lastly, NASA has collaborated with various government agencies, including the National Institutes of Health, CDC, and Department of Homeland Security. Crowdsourcing has driven significant advancements in differential privacy, a crucial aspect of data protection in the modern era.
Crowdsourcing can tap into diverse expertise and perspectives, leading to breakthrough solutions that might have otherwise remained elusive. Embracing crowdsourcing and learning from failure are essential elements in driving successful innovation.
The Future of Crowdsourcing
Kal and Steve shared their visions for the future of crowdsourcing. Steve hopes to see more federal agencies embrace this approach, making crowdsourcing a norm in NASA's workforce. He predicts a significant shift in submissions with the rise of generative AI, leading to revolutionary innovations. Kal envisions a future where organizations have in-house challenge designers and crowd-build experts, integrating crowdsourcing as an integral part of their innovation strategy. As Kal says, "This is the future. It's at the intersection of the future of work and technology."
Advice for Innovators and Sponsors
For innovators, Kal advises exploring HeroX's live challenges to witness real-life applications. She emphasizes that crowdsourcing is un-credentialed, allowing anyone with a groundbreaking idea to participate. For sponsors, Steve suggests reviewing current challenges and success stories to understand the potential of crowdsourcing. He envisions a future where organizations will have in-house experts dedicated to crowdsourcing, paralleling the evolution of digital marketing strategies.
The Potential for Crowdsourcing is Endless
The dynamic conversation between Kal K. Sahota and Steve Rader highlights the transformative impact of crowdsourcing and open innovation at NASA. Their shared examples reveal how external perspectives and diverse expertise have led to groundbreaking solutions. As we look to the future, the potential for crowdsourcing to revolutionize industries and democratize innovation is immense. With passionate leaders like Kal and Steve, the journey towards a more innovative world is well underway.
~
Ready to get started? Find more inspiration at the Results Page on HeroX.com or explore The Power of Crowd Based Challenges, published by CoECI.
~
Thank you for checking out Season 4: Episode 1 of the Innovation Heroes series!
Let's keep the conversation going! Interested in chatting with Adam on an Innovation Heroes segment or recommending a guest? To join the queue, send an email to possibilities@herox.com Attn: Adam. Include your name, email, and topic of interest (you can also use the HeroX contact form).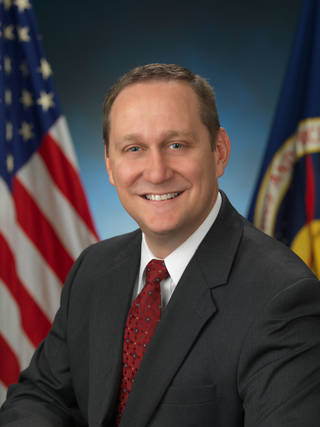 About Steve Rader | Connect
Steve is the Program Manager of NASA's Center of Excellence for Collaborative Innovation (CoECI) and NASA Tournament Lab (NTL), leading innovative challenges and crowdsourcing projects for NASA and the US government.
Connect with Steve: LinkedIn, Website
About CoECI | Connect
The Center for Excellence and Collaborative Innovation (CoECI) collaborates with innovators across NASA and the Federal Government to generate ideas and solve important problems by working with global communities via the NASA Tournament Lab. This challenge-based approach readily increases NASA's creative capacity and has proven to be an effective method to find truly innovative solutions.
Connect with NASA: LinkedIn, Website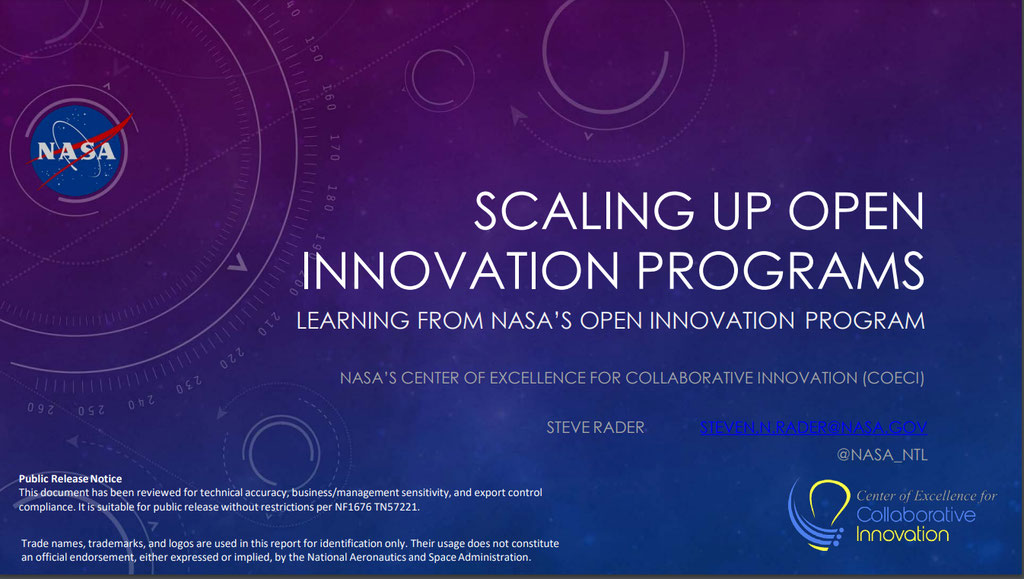 ---
🔉 About the Innovation Heroes podcast
The Innovation Heroes series covers all things open innovation, crowdsourcing, and remote work. It's time to open up the airways, share strategies, engage partners, and leverage the power of crowd intelligence to expedite solutions to the pressing problems facing every level of organization, individuals, and the world. The key word here is OPEN.
We're bringing our partners in innovation, organizations who have run their own crowdsourcing projects, innovator powerhouses, and remote work legends into the spotlight. There is a global network ready to contribute time, energy and intelligence to just about any challenge that comes their way. All we need to do is provide the opportunity. Thank you for being a part of the solution. Discover the Power of the Crowd.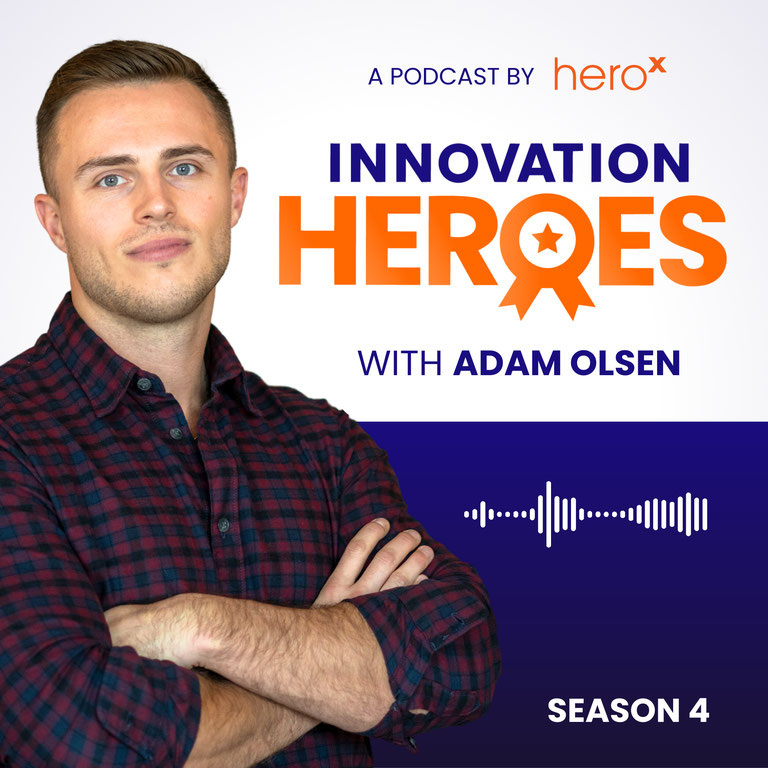 About Adam Olsen | Connect
Adam is your Podcast Host and Possibilities Manager at HeroX, connecting with innovation leaders from around
the world to gain insights on how they approach innovation, the technologies they're most excited about, and how these innovations impact their industries.
HeroX is a platform and open marketplace for crowdsourcing innovation that allows anyone, anywhere, to solve everyday business and world challenges using the power of the crowd.
Connect with Adam: LinkedIn,
#InnovationHeroes #Season4 #Crowdsourcing #OpenInnovation #Collaboration #FutureOfWork #SpaceExploration #PodcastHighlights #NASA #HeroX #CollectiveIntelligence #Leadership #TechInnovation
www.HeroX.com Innovation Heroes © 2021 - Your Crowd. Your Solution.