🔊 Fred Briggs is compelled by big challenges and the stories behind them. From developing drone technology for combating rhino poaching in South Africa to creating a revolutionary robotic solution for inspecting crude oil tank floors, Fred Briggs and his team have harnessed a crucial strategy for bringing their innovative ideas to the market.
Enter: Crowdsourced Prize Challenges
The role prize challenges are playing in the world of strategic business and industrial development is on the rise. Especially with the significant decreases in VC capital funding. Fred Briggs and his team have won several prize challenges that led to crucial funding and industry relationships, propelling his company's growth. Applied Impact Robotics was formed after winning the Chrysalix Petronas incentive challenge hosted on HeroX. This competition brought together Fred's team of innovators to create a groundbreaking solution in the oil & gas industry. Their success story serves as an inspiration for other innovators to embrace crowdsourcing and its potential to drive positive change.
"If you've got an idea, all of the questions in basically all of these innovation challenges are exactly the questions you need to do in order to build a company, in order to raise money, in order to attract customers and do all of the things you have to do in order to actually turn an idea into a product and commercialize it." - Fred Briggs on the value of participating in innovation challenges.
Join Adam Olsen and Fred Briggs as they explore his strategic approach to leveraging prize challenges & equity crowdsourcing to drive innovation and growth in the industrial robotics industry. Ultimately, his solutions will significantly reduce environmental impact, costs, and safety risks.
🔉 Click to listen 👇
Highlights from Season 3: Episode 6
This is an episode in the Innovation Heroes Podcast. Below, we've pulled some highlight excerpts from our interview with Fred--tune in to the full episode.
The Birth of Applied Impact Robotics
Fred, whose background includes working with drones, robotics, and IoT devices, first became interested in innovation challenges while working on a project to stop rhino poaching in South Africa. He then co-founded a non-profit called Empower 2 Make, which focused on running 72-hour make-a-thons to help people with physical disabilities.
He eventually came across HeroX, where his team won the Chrysalix PETRONAS Incentive Challenge for developing a robotic solution to inspect crude oil holding tanks. These tanks need to be inspected every 10 years, but the traditional method of inspection involves emptying the tanks, dealing with toxic sludge, and exposing workers to dangerous conditions.
Applied Impact Robotics' solution allows a robot to perform the integrity readings while the tank is still in service, improving safety and reducing environmental impact. Applied Impact Robotics, was formed soon after. Fred shared his experience, saying, "It was a fantastic way to build a company, build a team, build an idea, build a product, and sort of go through that whole process very quickly and very efficiently."
From Prize Challenge to Funded
Since winning the Chrysalix challenge in 2019, Applied Impact Robotics has gained significant traction. They leveraged the technology from the Chrysalix Petronas challenge to win the Bureau of Reclamation's Imperfection Detection challenge. This involved adapting their sensor technology, which was originally designed for inspecting crude oil tanks, to inspect fiberglass-reinforced pipes.
They received a $1.25 million seed round of funding from Crystalix venture capital in February 2021, which allowed them to open an R&D office in Sterling, Virginia, and hire more staff. The company has since raised around $2.5 million in total, including additional prize winnings and grants. They have also formed public partnerships with BP and Chevron, with pilot programs planned for later in the year.
Overcoming Industry Challenges
Fred explained how the oil and gas industry has historically struggled to develop a solution to address inspection issues, with many major companies failing in their attempts. Traditional methods, such as tank tread robots or wheels with magnets, were ineffective in these environments. Instead, their robot reduces the viscosity of the sludge by pulling oil from higher in the tank, flooding it around the robot, and vibrating the shell.
Applied Impact Robotics developed a unique solution to navigate through the sludge and sediment in crude oil tanks. This process, called liquefaction, reduces viscosity by up to 80% and allows the robot to move through the material like a submarine.
"They all tried to develop a robotic solution for this and they all failed spectacularly. And so that was why all of the traditional ways of developing internally didn't work. And that was sort of how it ended up on HeroX." - Fred Briggs on the oil and gas industry's attempts to develop a solution
Briggs credits HeroX for giving them the opportunity to develop this innovative solution despite being based in Virginia, which is not known for its oil and gas industry. He believes that HeroX's challenges help discover solutions from unexpected places, proving that the best ideas can come from anywhere.
"I think that was sort of a unique part of HeroX and its ability to bring these challenges to groups you might not traditionally expect and then solutions can come from these unexpected places. And certainly a solution from a group in Virginia would qualify as unexpected." - Fred Briggs
(ps. This is a great segway back to Episode 5 "Discovering Innovation Where You Least Expect It")
The Power of Collaboration
Adam and Fred discussed the importance of collaboration in the innovation process, particularly in the context of crowdsourcing, or crowdsolving in this case. They highlighted how major oil and gas companies were willing to share information and work together to address common industry problems.
"We've had a lot of success in these oil and gas majors willing to share information and work together because it is a shared problem and none of them really view it as, 'hey, we're going to develop this internally and sort of silo it and try and use this is a competitive advantage'. They moreso recognized, 'Hey, this is just a universal problem in the industry and we'd love to see it fixed.' We're really the first who's been able to actually have a robot propel and maneuver in the sludge and sediment. So this is sort of a unique thing. So, there's no one else really competing with us on the robotics side of this." - Fred Briggs on the collaborative nature of solving industry-wide universal problems
The Importance of Storytelling in Crowdsourcing
Fred explains that the impactful story behind the HeroX challenge was the catalyst for forming their team. Initially, it was just him and a co-founder working on the project during weekends. Since then, the company has grown significantly with a 4,000-square-foot R&D office, five employees, and partnerships with major oil and gas companies.
Prior to this project, Briggs was doing engineering consulting work for early-stage, high-risk robotics and drone solutions. However, the Applied Impact Robotics project presented an opportunity to fundamentally change an industry's safety and environmental impact, which added a sense of purpose and motivation to their work. It's about being part of something bigger and making an impact in the world.
"We spent a lot of time working with our sponsors to design the challenges in that way to make sure we're asking all the right questions that are thought-provoking, making sure that they're leading our innovators in the direction of success for themselves, but ultimately our sponsors as well." - Adam Olsen
Fred emphasized the significance of creating a compelling story for crowdsourcing challenges, as it helps attract a diverse group of innovators and solutions from unexpected sources.
"I think that having that powerful story along with HeroX's reach, I really think it's a pretty powerful thing and you'd be amazed at what can come of it." - Fred Briggs on the importance of a compelling story in attracting innovators to a challenge
Advice for New Innovators
Fred offered valuable advice for new innovators who might be hesitant about competing in prize challenges. He encouraged them to participate, stating, "Your odds of winning these things are probably better than you think." He highlighted the benefits of going through the process, saying, "If you've got an idea, all of the questions in basically all of these innovation challenges are exactly the questions you need to do in order to build a company, in order to raise money, in order to attract customers and do all of the things you have to do in order to actually turn an idea into a product and commercialize it."
Building Diverse Teams for Crowdsourcing Challenges
The innovation process at Applied Impact Robotics begins with creating a diverse team and understanding the storyline to engage with customers. The company's philosophy emphasizes creating a safe space to fail and learning from those failures. They focus on failing fast, trying bold ideas, and quickly iterating through various concepts.
This approach has led to the success of the company and its alignment with HeroX's values, which also promote a culture of innovation and rapid experimentation. Fred suggested that forming a team for participating in crowdsourcing challenges can be beneficial, as it not only increases the chances of success but also fosters accountability and collaboration.
"I would strongly encourage people to use the storyline in the challenge which is often quite powerful, and if you don't already have a team, use that as a foundation to put together a team." - Fred Briggs on the benefits of forming a team to participate in innovation challenges
He said, "I think, in my experience, the judges are going to view teams more favorably than individuals and I think having more perspectives on this as we were talking earlier, is valuable and I think it also creates some accountability if you say, 'hey, I'm gonna do this thing' and the other person is counting on you to do your part, and vice versa, it creates a sense of accountability that I think helps push people through the process."
"There are forums on every challenge where you can chat and meet people. So you never know, you could meet your fellow co-founder right there on the platform." - Adam Olsen on the opportunities for collaboration and networking through innovation challenges
The Impact of Equity Crowdsourcing
Adam and Fred also explored the concept of equity crowdsourcing and how it can help level the playing field for businesses, startups and innovators by providing access to resources and funding that might not be available through traditional means.
"Generally, when you go out and try and raise, angel investment money or venture capital money or whatever it is, bootstrap, whatever you're trying to do, they're always looking for that customer engagement, that's the key metric to raising money and you already have it baked in from day one, and that's just that doesn't normally happen. So, that's a really fundamental difference here, for sure." - Fred
With the challenge, the "customer" is integrated from the start, helping to avoid unproductive paths and align with industry needs. This approach flips the script on the traditional business model, saving time and money for both startups and organizations, and helping innovators work on problems that are both valuable and impactful.
"It's a massive difference. The traditional way of kind of doing this is you have an idea, you form a team, you work towards an MVP, and then once you have that MVP you try and engage industry and start some pilot programs or some early sales and see how it goes. And that's sort of your first introduction to the customer and their feedback. So this really flips the script on this and you start off with a customer baked into your process, you have money baked into your process. - Fred
The challenge brings in diverse input from around the world and provides valuable customer feedback early in the process.
The Future is Collaborative
The conversation between Adam and Fred demonstrates the potential of crowdsourcing to transform industries by unlocking innovation and fostering collaboration. Applied Impact Robotics has been able to develop unique solutions to address longstanding problems in the oil and gas industry. Their success story serves as an inspiration for other innovators to embrace crowdsourcing and its potential to drive positive change.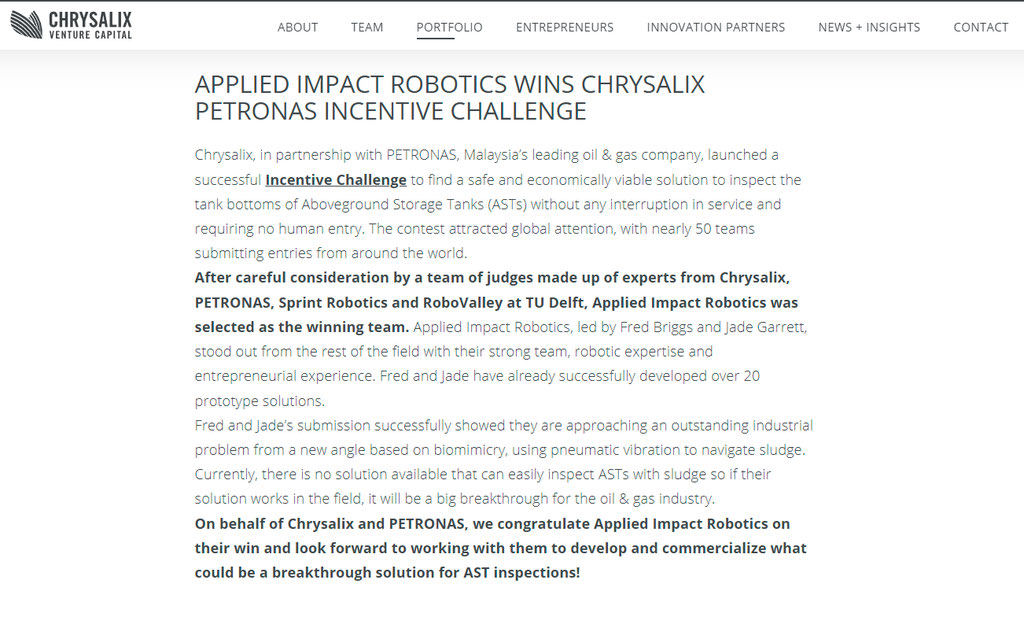 ~

Thank you for checking out Season 3: Episode 6 of the Innovation Heroes series!
Let's keep the conversation going! Interested in chatting with Adam on an Innovation Heroes segment or recommending a guest? To join the queue, send an email to possibilities@herox.com Attn: Adam. Include your name, email, and topic of interest (you can also use the HeroX contact form).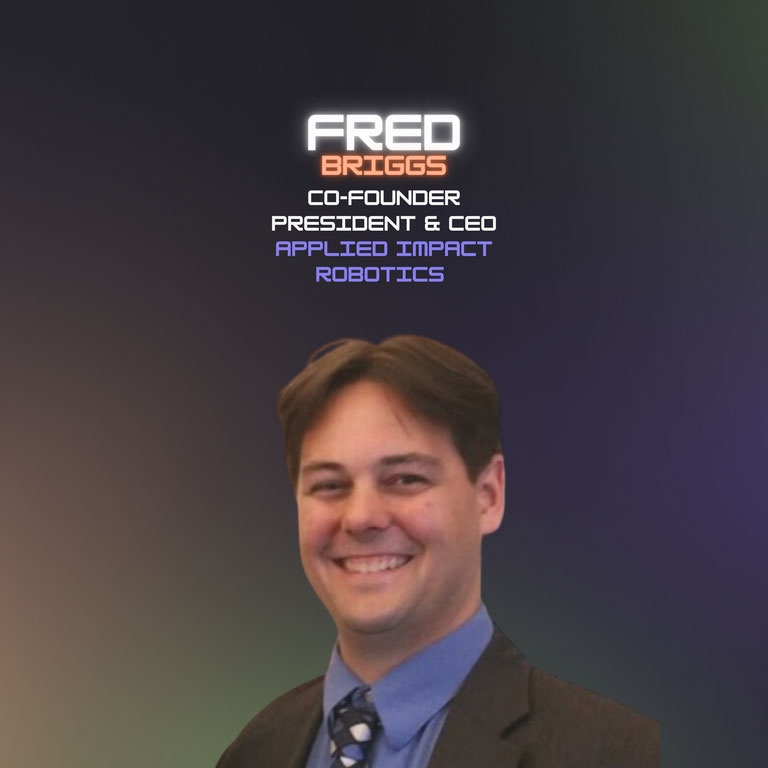 About Fred Briggs | Connect
Fred Briggs is the Co-founder, President & CEO of Applied Impact Robotics, a company specializing in early-stage industrial robotics and inspection solutions for crude oil storage tanks. With a background in industrial robot development, IoT sensor networks, and sensor payloads for the Navy, Fred is passionate about developing cutting-edge technology solutions and has spent years prototyping and scaling products, from ideation through manufacturing and sales channels.
Connect with Fred: LinkedIn
About Applied Impact Robotics
Applied Impact Robotics is developing a unique robotic solution to inspect crude oil tank floors without removing the tank from service. The approach uses biomimicry to reduce viscosity in a localized area, allowing the robot to maneuver through the sludge and sediment to position sensors for floor scanning. By utilizing conventional UT sensors, the robot can seamlessly integrate into the tank environment and provide high-quality scans that comply with API653 standards. This process significantly reduces the number of man-hours required for confined space entry.
Connect with Applied Impact Robotics: LinkedIn
---
🔉 About the Innovation Heroes podcast
The Innovation Heroes series covers all things open innovation, crowdsourcing, and remote work. It's time to open up the airways, share strategies, engage partners, and leverage the power of crowd intelligence to expedite solutions to the pressing problems facing every level of organization, individuals, and the world. The key word here is OPEN.
We're bringing our partners in innovation, organizations who have run their own crowdsourcing projects, innovator powerhouses, and remote work legends into the spotlight. There is a global network ready to contribute time, energy and intelligence to just about any challenge that comes their way. All we need to do is provide the opportunity. Thank you for being a part of the solution. Discover the Power of the Crowd.
About Adam Olsen | Connect
Adam is your Podcast Host and Possibilities Manager at HeroX, connecting with innovation leaders from around the world to gain insights on how they approach innovation, the technologies they're most excited about, and how these innovations impact their industries.
HeroX is a platform and open marketplace for crowdsourcing innovation that allows anyone, anywhere, to solve everyday business and world challenges using the power of the crowd.
Connect with Adam: LinkedIn,
#equitycrowdsourcing #crowdfunding #prizechallenges #oilandgas #disruption #robotics
www.HeroX.com Innovation Heroes © 2021 - Your Crowd. Your Solution.