The constant pressure to provide innovative solutions at every turn can sometimes feel overwhelming and even impossible. Luckily, in this age of technology, we can tap into the minds of highly clever and creative individuals who want to be actively involved and bring their ideas to the table.
One of the best ways to inject new ideas, energy, and finances into the fray is by implementing crowdsourcing efforts. While the popularity of crowdsourcing is growing, understanding its reach is still challenging. But if you can be an early adopter of this strategy, you can greatly improve your company's ability to innovate and stand out.
Crowdsourcing at a Glance
Here's a quick summary of how crowdsourcing can spark innovation at your company, allowing you to reach new ideas faster (and more affordably):
Saves time and money
Provides an (almost) endless source of ideas
Is a great way to reach new audiences and talent pools
Fosters group problem-solving
Promotes diversity and innovation
Encourages idea sharing
Is an opportunity to push the limits of what's possible
Crowdsourcing encourages innovation, enables better decision-making, promotes powerful problem-solving, and generates funds. Even better, it can foster a culture of diversity and growth while serving as a powerful marketing tool.
Ready to harness the power of the crowd?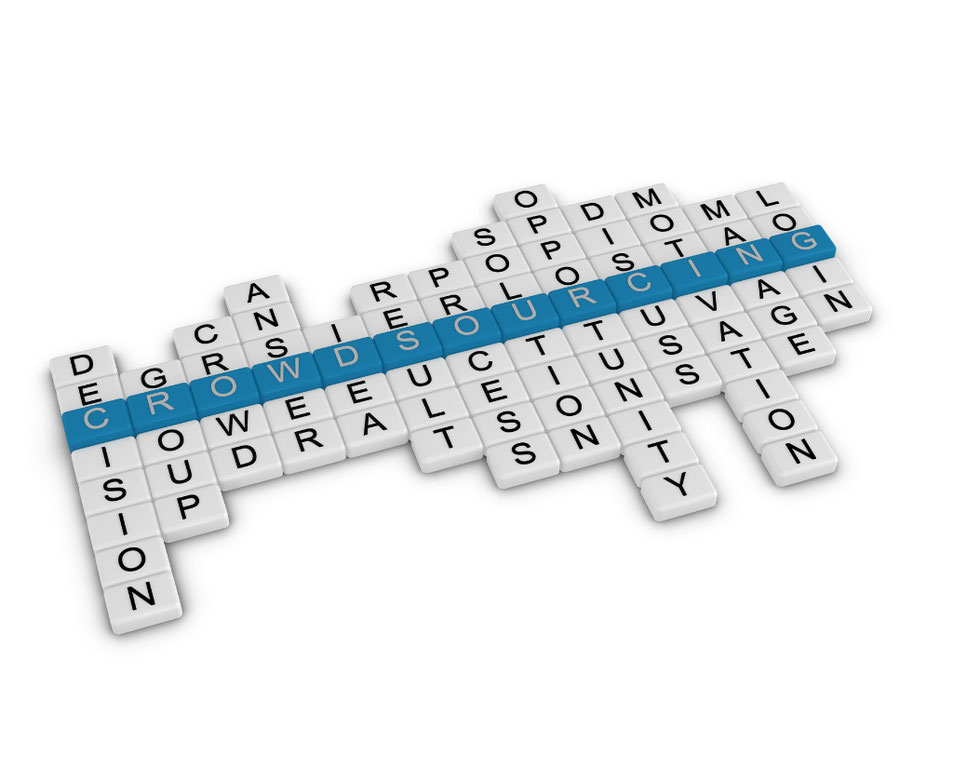 Crowdsourcing is helping companies innovate like never before
Crowdsourcing in a Nutshell
Crowdsourcing is the (mainly virtual) practice of obtaining ideas, opinions, or knowledge to spur product innovation, problem-solving, and/or raising funds by reaching out to a group of people to respond to a particular call for action.
Typically, crowdsourcing involves people not directly affiliated with your business or networks. Still, it can also be done within companies looking to gain new perspectives on products, services, or culture in general. It is essentially tapping a new resource called 'the crowd'— a marketplace of talent from around the globe who have become accessible through the modern mechanisms of social media and technology.
Beyond the benefit of reaching novel solutions in record time, crowdsourcing can also be used to reach new audiences to engage with your brand in new and meaningful ways. With the added social and environmental impact responsibilities, businesses (and governments) are turning to crowdsourcing to meet new demands and keep up with a rapidly changing market pace.
When implemented correctly, crowdsourcing can bring positive outcomes, cost savings, growth, and rapid innovation to organizations. It is fairly easy to get started once you understand the basics.
Types of Crowdsourcing
When it comes to crowdsourcing, the possibilities are endless. Organizational solutions can be found through some type of crowdsourcing, and leveraging its power comes down to understanding how each type can work for different needs. While there are over 30 crowdsourcing methods, here are a few of the most common crowdsourcing activities that are fairly easy to implement when the need for out-of-the-box solutions comes up.
1. Incentive Prize Challenges
Prize challenges are very much 'gamified' open innovation where organizations go outside of their research and development teams to attract interest and input from a wider range of potential solution providers. An individual or organization can post an open call for submissions on a crowdsourcing platform such as HeroX, where a large community of solvers is readily available to respond. With fresh eyes and minds, unrestricted by any particular business sector mindset, the crowd of 'outsiders' can spark innovations or resolve outstanding issues cost-effectively.
2. Crowdfunding
Crowdfunding is when a large group of people rallies together to financially support a service or product they want to make. You've likely heard of this term, as it's one of the original forms of crowdsourcing. Online marketing helps get potential investors excited. When people are energized like that, people are likely to put their money toward making an idea a reality. Platforms like Kickstarter allow entrepreneurs to raise funds for their innovation or service while offering the investors rewards like naming a character in a board game or getting early access to future endeavors.
3. Microtasking
Microtasking is breaking down a large job into smaller, easy-to-manage tasks. These tasks require little time commitment and can be done at home– perfect for today's gig culture. Microtasking websites like Clickworker allow you to complete small tasks like tagging images or processing data from your personal computer at an hourly rate. Taking surveys for businesses is another example of microtasking; Survey Junkie and Swagbucks are popular options for those looking to make some quick morning coffee money.
4. Wisdom of the Crowd
When a company wants to improve its performance, products, and ideas, it often seeks its consumers' expertise (or wisdom). Wisdom of the crowd is a form of crowdsourcing that operates on the belief that there is knowledge in numbers and that the expertise of a large group is more beneficial than that of a single expert. More important than the wisdom shared is the energy and innovation that stems from the collective.
A great example of this crowdsourcing effort is hackathons or code fests. Hackathons are a gathering of computer programmers, aka hackers, who collaborate in problem-solving or vastly improving a software program in a marathon sprint of 24 to 48 hours. Another popular example of leveraging the wisdom of the crowd is by acquiring citizen scientists to help with data collection for research. These experts are invaluable resources for many businesses, especially those in the technology and science sectors.
5. Crowd Creation
A very common type of crowdsourcing is asking valued customers to collaborate in an effort to update an existing product or service or create a new one. This type of crowdsourcing can be set up as a contest where the best idea wins a prize. Lay's "Do Us a Flavor" campaign asked its consumers to choose their next chip flavor. Participants could create and name their potato chip recipes, and a select few were brought to shelves.
6. Crowd Voting
Crowd voting is a democratic approach to decision-making where large groups of participants can vote for a new product or even change an organization's name. When the NFL team Washington Redskins started re-branding, they asked fans for input on their new name and mascot. Fans were given a handful of choices and voted on their favorite. Getting feedback from fans is a no-brainer, given that they're the organization's backbone.
4 Steps to Nail Crowdsourcing In Your Organization
Innovation in the workplace is readily available for almost every business if you know how to access it effectively. Here are a few crowdsourcing tips for successfully implementing it in your workplace.
1. Design and define
Before getting started with any crowdsourcing initiative, be sure to brainstorm. Explore your options and decide precisely what you're asking for and what problem you want solved. You must also determine which crowdsourcing type will be the most effective.
2. Show them the money (or other incentives)
Prizes are a great way to increase participation and build excitement. Cash prizes or other tangible gifts will motivate people to create innovative ideas. Before starting your crowdsourcing campaign, you must determine the prize(s) and eligibility.
3. Get social!
After establishing what type of crowdsourcing you'll use to generate new ideas, you need to spread the word–particularly if you're extending a contest outside your organization. Posting about the contest on crowdsourcing platforms and extending the reach through your social media profiles will generate interest and awareness and boost participation. Additional incentives like being entered in a draw when someone shares the post on their feed can also increase the appeal.
Using the HeroX platform, you can connect with an existing network of innovators– allowing your project to reach more bright minds in record time.
4. Listen and learn
Sometimes crowdsourcing is used internally to improve culture and promote positive disruptive change. When requesting employee feedback, you must listen to the results and acknowledge the information received. Asking employees to share their thoughts on how the organization can be better, more innovative, and more inclusive is a trust exercise. Sharing the results with the board and upper-level management shows you are listening.
Ready to nail crowdsourcing in your organization? Have a chat with us!