What's an Automated Kitchen?
When it comes to creating robots that can handle tasks typically reserved for humans, one area where progress has been lacking is in the kitchen. Sure, there are things like recipes, measuring cups, and other standardized aspects that machines can work with. But turning basic ingredients into a meal still requires a measure of nuance and skills that robots continue to have trouble with.
Hence why Moley Robotics, a UK-based company, created the Automated Kitchen. In addition to the usual kitchen appliances - an oven, stove, and plenty of counter space - the ensemble features a pair of fully-articulated robot arms. And according to the company, these arms are capable of stirring, mixing, adjusting temperature, and doing everything else a seasoned chef does.
The Automated Kitchen was recently unveiled to the public at Hanover Messe in Germany, a leading industrial products trade show. On the last day of the show, spectators watched as the robot arms heated, stirred, scooped, seasoned and served various dishes - including a crab bisque inspired by chef Tim Anderson and a pot of cherries jubilee.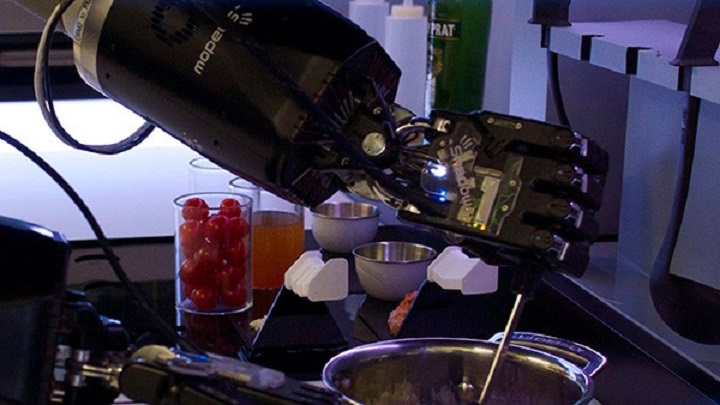 The Automated Kitchen's central feature is its robot arms, which are capable of mimicking human movements. Credit: Moley Robotics
How it operates
The centerpiece of the kitchen, the robotic arms, were designed by the Shadow Robot Company. This London-based robotics firm specializes in the creation of dextrous robots, typically for use in nuclear power plants and by NASA. The arms themselves consist of a set of fully articulated hands that use 20 motors, 24 joints and 129 sensors to recreate the exact movements of a chef.
To ensure that these arms not only had the ambulatory ability but the necessary programming to reproduce human-like movements, the company made several 3D recordings of chefs at work in a special studio. From this, they were able to capture the motions of the chefs, and then designed a series of specialized algorithms so their robot could re-create those motions.
Moley Robotics is currently working on some food apps which users will be able to access from their phone. They've also stated that when the commercial version launches in 2017, users will be able to select one of 2,000 dishes, order the Automated Kitchen to begin preparing it, and the robotic hands will take care of the rest.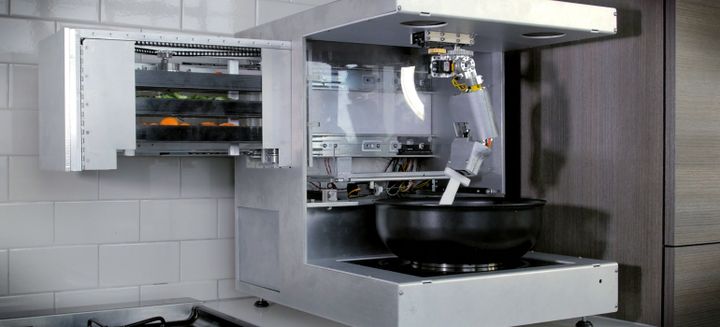 Serenti Kitchen's Cooki robot, which uses a robotic arm and an app to prepare meals from pre-portioned ingredients. Credit: Sereneti Kitchen/Vimeo
What's next for the Automated Kitchen
They are also working on scaling down their prototype design for the consumer market and the average-sized kitchen. Ultimately, they hope to create a retail version that will be more compact, with smaller control arms and more functionality. They also hope to include a small built-in refrigerator and a dishwasher so that the entire life-cycle of the kitchen can be recreated.
And of course, Moley Robotics are not alone in wanting to bring robotics into the kitchen. Not long ago, Sereneti Kitchen unveiled their cooking robot - known as "Cooki" - at the 2015 Consumer Electronics Show. This machine, which is much smaller than the Automated Kitchen, uses a robot arm and a proprietary app to prepare meals from pre-portioned ingredients.
And then there's Chef Cui, the robot noodle-slicer unveiled in China in 2012. Between these and other similar concepts - such as 3D food printers - robots could be replacing human workers in yet another sector of the economy. No longer reserved to the assembly line or in factories, in a few years time, robots could be making our meals as well as our cars!
And be sure to check out this video of the Automated Kitchen's robotic arms preparing a pot of Cherries Jubilee: