When we think of space exploration, we tend to think of astronauts being hurled through space in rockets and shuttles. And while this vision is certainly accurate to a point, it tends to overlook the fact that the majority of space exploration is performed by robots. And for good reason. Not only is it cheaper to send robots to other planets, asteroids, and into the depths of deep space, it's also far less risky!
And some day, thanks to advances made in swarm robotics and hive-mind algorithms, space exploration could be done using thousands of tiny robots designed to work as one. Hence why NASA created the Swarmathon Challenge - a $1.8 million incentive competition designed to foster the development of robots capable of exploring and working together.
Looking beyond its current army of rovers, landers and satellites, NASA hopes to one day have the kinds of integrated hardware and software that will lead to robots that can work in large numbers. These swarms could then be used to explore the surfaces of distant planets, procure samples for analysis, and obtain pictures, video, and other information for scientists back to Earth.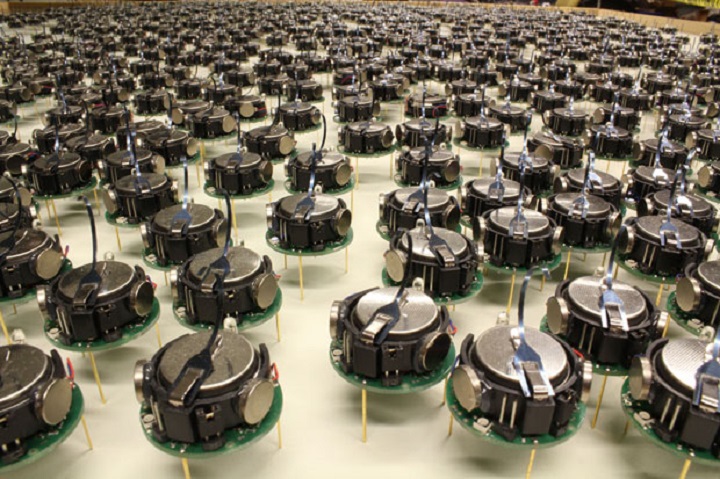 A thousand Kilobots, a robotic swarm designed by researchers at Harvard University and the Wyss Institute. Credit: seas.harvard.edu
Such robots could also be used to seek out resources, regardless of whether they are searching for them on other planets or here at home. Swarms of tiny machines could not only determine the presence of water or organic molecules on Mars, Europa, Titan, or Enceladus; they could also seek out minerals and natural resources here on Earth.
Earlier this month, NASA's Minority University Research and Education Project (MUREP) accounced that it had selected the University of New Mexico to manage the Swarmathon challenge. As part of NASA's Office of Education, MUREP is responsible for issuing awards that will assist minority institutions in research pertinent to NASA missions, particularly where STEMs research is involved.
In addition to being a Minority Service Institutions (MSI), and hence eligible for the award, NASA's Office of Education also selected UNM because of Melanie Moses (an associate professor of Computer Science at UNM) and her robotics lab's impressive resume. Back in April, Moses and her lab made headlines with the unveiling of their iAnts - a series of autonomous robots that use iPods, wheeled carriages and specialized algorithms to perform collective behaviors.
The first Swarmathon competition will will be held in 2016 at the NASA Kennedy Space Center in Florida. During the competition, robots will be required to work cooperatively and autonomously to search for and retrieve resources in unmapped environments. The student teams participating will be challenged to develop search algorithms and implement them on-site with physical robots.
College participants will also be selected for paid research internships, and local high school students will become involved through a parallel virtual competition. Those who participate will therefore be getting a chance to ensure that they have a bright future in a STEMs-related field of work.
But at the same time, they will be given the chance to become part of someting potentially ground-breaking. The systems they devise and the concepts that prove most effective may eventually be used for resource exploration and mapping missions on Mars, asteroids, and perhaps even destinations in the outer Solar System.
As Moses said of the competition: "Swarmathon will harness student creativity to solve difficult and complex problems. This is an incredible opportunity for students to develop technologies to explore our world and beyond."
For more information, check out NASA's Office of Education.
Top Image Credit: NASA