According to reports from the International Energy Agency, it is estimated that by 2050, solar energy will make up 25% of the market, and therefore be the largest source of electricity on the planet. But despite this general prediction, it is clear that some communities are leading the way in making this transition. In so doing, they are speeding the process of the adoption of renewable energy and providing an example for us all to follow.
One such community is the T'Sou-ke First Nation, an Aboriginal community that lives on the southern tip of Vancouver Island. Beginning in February of 2007, the T'Sou-ke band hired Andrew Moore as solar project director, who began initiating a series of "visioning sessions" with community members. What they produced was a vision of autonomy for their community built around food self-sufficiency, cultural renaissance, and economic development.
Intrinsic to the plan was the creation of a sustainable energy project that would provide power for the community and cause zero emissions. This plan, known as "Sum-SHA-Thut" (the Sencoten word for "sunshine") officially kicked off in 2009. By 2012, the vision became a reality with the creation of a 440-panel, 75 KW solar installation that not only broke the community's dependence on external suppliers, but ushered in an era of sustainable living consistent with the community's most sacred beliefs.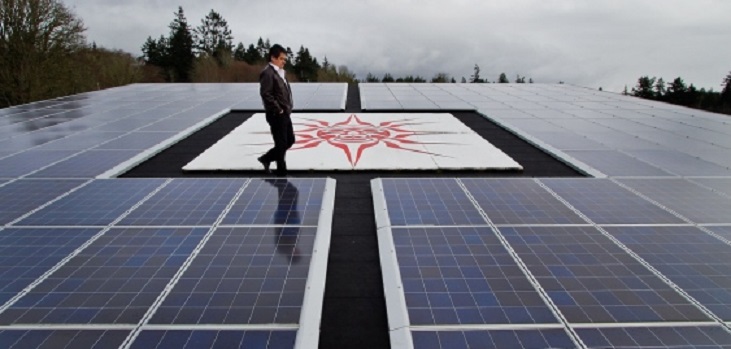 Chief Gordon Planes walking the length of the community's solar array. Credit: Times Colonist/Darren Stone
Naturally, the greatest challenge was getting the necessary funds to build it. Moore and the Band appealed to 15 separate government and non-profit sources in order to procure the necessary $1.5 million the project eventually ended up costing. Many of these agencies - which included the provincial Innovative Clean Energy Fund, Indian and Northern Affairs Canada and Solar BC - had conflicting requirements, but shared a common mandate.
"There's going to be major change, in terms of competition for resources, oil and climate change," said Moore. "And everyone knows that the most vulnerable communities are the ones that get hit hardest. And I think the mandate is to build resilience in these communities. The way that you do that is to make them more autonomous and more self-sufficient."
With three components, the solar array has given the community self-sufficiency in terms of demand for power. The first component is located on the bands' fisheries office, which consists of a 6 kilowatt photovoltaic system that is ideal for off-grid communities. Ordinarily, such a system would require some form of backup, such as a diesel or propane generator, but instead is supplemented by energy provided by the second component.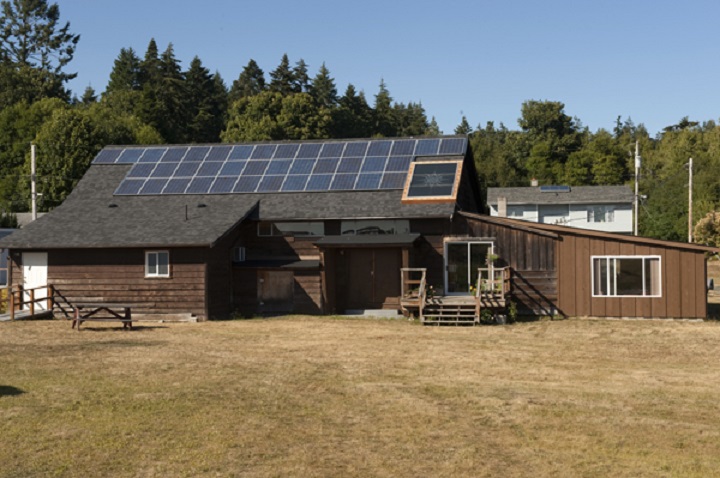 The T'Sou-ke First Nation's administrative office, showing its photovoltaic and solar hot water panels. Credit: AANDC
This consists of a 7 kilowatt system that is located on the band hall, and which provides emergency battery back-up in case of a hydro outage. The third and final component is a 62 kilowatt array atop the band's canoe shed. These three components produce enough energy that some of it can (and routinely is) sold to BC Hydro.
In addition, the T'Sou-ke solar project provides options for producing hot water and electricity that produce zero emissions, consisting of roof-mounted solar panels that pre-heat water. In the summertime, these are reportedly able to provide for all the community's hot water needs while reducing electrical consumption. The combined effects of all these measures has also sent hydro bills plummeting across the community.
As Andrew Moore, the solar program manager, explained, it has also led to a situation where all administrative buildings in the community have "net zero" hydro consumption. In the summertime, when electricity is sold to B.C Hydro, the meters run backwards; and in the winter, when it is being bought, they run forwards.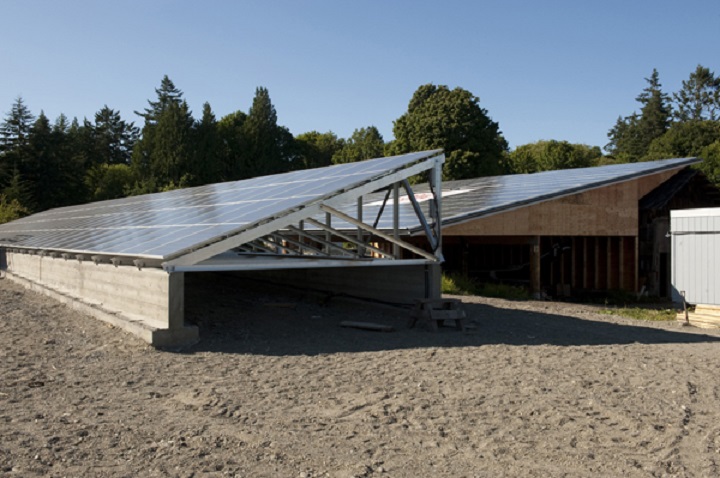 The CSCP named the T'Sou-ke Nation a Canadian Solar City in recognition for its leadership in the use of solar energy. Credit: AANDC
For their accomplishments, the T'Sou-ke Nation was the third Canadian community to be named a Canadian Solar City by the Canadian Solar Cities Project (CSCP in 2013. But more than just self-sufficiency is the message that such a sustainable system sends to the world. As Chief Gordon Planes explained, it is all about the "back-to-the-future" agenda the T'Sou-ke First Nation has.
"The whole territory used to be used in a way that was sustainable. We only took what we needed and we need to get back to that," he said. "It's a demonstration project. It shows these things are possible. You have to look at ways of being creative and educating everyone to try and fix what's wrong with Mother Earth. This project is just one piece of it."
Amazingly, this is not the only example of the T'Sou-ke Nation "going green". In 2012, the community also became the first place in North America to install an electric vehicle charging station that is powered entirely by solar. Like all infrastructure in the community, the station will be hooked up to the T'Sou-ke electrical solar system so that even if BC Hydro's power is out, charging can still take place.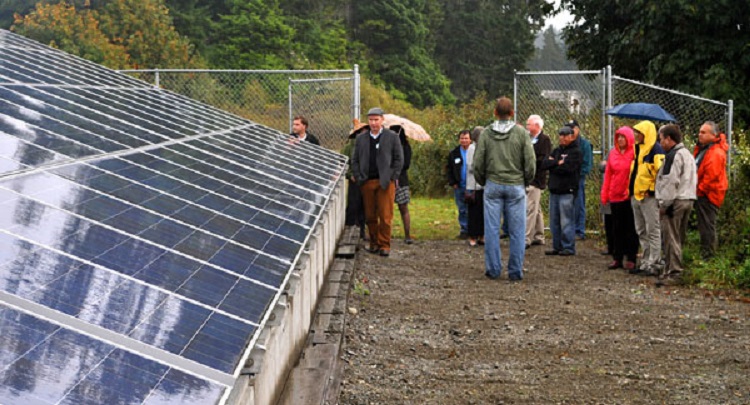 People visiting the T'Sou-ke community as part of a "solar tour". Credit: tsoukenation.com
The Level 2, 240-volt charger is located outside the band office, which currently houses all the controls for the 75 kilowatt solar system. And it is one of over 140 stations that are currently being installed around the province and part of the $2.7-million Community Charging Infrastructure (CCI) funding that was announced by the Ministry of the Environment in April of 2012.
And then there was the ambitious plan to build a 1.6-hectare commercial greenhouse that same year. As part of the community's vision for food self-sufficiency, this growing operation was created to grow vegetables for local consumption. In January of 2012, the T'Sou-Ke Nation received $1 million from the provincial Innovative Clean Energy fund to oversee construction and began looking for an addition $2 million to cover the remaining costs.
In addition to providing tomatoes, peppers and other assorted vegetables for locals to eat, the greenhouse also uses new heating and cooling technology to further cut energy costs by up to 80 per cent. It's creation also means that 40 permanent jobs have been added to the community, and people will now be able to get fresh, locally-sourced vegetables grown right in their own neighborhood.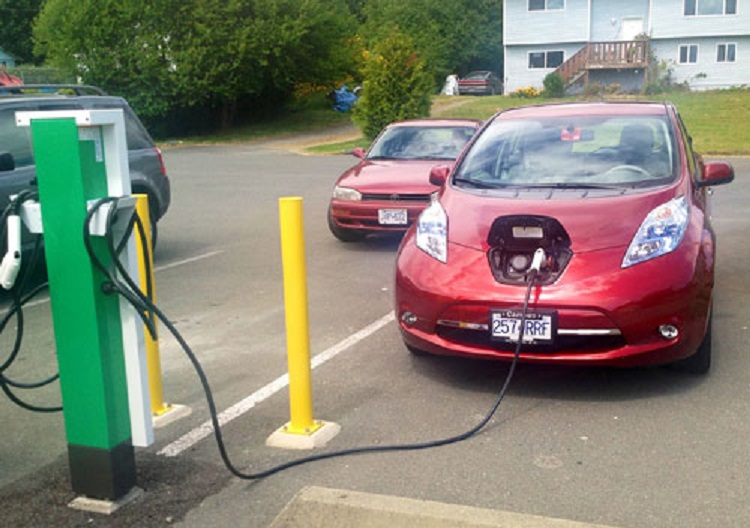 The 240-volt T'Sou-ke charging station is also the first of its kind to be solar-powered. Credit: tsoukenation.com
And in October of 2013, the community also signed a $750 million partnership with TimberWest and EDP Renewables Canada to develop wind power on southern Vancouver Island. This project, which will see to the creation of a 300 megawatt operation, is also expected to create hundreds of jobs on Vancouver Island as well as training for new skills and services.
At a time when the Enbridge Northern Gateway pipeline is still considered a controversial issue, this agreement also drew the attention of local and national media as a prime example of what is possible when businesses and local communities (be they First Nation or not) come together for the purpose of developing alternative energy.
And last, but not least, the community also entered into a partnership with West Coast Wasabi in January of 2014. As per this agreement, the Band would expand its growing operations to include three new 10-by-45-meter (35-by-150-foot) greenhouses to grow wasabi. These crops will not only be one of only six Pacific operations - located in BC, Washington and Oregon - that supply wasabi the lucrative sushi market, but also the biomedical markets with wasabi as a herbal dietary supplement.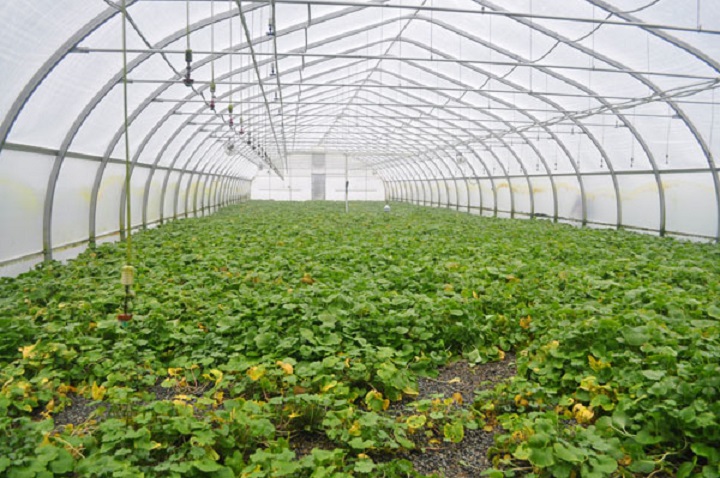 In addition to vegetables, the T'Sou-ke greenhouses also began growing wasabi last year. Credit: tsoukenation.com
When comes to meeting the challenges of tomorrow today, it is clear that some communities are more willing to embrace the challenges and reap the potential rewards. In addition to providing an example for communities all over BC, the T'Sou-ke Nation is also showing what Canada's First Nation communities are capable of doing when the right know-how, leadership, community involvement, and funding come together.
One can only hope that more communities, be they here in Canada or abroad, recognize the potential that green energy and green technology offer in the way of self-sufficiency and sustainability and follow suit. Not only will it help us to make the transition away from fossil fuels and help reduce our carbon footprint (and thus help prevent the worst aspects of Climate Change), it will also see to the creation of "green jobs" and attract green investment.
In the meantime, be sure to check out this video from the T'Sou-ke First Nation and the inspiration behind their solar project:
Top Image Credit: touskenation.com
Sources: