For the past month, we've been running a poll on the subject of clean water. The question posed was, "How many people do not have access to clean water around the world?"
The WHO/UNICEF Joint Monitoring Program defines access to clean water as water that is suitable for drinking with the source less than 1 kilometre away from where the water is being used and from which one can reliably obtain 20 litres per day per person per household . So for those of us with bathroom and/or kitchen sinks - imagine if your sink was a mile away and you had to scale a cliff face to get to it and the water from your faucet was filled with microbes unsuitable for human consumption. You'd be considered to not have access to clean water.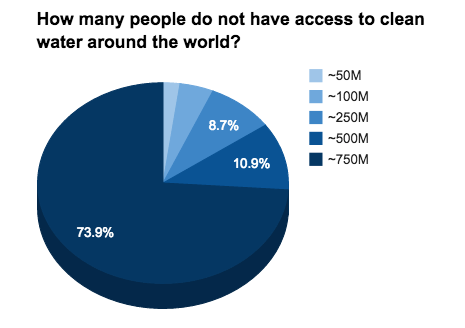 Almost three quarters of respondants chose correctly.  According to the WHO, 783 million people do not have access to clean water. That is approximately 1 out of every 9 humans on this planet.
After completing the poll, respondants were asked, "Who should we be talking to in order to address this issue?"
Some of the people and organizations we were referred to include:
Thank you to everyone who participated in our poll and suggested an expert to whom we could reach out. We are currently in the discovery phase of a Clean Water Challenge and your participation at this stage has been invaluable.