As children, who amongst us didn't watch movies like the Star Wars saga and dream of one day owning our own hoverbike, like the ones seen shooting around the forest moon of Endor? Or perhaps we watched other science fiction franchises where speeders hovered mere inches off the ground and zipped around futuristic landscapes. Either way, the concept for a hovering vehicle that could get your from point A to B, or just let you have a little fun on the freeway, was pretty darn cool!
Well, as the saying goes, "science fiction becomes science fact". And thanks to work done in recent years by several committed engineers, futurists and developments, it seems that a number of ideas for real-life hoverbikes will become reality in the near future.
It all began back in 2011 with New Zealand-born inventor Chris Malloy, a man who had spent years working and studying in his garage in suburban Sydney Australia to build a prototype Hoverbike. Using a combination of carbon fibre, kevlar and aluminum with a foam core, he was able to handcraft the frame around which the bike would be built.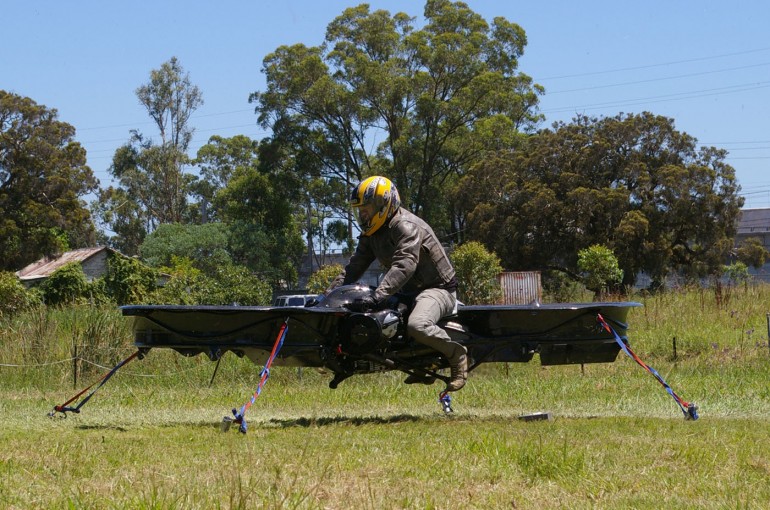 The original Hoverbike design by Malloy Aeronautics, which relied on a twin propeller engine. Credit: hover-bike.com
In time, and with the help of university students, members of his community, search and rescue personnel, private and military specialists, and even a few visitors from the US Army and Lockheed Martin's "skunk works", Malloy was able to create an engine for his frame. Spefically, a twin-propeller, 1170 cc 4-stroke 80 kW engine, through which Malloy effectively turned his bike design into a working bi-copter.
At the time of its release, Malloy claimed that the bi-copter Hoverbike would be able to acheive a high thrust to weight ratio, giving it the ability to carry a full-grown man or woman and achieve a service ceiling of more than 10,000 feet, while also being able to reach an indicated airspeed of 150 knots (278 km/h or 173 mph). Over the course of the next few years, Malloy formed a company (Malloy Aeronautics) and began to solict funds in order commercialize his idea.
In the summer of 2014, the company launched an official crowdfunding campaign via Kickstarter. By August, they had managed to raise £64,089, over twice their original goal, and began testing the vehicle using both a manned version and scale models. From all this, Malloy and his teammates realized they could not create a bi-copter with existing technology that would be cost effective, and turned instead to a new quadcopter design.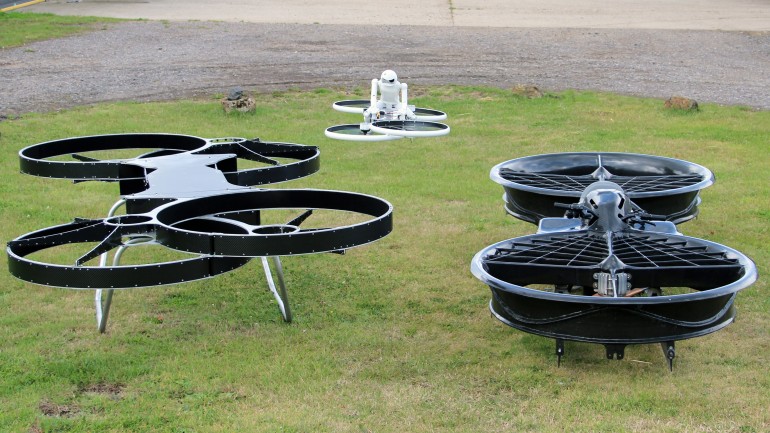 The second model Hoverbike on the left, with the original on the far right and drone concept in the middle. Credit: Chris Wood/Gizmag
According to their website, Malloy and associates are in the final construction stages of the latest manned prototype of the Hoverbike, which they expect to be conducting tests with in a few months time. In addition, they are still raising funds beyond their original Kickstarter campaign, and have even dedicated themselves to creating a 1/3rd scale model drone for commercial sale - for which they are awaiting a patent.
In addition, a California-based startup known as Aeroflex also unveiled a design for a working hoverbike back in 2012. Much like Malloy, the company behind this hoverbike design had spent years trying to make the technology work. However, by 2012, they had already tested their prototype and released a video as part of their announcement, showing the bike successfully performing an aerial demonstration.
SImilar in design to the Hoverbike, the Aeroflex relies on two ducted rotors with carbon fibre blades to achieve lift, and the rider's manipulations of a set of handlebar controls determines the direction of the bike. Early estimates indicate that the vehicle is capable of flying up to 3 metres (10 feet) off the ground at a speed of 72 km/h (45mph). It also has seating for two, a carrying capacity of up to 140kg (310 pounds), and can run for 1 hour 15 minutes on a full tank of petrol.
As of 2014, the company began taking reservations on their website and indicated that the bikes would be commercially available by 2017, and cost a total of $85,000 apiece. Not exactly a cheap means of transportation, but it is clear at this time that the vehicle is a niche market item that is intended to appeal to offroading enthusiasts and consumers who are into outdoor adventuring.
Lastly, there was the concept for an electric, flying bicycle that was unveiled by a group of Czech engineers in 2012. The product of three seperate companies that came together to realize a shared dream, the Design Your Dreams Flying Bike uses six horizontally mounted propellers to lift the 100 kilogram (220 lbs) electric bike and its rider into the air,
The bicycle made its first public appearance at a Prague convention center in June of 2013, where it conducted a successful test flight. Designed to fly for only 3 to 5 minutes at a time under electrical power, the Design Your Dreams concept is essentially a bicycle that is capable of temporary flight, rather than an actual flying bike.
In addition, the engineers claimed at the time that the bike was not for sale, but merely a proof of concept idea that they created to see if it would work. But as you can see from the video above, it certainly did that. And with time and a little added interest (and perhaps some crowdfunding), Design Your Dreams may rethink their options and choose to create a flying bike for the commercial market.
While these concepts are undeniably costly and still largely under development, they are a clear indication that the technology and engineering know-how are available to make the idea feasible. Once confined to the realm of speculative science fiction and space opera, hoverbikes (flying bikes, speeders, or whatever you want to call them) are fast becoming a reality.
When Elon Musk origially proposed the Hyperloop, he described it as a potential "fifth mode of transportation" alongside cars, boats, trains and planes. Could hoverbikes be a possible sixth?
Sources: