Innovation knows no boundaries. It can emerge from any corner of the globe and from people of all ages. Blazing Trails, a new innovator story series, celebrates the remarkable individuals who are making a name for themselves as innovators. Through their groundbreaking ideas and relentless pursuit of change, these trailblazers inspire us to embrace our own innovation aspirations and contribute to a better world.
Meet: Madhav Sharma
Madhav Sharma, a talented teenager from India, achieved an extraordinary feat by winning the NASA Lunar Loo Jr Challenge in 2021. His subsequent email to HeroX CEO Kal K. Sahota not only conveyed a simple request but also revealed a deeper story of ambition, resilience, and the power of community. This blog explores Madhav's remarkable achievements, the supportive response he received, and the broader impact of innovation and collaboration within the HeroX community.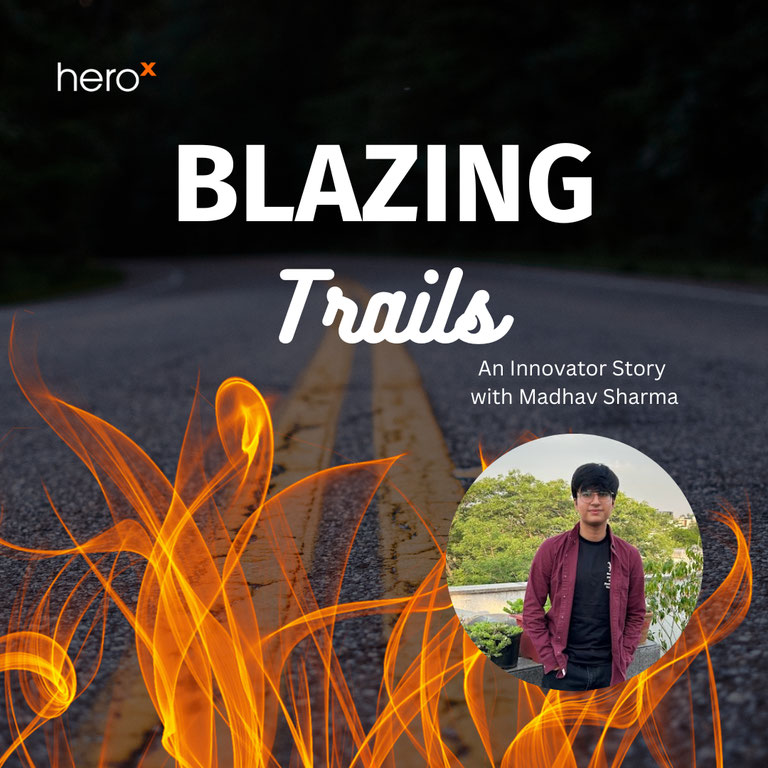 The email:
"I'm not sure if you remember me, but I'm Madhav Sharma, a teenager from India who won the NASA Lunar Loo Jr. Challenge in 2021. I reached out to you after the competition and you graciously agreed to provide me with a letter of recommendation for my college applications. I'm incredibly thankful to you for the same, and I'd like to share with you that I have enrolled at the University of Pennsylvania this fall for the Jerome Fisher M&T Program (a dual degree comprising their engineering school and The Wharton Business School).

I also won an "Honourable Mention" award as part of Team Astroverse at the NASA Mars XR 2 Challenge today (which was also organized by HeroX). Would it be possible for me to get any proof that I won this award? I understand that Honourable Mention isn't an official prize, but even a one-line letter reaffirming that I won this award would allow me to put it on my resume. Thank you so much once again for your prior support and I hope to stay associated with the HeroX community!"

These types of opportunities often come for our innovators but when we get to see the fruits of their labor it blows us away each time. A simple email and request shows how impactful what we do on a daily basis is and also we get to see what amazing people we have in our HeroX community.
Madhav's story demonstrates the transformative potential of HeroX, where innovation, collaboration, and inspiration are not mere buzzwords but lived values. It exemplifies the impact of democratizing opportunities through crowdsourcing and open innovation, providing a platform for aspiring individuals like Madhav to thrive. The HeroX community is an environment where dedication and vision can flourish, and incredible achievements become a reality.
The response:
Of course, Sahota was more than pleased to oblige Sharma and respond:
"Thank you for your email, it's very well received. Firstly, I can absolutely support you with your request. The team has created your certificate for you, see here. Let me know if you need anything further. You may have heard me say, as I do say it often, that my passion for this space comes from the impact of democratizing opportunities for all citizens of the world. Creating as much equal opportunity as possible, through crowdsourcing and open innovation. You are a clear example of that, it is for this reason that I am so incredibly moved and inspired by your email.
Lastly, I am proud of you. To have the drive, vision, focus and work ethic to make your dreams become a reality. In order to inspire, we must BE inspired. I'm hopeful my message to you further fuels your inspiration for your goals. Through that heightened inspiration....be an inspiration to others. This is how impact occurs, this is how we can change and shift the world."

Madhav's inspiring journey and the supportive response he received from Sahota shed light on the limitless possibilities that unfold when we dare to dream and pursue excellence. The essence of the HeroX community can be felt in this exchange, highlighting the collective power to effect positive change.

As Madhav Sharma embarks on his academic pursuits at the University of Pennsylvania, the HeroX community eagerly anticipates the incredible contributions he will make. With Madhav as a guiding light, the future holds limitless possibilities for all those who dare to dream and embrace the transformative power of innovation.

Wishing Sharma the best of luck in his academic pursuits and can't wait to see what the future holds for him!
#InnovationHeroes #Blazingtrails #HeroX #Community #Innovators #Crowdsourcing