The 21st century is well underway and the people of the world are starting to see the fulfillment of its promises of new technological and scientific advancements, steady improvement in living and working conditions, and a better quality of life on a global scale. Possible futures and outcomes that were once just a far-sighted vision have now become realistic goals, but formidable challenges must be confronted before the enormous benefits of progress can be fully realized. Among the greatest and most pressing of these is providing increased nutritional security for a growing population, especially in underserved regions, while maintaining and improving sustainable agricultural production and distribution processes.
Fortunately, governmental entities, private organizations, academic institutions, corporations, and even individuals all over the world have shown the willingness and ability to implement innovative initiatives to promote sustainable agricultural systems and nutritional awareness programs in their countries, cities, and communities. Here are nine inspiring examples of organizations, research initiatives, and people who are finding ways to make a difference.
USDA Agricultural Research Service - U.S.
An ARS-led team of researchers from the USDA's Aquatic Animal Health Research Unit recently won the Federal Laboratory Consortium for Technology Transfer (FLC) 2023 Impact Award for developing disease-resistant tilapia, a globally popular farm-raised fish, reducing the need for farmers to use costly and risky antibiotics and saving billions of dollars in revenue each year.
Acceso - Latin America
This Latin American initiative is currently operating in El Salvador, Colombia, and Haiti, using what they call a 'farmer first' model, organizing and training teams of local residents to work with smallholder farmers in rural villages, providing technical assistance and financing to promote sustainable growing and harvesting methods, and helping to build farm infrastructure. They also act as a mediator to assist farmers in developing profitable domestic and international markets. Farming incomes have seen an average rise of 250% in the communities Accesso serves while encouraging sustainable processes to increase yield and decrease waste.
Food Recovery Network - U.S.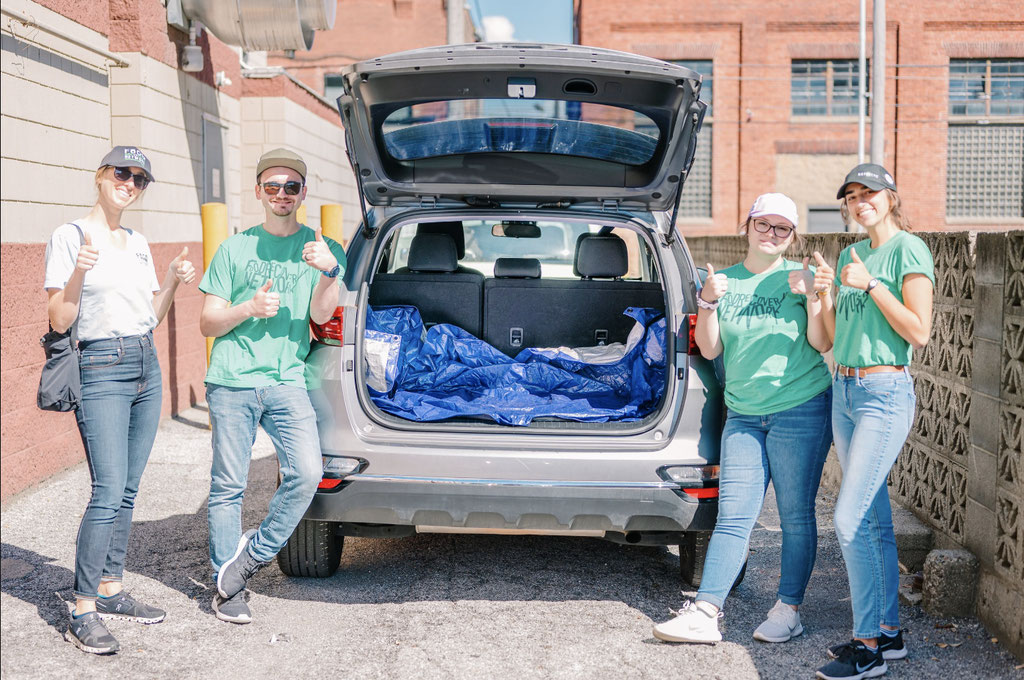 This student-led initiative is the largest of its kind in the United States. Their stated mission is to reduce the massive amount of food waste in the U.S. by diverting surplus food resources from the landfills they normally end up in to the organizations that can distribute it to poor and needy communities where access to healthy and nutritious food is limited. They have also worked to help pass legislative measures such as the Food Donation Improvement Act.
Tule Vyema - Kenya
Founder and leader Maureen Muketha focuses on supporting women farmers in Africa with training and hands-on instruction in nutritional awareness, food safety, storage, and preparation, and sustainable methods for growing and harvesting indigenous crops.
Sustainable Table - Australia
This organization is working to fight climate change at the grassroots level by promoting regenerative farming and sustainable food production methods in Australia. Their network is active in connecting local communities, organizations, and individuals working to increase biodiversity, regenerate farmland, and promote sustainable practices to the financial and material resources they need to succeed.
Sustainable Agriculture Initiative - International
As a world leader in promoting global sustainable food production for over 20 years, the platform acts as a central collaboration hub for more than 170 member organizations and companies. Their programs include the European Roundtable for Beef Sustainability, the Regenerative Agriculture Programme, the Sustainable Dairy Partnership, the Farm Sustainability Assessment, the Wild Harvest Assessment, and more.
Real Farming Trust - United Kingdom
A non-profit grassroots organization promoting the growth of sustainable farming and food production practices that help to enhance environmental stewardship and protection while providing economic opportunities to disenfranchised communities. With a focus on agroecology and food sovereignty, they have founded several projects, including the College for Real Farming and Food Culture and the Oxford Real Farming Conference. They have become a major advocate of the alternative food movement in the UK.
Scaling Up Nutrition Civil Society Network - International
This global organization boasts over 4,000 partners operating in more than 50 nations with the ambitious goal of wiping out malnutrition in the world by the year 2030. They hope to do this by empowering communities and civil organizations to understand their civil rights when it comes to food and nutrition and to hold their leaders accountable for the responsibilities they have to provide adequate food resources. They raise funds for various national civil alliances and lobby governments and private sector organizations to facilitate effective legislation and policy changes and provide essential training and resources to raise nutritional awareness.
Are you ready to join the ranks of these global leaders and innovators in sustainable agriculture and nutrition security? Take the first step by registering for the ASRX2023 Challenge and submitting your winning solution.