Kura Kura Bali is pleased to share with the HeroX community the winners of the Coastal Design Challenge Final Prize: Team 1 Adi Neuman (ECOncrete), Hugo Shelley (Iota technologies) and Charly Karamanian (BioInspired Argentina).
The announcement was made during the welcoming dinner organized as part for the second Tri Hita Karana Forum on 9-11 October 2018.
Congratulations to Team 1 for winning the grand prize US 25,000 and special thanks to Anna Miles (Team 2) for her hard work and commitment.
The winning solution bridges the gap between development and sustainability by providing a robust coastal defense solution reviving ecology while inviting and connecting local communities to the shoreline. The seawall embraces the water, facilitating public engagement with the marine ecosystem and provides enhanced physical and visual access to the bay. The design represents an environmentally sensitive solution that meets coastal defense needs, while upholding the commitment to sustain and enhance coastal resources.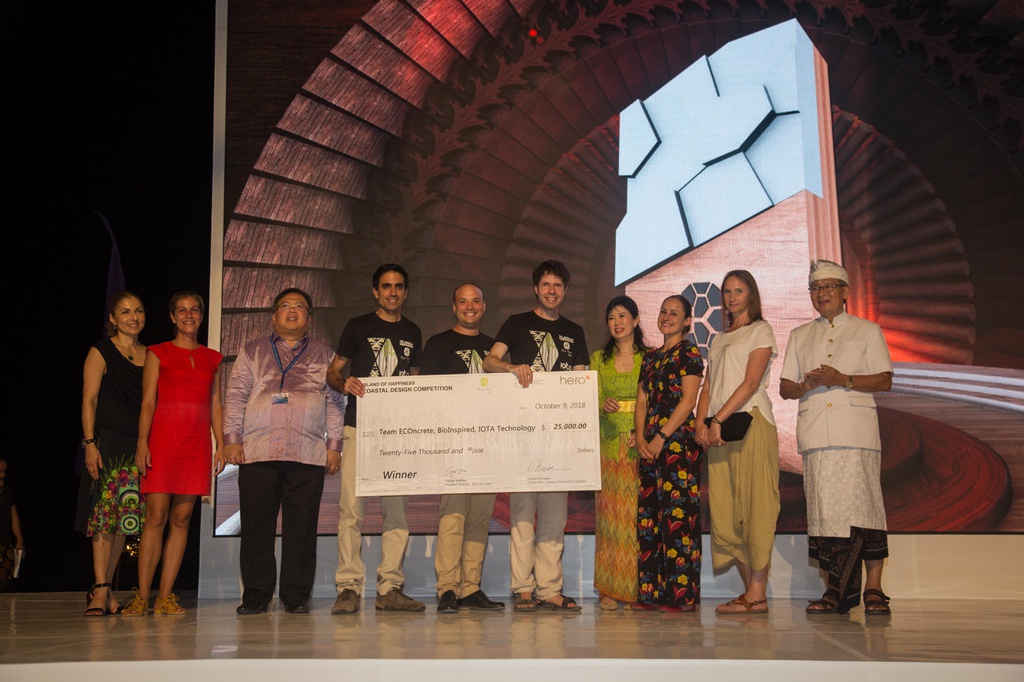 From left to right:
Anoushes Ansari, X-PRIZE; Konstantina Rappou, Technical Director Camper & Nicholsons Marinas; Minister for National Development Planning/head of the National Development Planning Board (Bappenas) Bambang Brodjonegoro; Adi Neuman; Hugo Shelley; Charly Karamanian; Cherie Nursalim Vice Chairman GITI; Elena Crete Manager UNSDSN; Anna Miles of Team 2; I Gede Ardhika, President Director of Kura Kura Island;
Please stay tuned as we will post more exciting updates on the two team's journey in Bali.
---