What an amazing Ideation phase journey we have had so far! Teams from 24 countries across continents have competed to develop a solution for sustainable sea walls, which can be created first for the Island of Happiness, and potentially become the new standard for sea edge treatments in Bali for the world!
We are grateful to have received 42 submissions. We were so impressed with the calibre of submissions and shortlisting the entries was such a challenge that we are awarding a total of 7 prizes – 4 more prizes than originally planned for appreciation of the high calibre of participants!
We are awarding three winners of the ideation phase and four additional prizes. Two teams will be assembled to collaborate for the next phase of PROTOTYPE DEVELOPMENT AND TESTING. They will be encouraged to collaborate combining aesthetics, technical expertise, and material science to achieve a prototype ready for implementation in the spirit of SDGs 17 Goals. Kura Kura Bali will allocate a total of up to $140,000 to cover all prototypes development and building costs in addition to travel, accommodation, food etc. and a $25,000 Tri Hita Karana Coastal Design Grand Prize for the successful solution.
After careful review by our international judging panel, we are proud to announce the 3 prize winners for the Ideation phase as follows:
$5,000
Anna Miles - The Living Edge
(United Arab Emirates)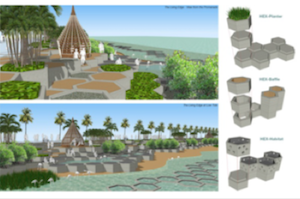 Conceived through a process of understanding Cultural and philosophical traditions; inspired by the ubiquitous 'hexagon' found in Nature; and Creating a solution that becomes a living part of the environment… "The Living Edge" is more than a wall that protects the coast line from coastal erosion; it creates an environment that can be physically accessed and explored. Designed first and foremost as a visually attractive, permeable and interactive edge that prioritises habitat creation and increases biodiversity; it also stabilises and protects the coast line from erosion.
$5,000
ECOncrete - Gateway to Happiness
(Israel, USA)
Team members: Ido Sella; Andrew Rella; Shimrit; Perkol-Finkel; Adi Neuman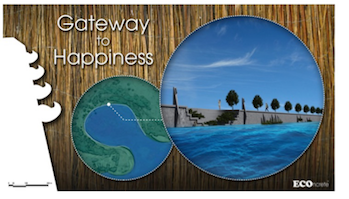 Gateway to Happiness bridges the gap between development and sustainability by providing a robust coastal defence solution, which revives ecology while inviting and connecting local communities to the shoreline. Rather than building a massive wall between people and the water, our project embraces the water, facilitating public engagement with the marine ecosystem, and providing enhanced physical and visual access to the water.
$5,000
Hugo Shelley- The world's first carbon-neutral seawall
(United Kingdom)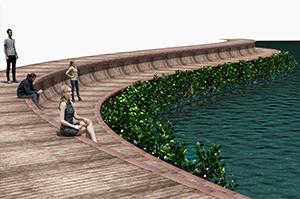 The extruded profiles appear as a series of columns, supporting a lower promenade that echoes the curved roofs of traditional Balinese architecture. Downlighting can be used to accentuate these features, giving the impression of a walkway suspended on columns of light. The wall is composed of 50% sengon sawdust and 50% biopolymer. Sengon sawdust is a byproduct of the Indonesian plywood industry. HDPE biopolymer is derived from sugarcane, a renewable raw material. This composite material is extruded to form an interlocking profile that has been developed specifically for the Kura Kura Bali project.
Impressed by the other great submissions, Kura Kura Bali Island of Happiness has decided to award four additional Kura Kura Bali Coastal Design Honourable Mentions:
Arjen Luijendijk, Deltares (The Netherlands) - The Green Lagoon- $1,000
A creative submission following the Balinese culture of "harmony with nature"
BioInspired (Argentina) - KLS: Kehidupan Laut Seawall, inspired by Nature - $1,000
A marine life friendly, biomorphic seawall design with jetting assisted technology, inspired by Nature: razor clam, coral reef and sea turtle.
Team members: Charly Karamanian and Alejandro Bollana
Gilles Sarrailhe's Team,PowerCem Technologies (The Netherlands) - Integral solution to connect Bali with the Sea - $1,000
A Seawall solution that proves a symbiosis between "enjoying" and "preserving" nature for generations to come
Mario Valente ( United Arab Emirates) - 2,000 year design life Roman seawall -- $1,000
A solution used 2,000 years ago, when Romans recycled natural volcanic pozzolans to build seawalls that still stand strong today.
We would like to take this opportunity to thank Peter Diamandis and the HeroX team, Quincy Jones and Figueres Christiana, ICC Secretary General John Danilovich; all of the community innovators; our judges: Ridwan Djamaluddin and the Coordinating Ministry for Maritime Affairs' team; Andrew Potts and Amin Rasidi, Bali Turtle Island Development; Konstantina Rappo, Camper & Nicholsons; Lim Kok Kim, KK Lim & Associates PTE LTD; Mark Chambers, New York Mayor's Office of Sustainability; Patrick C Augustin, Perunding FAISAL, ABRAHAM dan AUGUSTIN sdn. Bhd.; our partners UN SDSN; United in Diversity; GITI; Business & Sustainable Development Commission; International Chamber of Commerce, and our colleagues who contributed to the challenge.
Without you, we would not have begun on this global crowdsourcing journey to Happiness, one challenge at a time.
Stay tuned for more details on the teams' assembly will follow.
Later edit: We really appreciate all the innovators submissions and we would like to thank them again for sharing their ideas with us: Aghilan Mayan- India; Andra Cretu- Romania; Arwin Abaigar AJA's team- Philippines; Alberto Martorana- Hong Kong; Chris Williams- USA; Chri M- Tanzania; Daryl Procinsky's team: Curtis Hrdlicka &Daryl Procinsky- Canada; George Bigger- USA; Jeffery Bird- USA; Kaiming She- United Kingdom; Keith McCormic- USA; Kamal Farzaneh- Iran; Kris Buote's team: Victor Ivan, Allier Ortiz, Jared Holitski, Kris Buote, Ty Hartwig- Canada; Kityue Kan- USA; Kashyap Gohel's team- Kenya; Kelly Thomas- United States; Luis Humberto Vanegas Niño- Columbia; Matias Alejandro Ruiz Muñoz- Argentina; Md Mahfuzar Rahman- Bangladesh; Manuel Muñoz Saiz-Spain; Michael Godden- Grenada; my181iq.; Naturale Desalination- USA; Nagendra Kumar Bhoopanam- India; Nishat Meeran- India; Nishan Vijayaratnam-Switzerland; Pablo Vallejo-Costa Rica; Robert Sweeney-Canada; Robens Molaire- Dominican Republic; Rolly Alvarez- The Philippines; Sami Ellafi- Germany; Shahrooz Guilani-USA; Shane Ferkovich-USA; Vu Quang Thanh-Vietnam; Weny Sihombing- Indonesia; Yutaka Tengan- Japan.