To all Virtual Spaceport America Cup teams, tickets for the Virtual Cup are going on sale this Monday April 19th!
Pricing information is shown below along with some clarifications/frequently asked questions here. There will be more detailed instructions this coming week so you can know what and how to prepare for the virtual event (hint, dust off your phone cameras and webcams...have you been practicing making videos TikTok/Twitter/IG/and Facebook over the past year?)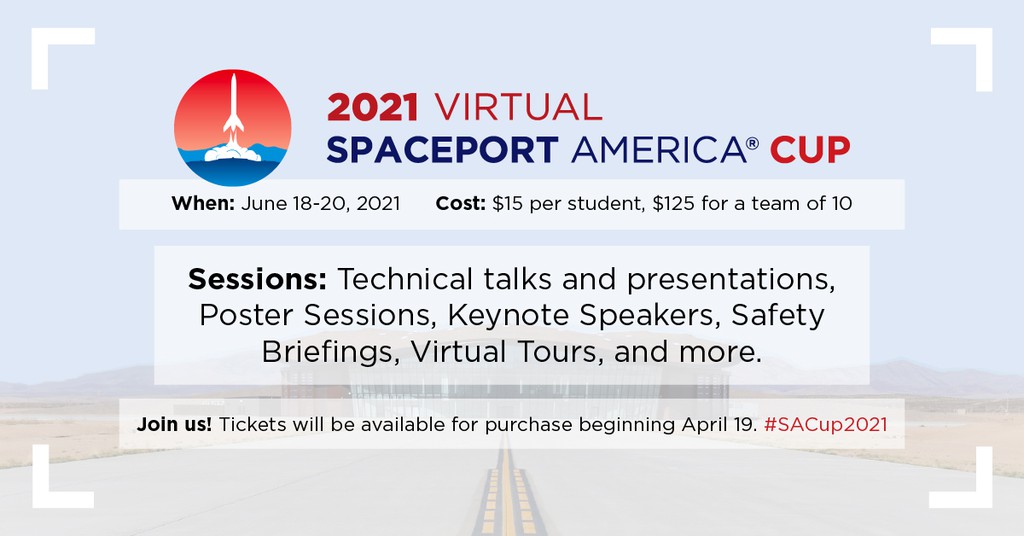 Clarifications and mini-FAQ:
Who needs to buy tickets? Answer: All competing teams must purchase at least one team ticket ($125). Each team ticket includes a block of 10 individual student tickets. Additional student tickets can be purchased at the for $15 each or additional team tickets can be purchased as needed. The ticket price covers all 3 days of the Cup.
Can non-students buy tickets too? Answer: Yes! Non-students (e.g. friends and family and general public) can purchase tickets for $30 which covers all 3 days of the event.
What is the agenda and specific rules for the virtual competition? Answer: We've been very busy behind the scenes lining up some fantastic keynote speakers and technical forum topics. The agenda will be available when tickets go on sale this Monday. Also, we have also updated the competition rules document to provide further details on points and awards for this year's event. We will post the updated rules within the next week.
Will we be able to interact with fellow teams, sponsors, vendors, Spaceport America, and ESRA? Answer: YES! We've quite excited by the capability of our virtual hosting company. There will be many opportunities for interaction during specific events as well as during downtime between events.
Looking forward to seeing you show off your designs, analysis, testing, and overview of your rockets!
---