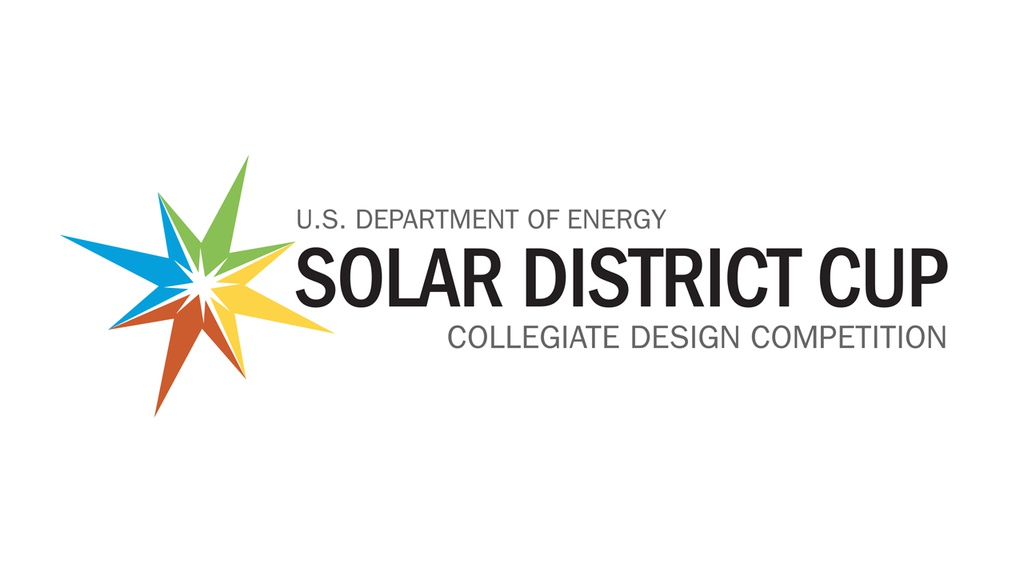 Welcome to the U.S. Department of Energy Solar District Cup Collegiate Design Competition!
The Solar District Cup challenges multidisciplinary student teams to design and model optimized distributed energy systems for a campus or urban district. These systems integrate solar, storage, and other distributed energy capabilities across mixed-use districts, or groups of buildings served by a common electrical distribution feeder. The competition engages students across the engineering, urban planning, and finance disciplines to reimagine how energy is generated, managed, and used in a district.
Teams compete in one of multiple divisions, each structured around a distinct district use case. A winner is selected for each division, based on the quality of their solar energy system design. The strongest designs provide the highest offset of annual energy and greatest financial savings. This will be determined by a techno-economic analysis conducted by students and evaluated by judges. The goal is to design, model, and present the most reliable, resilient, and cost-effective system possible.
Students will present their solutions to judges at the 2020 Solar Power Southeast conference in Atlanta, where the winners will be selected and announced.
APPROACH
The Solar District Cup is designed to inspire students to consider new career opportunities, learn new industry-relevant skills, engage with the professional marketplace, and prepare to lead the next generation of distributed solar energy. As competitors, students:
Build experience with innovative renewable energy design
Develop real-world solutions that shape the future of solar energy
Engage with industry professionals to forge relationships and connections that aid participating students' transition to the solar energy workforce upon graduation
Compete to earn national recognition upon winning a Solar District Cup and/or being selected as an industry choice winner.
The Solar District Cup encourages collaboration between academia and industry. The program seeks to establish public-private partnership and demonstrate corporate and nonprofit industry co-sponsorship..
LEARN MORE
To learn more about the Solar District Cup 2020, review the recorded Kick-off Webinar from Aug. 15, 2019. You can also read the competition Rules, available under the Resources tab, and register your team by choosing "Accept Challenge" on this page. Team registration is open through Sept. 12, 2019. Team registrations must be submitted by this deadline, although additional team members can be added at any time.
Subscribe to competition emails or .
The Solar District Cup is directed and administered by the U.S. Department of Energy (DOE), the National Renewable Energy Laboratory (NREL), and is funded by the DOE Solar Energy Technologies Office. Learn more.