The Solar District Cup competition organizers are thrilled to announce the launch of the Class of 2022-2023! You are invited to join the next year of the solar design competition as a student or faculty advisor.
The future of solar energy and distributed energy systems looks bright, thanks to our next generation of forward-thinkers! We'd love to see you put your skills and brain power to the test by joining the U.S. Department of Energy Solar District Cup Collegiate Design Competition for the Class of 2022-2023 program.
The goal of this competition is to design, model, analyze, and present an innovative and cost-effective solar-plus-storage system for a campus or district. Student teams assume the role of a project developer and work with real data to create effective solar solutions. At the end of the competition, a winner is selected from each division based on the quality of their solar energy system design.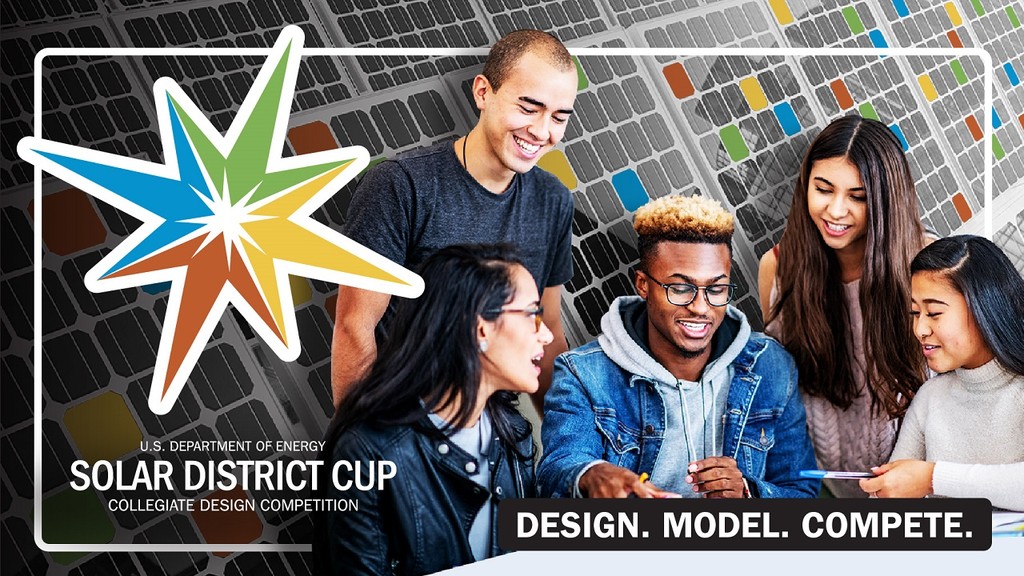 We are also excited to share a few changes to the competition in the Class of 2022-2023 that will allow students to participate in new ways:
The Solar District Cup Class of 2022-2023 will accept collegiate team registration on a rolling basis, which means students can begin work and access learning resources on a timeline that best aligns with their academic calendar.
In addition to rolling registration throughout the fall, the Class of 2022-2023 will allow for one-semester or two-quarter participation in the winter/spring.
This year, students will have two options for their district use cases: (1) assignment to a district use case defined by competition organizers (as has been done in all previous iterations of the Solar District Cup), or (2) a bring-your-own-district division in which students can self-select their district use case, utilizing the district's available data on their own.
The organizers are planning for the final competition event to be an in-person or hybrid event in April 2023. Date and location are to be determined.
If you or a student you know is interested in competing in the Class of 2022-2023, team registration is now open! Click the "Solve this Challenge" button at the top of this page to get started.
You can also follow the competition on this HeroX page or subscribe to competition email announcements for updates on the Solar District Cup Class of 2022-2023.
---