Attention, Pure Blue Skies solvers. Something approaches.
What's that silhouette up in the clouds?! Is it a bird? Is it a plane? Wait... actually it is a plane this time!
And the person flying that plane isn't Superman, but it is a super woman. That pilot is none other than legendary American aviator Patty Wagstaff!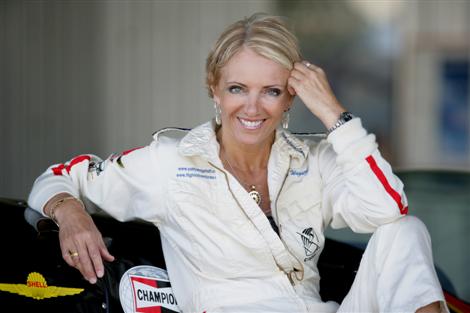 Patty has volunteered to serve on this challenge's judging panel, alongside a roster of talented subject matter experts from NASA. So if you choose to submit to Brilliant Minds for Pure Blue Skies, know that your ideas could be read and discussed by experts of all types and backgrounds!
Want to join Patty in supporting NASA's mission to protect our skies? Then sign up and be sure to submit before December 14th, as that's the last day where you can submit!
Help keep our skies pure and blue so that they everyone can enjoy a healthier world!
More info on why Patty is an aviation legend:
To Patty Wagstaff the sky represents beauty, freedom and challenge. A six-time member of the US Aerobatic Team, she is the first woman to win the title of US National Aerobatic champion and one of the few people to win it three times.
Energetic and spirited from earliest childhood, Patty Wagstaff has built a life of adventure, risk, and courage. Following her dreams even when no reward was in sight, her dedication has pushed the limits of aerobatic flight.
Wagstaff has earned recognition for her accomplishments as a woman, and as a pilot, flying thrilling low-level aerobatic routines in competitions and air shows before millions of spectators each year.
Her breathtaking airshow performances give airshow spectators a front-row seat view of the precision and complexity of modern, unlimited hard-core aerobatics. Her smooth aggressive style sets the standard for performers the world over. Patty has flown aerial displays in such exotic places as South and Central America, China, Russia, Europe, Singapore, Kenya and Iceland.
Patty grew up in and around airplanes. Moving to Japan when she was nine years old where her father was a Captain for Japan Air Lines. At ten years old when her father let her take the controls of his DC-6, her lifelong love affair with airplanes began. Since then she earned her Commercial, Instrument, Seaplane and Commercial Helicopter Ratings. She is a Flight and Instrument Instructor and is rated and qualified to fly many airplanes, from World War II fighters to jets. Patty's sister, Toni, is also a pilot for United Airlines.
Patty's skill is based on years of training and experience. She is a six-time recipient of the "First Lady of Aerobatics" Betty Skelton Award; an inductee into the National Aviation Hall of Fame and was the recipient of the National Air and Space Museum's Award for Current Achievement. She is proud of receiving the Airshow industry's most prestigious awards, the "ICAS Sword of Excellence", and the "Bill Barber Award for Showmanship". Recently she was awarded a Lifetime Achievement Award from the Air Force Association.
In March, 1994, her airplane, the Goodrich Extra 260, went on display in the Smithsonian National Air & Space Museum in Washington DC where you can see it on the Mall today.
Also, as a member of the Screen Actors Guild, Motion Picture Pilots Association, United Stuntwomen's Association, she has worked as a stunt pilot and aerial coordinator for the film and television industry.
From 1999-2006, Patty was Raytheon's/Beechcraft (now Textron) demo pilot for their T6A/B Texan II military trainer and light attack aircraft, performing in international Airshows such as Paris, Singapore and Farnborough. Today she continues to coach their Demo Team.
Since 2001, Patty travels regularly to Kenya where she leads a training program to give bush, recurrency and aerobatic training to the pilots of the Kenya Wildlife Service (KWS) Airwing, who protect Kenya's wildlife and other natural resources from poachers.
From 2010 to 2012 Patty flew for Cal Fire as an Air Attack pilot in the OV-10 Bronco. Cal Fire pilots fly the OV-10 and the S2T Tanker out of 12 bases helping keep California safe and supporting firefighters on the ground.
In 2013 she returned to Florida to start an aerobatic school, "Patty Wagstaff Aviation Safety" in St. Augustine, Florida.
Wagstaff continues to fly airshows worldwide, and when not flying, she leads an active lifestyle and enjoys working out, riding horses, hanging out with her dogs and her parrot, Buddha, or at the beach. She loves good restaurants, music, reading, and cooking too!
Her latest venture is producing a series of educational and instructional videos on aerobatics with Sporty's Pilot Shop in Clermont, Ohio, with its first two releases "Introduction to Aerobatics" and "Basic Aerobatics" being released in 2020.
---