Imagine a world where everyone has access to clean and affordable energy.
Can you help make this a reality?
The cost of solar panels has plummeted over the last two decades. So, what's next? We believe that an innovation in how solar panels track the sun could reduce the cost of solar power worldwide by up to 30%.
Your Challenge - Innovate the Dual Axis Tracker Frame
In its simplest definition, a tracker is used to reposition solar panels to follow the sun with a certain degree of accuracy. The current method to track the sun is to place solar panels on large, automatically moving frames. However, that may not be the way of the future.
Through this challenge, we are seeking ideas and designs from you about how to reinvent the dual axis tracker frame entirely. Perhaps you propose a new material, a new installation method, or a new approach entirely - we leave that up to you. All you have to do is improve the status quo.
Solar Trackers Today
Solar trackers are one of many ways to mount solar panels. Coincidentally, they are also among the most efficient forms of mounting equipment available. Since they "track" the sun's position in the sky, they're able to maximize the energy received from the sun throughout the day, rather than being locked into a single position that becomes less efficient as the sun's angle changes, sacrificing optimal energy production for part of each day.
Fixed-Tilt System
See Figure 1 for an example of a fixed-tilt set up for solar panels. Here, the module is stationary at this angle at all times. The value of the angle is equal to that of the latitude of the location where the panels are to be used.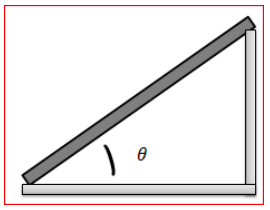 Figure 1
Single Axis Trackers
In order to maximize the panels' exposure to the sun, single-axis trackers were created. Single-axis trackers rotate at their base to mimic the sun's path through the sky as it moves from East to West. Single-axis trackers have been known to improve output by more than 27-32% of the output of fixed-tilt systems. See Figure 2 for an example.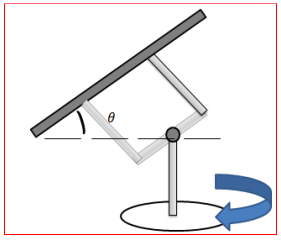 Figure 2
Dual Axis Trackers
Unsurprisingly, dual-axis trackers operate similarly to single-axis trackers, but with two axes of movement, aligned with North-South and with East-West, giving them a wider range of position options. As seasons change and the sun's path goes from low in the sky in winter to high in the sky in summer, dual-axis trackers can optimize the amount of solar energy captured. See Figure 3.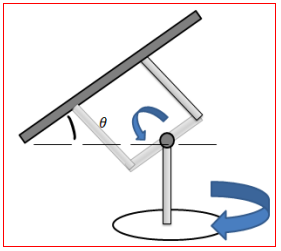 Figure 3
The strength of dual-axis trackers is their ability to maximize energy production. However, this is the status quo. They also have a higher degree of mechanical complexity, making them more expensive and requiring more maintenance over their installed lifetime. As such, single-axis trackers are more commonly used, as the cost of dual-axis trackers is significantly higher than single-axis, while only showing marginal improvement in energy production (3-8% more than single).
Components of a Dual Axis Solar Tracker
Tracker Mount Frame

The skeletal holding of the solar panel upon which the panel is placed in a proper inclined position, attached to a post

Drives

Used to control the rotation of the motor shaft based on the load

Sensors and Sensor Controllers

Used to detect relevant parameters induced by the sun to then manipulate the controller which then yields outputs

Motor and Motor Controller

A motor converts electrical energy into mechanical energy
A controller ensures that correct amount of current is given to microcontroller and motor

Tracker Solving Algorithm

The computer or a processor calculates the sun's position from algorithms using its time/date and geographical information
The Opportunity
Every telescope on the market that can track a planet has improved, the motors have gotten smaller, the price has dropped, and the accuracy has improved. No comparable innovation has occurred in trackers, because the price of solar panels themselves was so high that there was no reason to innovate the trackers. However, the cost of solar panels now is the same or less than the price to manufacture trackers, so we believe it is the perfect time to innovate.
Previous innovations in the software used to track the sun have dropped costs up to 20%, but we see this as linear progress when we believe the opportunity is truly exponential. Current tracker manufacturers will tell you that 80-90% of the cost of trackers today is due to the price of steel, which is out of our control. Therefore, proceeding with the status quo will result in little progress. This is your opportunity to propose a new methodology, material, or infrastructural design and be selected as a finalist to develop a proof of your concept.
The results of this competition will be an immediate drop of one-third of the cost of solar, worldwide. We see that as a significant impact on the world. Accept this Challenge today, and join us in taking a true step toward abundance through energy independence.
Challenge Structure
Phase I: Ideation
Submit your idea for how to innovate the physical infrastructure of the dual-axis tracker
Up to 3 ideas will be selected to receive a cash award to fund the development of a proof-of-concept.
Phase II: Design
Turn your idea into a full design supported by thorough descriptions, visuals, and a proof of concept
Up to 2 ideas will be awarded cash prizes and have an opportunity for a manufacturing contract
About RMD Energy
In the past solar energy simply cost too much for most people and storage simply wasn't practical. But times have changed. Our integrated systems allow you to focus, concentrate and catch solar energy during the day, keep it in an ultra-efficient 112-yearLTO storage bank, and charge as needed from a variable speed genset.
From telco tower to homes, resorts to the grid it means huge savings versus traditional power distribution. Most people outside the largest cities will see savings of 40-50% from their monthly power bill.
Best of all, you don't pay for equipment, we lease you a system tailored to your energy needs.
What Can You Do Right Now?
Click "Follow" to receive Challenge Updates and be the first to hear when this challenge is launched!
Share this challenge on social media using the icons above. Show your friends, your family, or anyone you know who has a passion for discovery.
Start a conversation in our Forum to join the conversation, ask questions, or connect with other innovators.