Background
New technologies, including wearable interfaces like heads up displays, smart watches, and biological monitors have the potential to increase first responder safety while enhancing performance. However, variability in current testing procedures/environments pose a challenge in assessing the effectiveness of emerging technologies. To assess the potential of new technologies and compare technologies against each other, NIST is crowdsourcing ideas that use virtual/immersive environments in conjunction with physical spaces to create accurate first responder scenarios and a repeatable test environment for technology evaluation.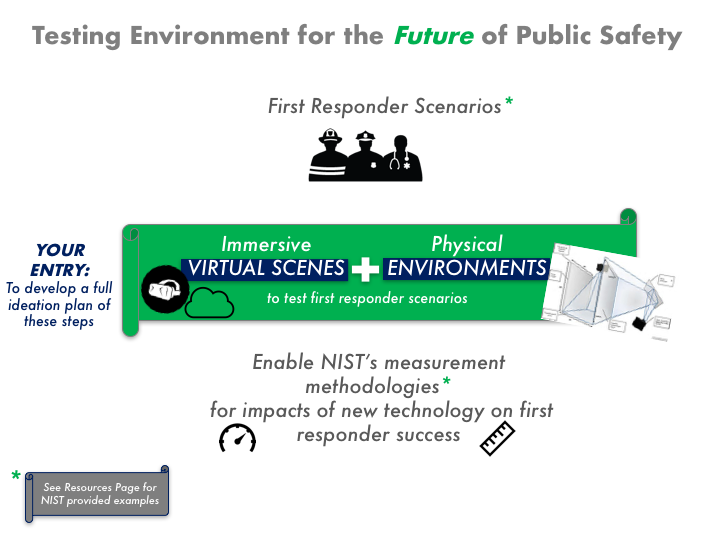 Note:
Timeline
Pre-registration begins           February 28, 2017
Open to submissions              March 28, 2017
Submission deadline               May 3, 2017 @ 5pm ET
Judging                                   May 4 to June 11, 2017
Crowd Voting                          May 8 to May 19, 2017
Winners Announced               June 12, 2017
Prize
NIST will award a grand total of up to $50,000 in overall cash prizes:
The guaranteed minimum prize amount, per finalist, will be $5,000
Up to 5 competitors could share a $45,000 prize purse, as awarded by the judges
A popular vote Award of $5,000, determined by crowd voting, will be given following the submission deadline
How do I win?
To be eligible for an award, your design proposal must, at minimum:
Satisfy the Judging Criteria
Thoughtfully address the Submission Form questions
Be scored higher than your competitors!
Judging Criteria
Section

Description

Overall Weight

Reality

How well does the design emulate a real first responder experience?

20

Availability

Is the technology proposed currently available?

15

Versatility

Ability to accommodate multiple and variety of scenes/scenarios.

(see the NIST provided examples of some first responder scenes NIST is interested in accommodating)

15

Metrics Collection

How well does the design enable the collection of measurements and data from the first responder?

(see the NIST provided examples of some data and metrics NIST is interested in collecting)

10

Replicability

How replicable is your design for future labs to recreate?

10

Repeatability

How long does it take the operator to reset the scene in between simulations?

10

 

Interoperability

How many different technologies and/or interfaces can your design accommodate for testing?

(see the NIST provided examples for a list of technologies NIST is interested in testing)

10

Safety

How safe is your design for the end-users?

5

Above and Beyond

How does your submission go above and beyond the listed criteria?

5
* Lowest-cost competitors will not automatically achieve higher ranking.
Rules
The NIST official rules are posted on Challenge.gov and a full copy of those rules are in the Challenge Specific Agreement on HeroX. The following information is provided as reference and is not all-inclusive.
Eligibility:
To be eligible for the cash prizes, individuals must be age 18 at the time of entry and U.S. citizens or permanent residents of the United States. In the case of a private entity, the business shall be incorporated in and maintain a primary place of business in the United States or its territories.  Participants may not be a Federal entity or Federal employee acting within the scope of their employment.  [NIST Guest Researchers, as well as direct recipients of NIST funding awards through any Center of Excellence established by NIST, are not eligible to enter.] Non-NIST Federal employees acting in their personal capacities should consult with their respective agency ethics officials to determine whether their participation in this Competition is permissible. 
See the Challenge Specific Agreement for full eligibility details.
Payments:
The prize competition winners will be paid prizes directly from NIST. Prior to payment, winners will be required to verify eligibility. The verification process with the agency includes providing the full legal name, tax identification number or social security number, routing number and banking account to which the prize money can be deposited directly.
Intellectual Property:
Any applicable intellectual property rights to an Entry will remain with the Participant.  By participating in the prize challenge, the Participant is not granting any rights in any patents, pending patent applications, or copyrights related to the technology described in the Entry.  However, by submitting an Entry, the Participant is granting NIST, NASA, and any parties acting on their behalf certain limited rights as set forth herein.
By submitting an Entry, the Participant grants to NIST, NASA, and any parties acting on their behalf the right to review the Entry, to describe the Entry in any materials created in connection with this competition, and to screen and evaluate the Entry. NIST and NASA, and any parties acting on their behalf will also have the right to publicize Participant's name and, as applicable, the names of Participant's team members and/or Organization which participated in submitting the Entry following the conclusion of the Competition.
As part of its submission, the Participant must provide written consent granting NIST, NASA, and any parties acting on their behalf, a royalty-free, non-exclusive, irrevocable, worldwide license to display publicly and use for promotional purposes the Participant's entry ("demonstration license"). This demonstration license includes posting or linking to the Participant's entry on NIST and NASA's websites, including the Competition Website, and partner websites, and inclusion of the Participant's Entry in any other media, worldwide.
Registration and Submissions:
Submissions must be made online (only), via upload to the HeroX.com website, on or before 5pm ET on May 3rd, 2017. All uploads must be in PDF format. No late submissions will be accepted.
Selection of Winners:
Based on the winning criteria, prizes will be awarded per the Judging Criteria section above. In the case of a tie, the winner(s) will be selected based on the highest votes from the judges.
Judging:
The final determination of the winners will be made at the sole discretion of NIST. Scores and feedback from NIST will not be shared.
Popular Choice Award Voting:
The $5,000 popular choice award will be awarded based on number of votes received during the voting period.  A competitor is eligible to win both a Judges' Award and the People's Choice Award.  
All votes are subject to review. Any competitor using unfair methods to solicit votes will be automatically disqualified from the challenge.
Entries that are eligible for the Voting stage will become viewable to the public. Make sure that if your entry moves on to the Voting stage, that you're OK with anyone seeing it! Depending on the number of entries received, either all or a selected shortlist will move on to the Voting stage.