Amazing to think it's been well over a year since HeroX first announced the AEM Infrastructure Vision 2050 Challenge. The challenge was of epic, even herculean proportions: crowdsource a design for a transportation system in the US that would move people more safely and efficiently than today's existing network, and integrate with future transport technologies. The results were incredible, though, and just last week, the finale event for the competition was held in Las Vegas, NV at CONEXPO-CON/AGG's new Tech Experience. In this "shark tank" style event, the five Build Phase finalists came together in person and pitched their concepts to the judging panel -- all in front of a live audience.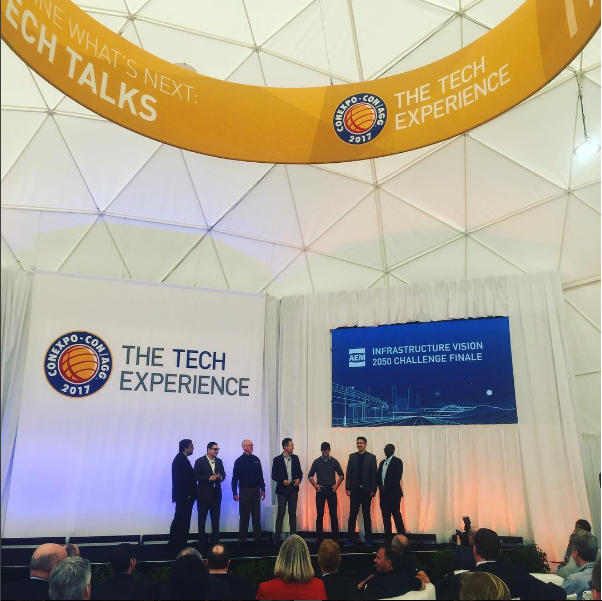 All finalists gather onstage for winners announcement.
Five finalists walked in, but only three would walk out as winners. After a series of phenomenal presentations, first place (and a whopping $50,000 prize) went to Team Berkely and their concept Hyperlane. Teammates Baiyu Chen and Anthony Barrs Barrs presented Hyperlane as an infrastructure design that would allow autonomous vehicles to travel at high speeds along existing roadways, in so-called "hyperlanes" by using surge pricing. The result? Dramatically reduced congestion, especially at peak usage times, and an overall safer experience for motorists.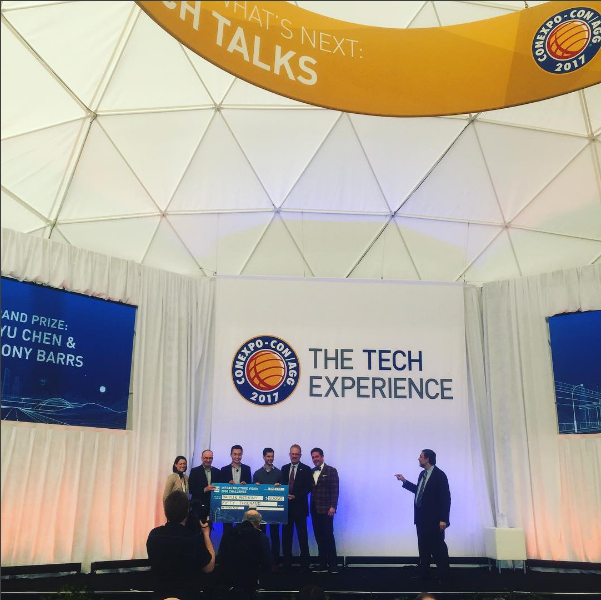 Team Berkely - Baiyu Chen and Anthony Barrs - accept their prize check for $50,000.

"It's really exciting to see that our idea was recognized by some of the biggest names in the industry, and especially here at CONEXPO-CON/AGG."
-Baiyu Chen, Team Berkely
Peter Muller took second place with his design SmART Driverless Vehicle System, with winnings totaling $35,000. In third place, Kevin Lu was awarded $15,000 for his Adaptive Pavement System, which would automate traffic to reduce congestion.
"These five finalists were truly outstanding."
-Dennis Slater, AEM president
Winning aside, the finale was a huge hit, all-around.  "Their designs are a reminder of what's possible when we democratize innovation and challenge innovators to see the world as it could be. It's inspiring," said AEM president Dennis Slater. 
One thing is for certain, the Infrastructure Vision 2050 Challenge brought a very welcome new tone to the public conversation around US infrastructure. Often framed as a paralyzing, burdensome, or a painfully political issue, this incentive competition approached it from a solutions-based, optimistic, and even hopeful way of thinking.
"It's an honor to be part of this competition, which not only stimulates our minds about what is possible, but also inspires an important dialogue about the possibilities of modern infrastructure," said Vivek Wadhwa, a Build Phase judge. "AEM wants to facilitate this conversation that will lead to productive solutions going forward."
Launched in January of 2016, the three-phased incentivized competition challenged a global community of innovators to think in aspirational and disruptive ways about how to reimagine personal mobility, freight movement, and utility infrastructure components and systems in the United States. Ultimately, the Infrastructure Vision 2050 Challenge is part of a larger policy-focused thought-leadership initiative launched by AEM in 2015. This iniative aims to develop a long-term national vision for United States infrastructure.
All five finalist teams' presentations are on display in the Infrastructure tent of the Tech Experience until the end of the week. To find out more about the finalists and their projects, you can see them in this video:
---