LEO Innovation Lab is sponsoring the Relieve Itch innovation challenge with a prize money of $50,000. 
People living with a chronic skin condition such as psoriasis and eczema are terribly affected by intense itchiness of the skin. While current treatments are available, they are not sufficient. We are looking for a technology solution that could address this.
Challenge Description
We are looking for a digital and/or device solution which will enable people with a skin condition such as psoriasis or eczema, to find new relief from their itch or to live more comfortably with their itch. The solution is based on software and/or hardware and solutions which assume that users have access to a smartphone or other state-of-the-art devices are accepted.

- Concept Idea deadline is February 13, 2017 
- Prototype deadline is June 1, 2017 23:59 p.m. UTC +2 (CEST)

Read the challenge Guidelines for the specific submission criteria and rules. Please advise that guidelines are subject to change. Registered competitors will receive a notification when significant changes are made, however, we highly encourage you to regularly visit the challenge page.
Problem
Living with atopic dermatitis and psoriasis is associated with terrible itch and patients often rate this, as the most distressing symptom of their condition. Itchiness is a large burden as the itch often can be so intense, that maintaining a normal life can be hard. To read more about itch please see the available resources for this challenge.
Many people experience trouble with concentration and the ability to focus. Moreover, it can strongly influence their ability to fall and remain asleep. The constant itch often results in people scratching in their sleep, increasing the risk of infections and amplifying the severity of the disease flare-up.
Current non-medical solutions for treating itch used by people with psoriasis and AD involve coconut oil, ointments, creams, gels and lotions. Other people use salt baths, sun, mud, cutting their nails short and sleeping with gloves to prevent scratching. Living with these conditions can cause a lack of energy and in many cases depression. People experience frequent social stigma and up to 60% of psoriasis sufferers have symptoms of depression as consequence of a lowered quality of life.
Challenge Breakthrough
The burden of itch and its disabling effect on people's quality of life is well documented in the literature, but the clinical understanding of itch remains largely unknown. For this reason, people's ability to cope with itch represents the perhaps largest unmet need in dermatology. 

As a parallel to the ongoing work within conventional pharmaceutical research and development, we believe that new digital and/or device technologies represent, an opportunity to support patients in managing severe forms of itch. We believe that such tools have the potential of decreasing the impact of itch and thereby increasing the quality of life for people living with a skin condition.
Such a solution would not only meet the needs of psoriasis sufferers worldwide but could also have a significant influence on the overall disease management and societal impact, for a broad range of skin conditions.
Winner Prize
A prize of a total of $50,000 USD will be awarded to the prototype solution that best meets the judging criteria. Apart from the prize money, the winner may become part of the LEO Innovation Lab project portfolio with the potential of:
Collaboration for commercialisation
Investment
Acess to sales force
Acess to a network of patients and healthcare providers through both LEO Innovation Lab and LEO Pharma
In the case of a tie, the winner will be selected at the discretion of the judging panel.
Background
Psoriasis
Psoriasis is an inflammatory skin disease with red, thick and scaly skin and affects at least 100 million people worldwide, with the highest concentration (around 2-3%) in the western population. What triggers the disease is partly genetic, however, general stress and post-traumatic stress are important predictors of skin flare-ups. Environmental factors such as humidity, certain nutrition, infections and psychological imbalance are also known to be capable of causing flare-ups. In general, people with psoriasis more frequently experience other diseases such as arthritis, inflammatory bowel diseases, overweight and obesity, heart issues and depression. To read more about Psoriasis please see the available resources for this challenge. 

Psoriasis and Life 
The psychological effects of psoriasis have on person's everyday life represent an enormous emotional burden. People experience frequent social stigma and up to 60% of psoriasis sufferers have symptoms of depression as consequence of a lowered quality of life.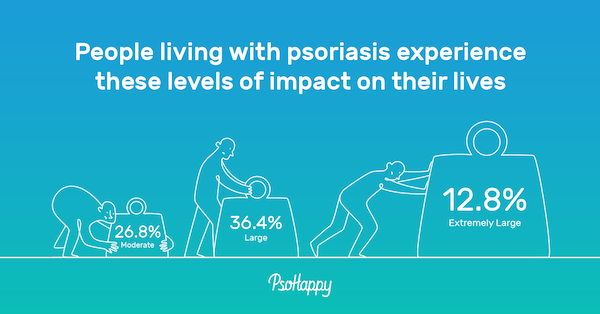 "It is terrible. It's hard to explain because your skin has a totally different texture than normal. It's not like a mosquito bite. It comes from underneath. And it's a bigger area. I scratch until it bleeds. And if you scratch a mosquito bite until it bleeds it stops itching but this continues. So, in the end, you scratch yourself skinless." - Testimony from a person living with Psoriasis

A recent study done by the Happiness Research Institute and Psohappy concluded that half of people with psoriasis say they have low self-esteem and 41% say they rarely feel confident. The study also found that people living with psoriasis have approximately 20% lower level of happiness compared to the rest of the population. 

Atopic Dermatitis
Atopic dermatitis (AD) is a very common inflammatory skin disease diagnosed in up to 20% of children in Western countries, often occurring along with asthma and hay-fever. Most AD goes into remission at child age but for some people AD flares up again later in life (adult atopic dermatitis). Skin infections, skin irritants and sometimes even sweating can provoke or worsen skin rash, affecting people with severe itch and a lowered quality of life. In general, people with AD often experience asthma, hay-fever and certain other eczema-diseases. To read more about Atopic Dermatitis please see the available resources for this challenge. 

Other Challenges
Have a look at our other challenge Skin Prediction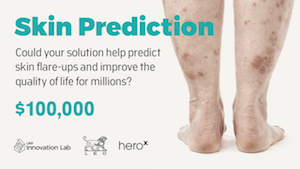 Challenge Sponsor
 

This challenge is created and sponsored by LEO Innovation Lab. 

LEO Innovation Lab is an independent unit, established by LEO Pharma as part of a long-term strategic decision to focus on patient needs.
At LEO Innovation Lab we don't develop medical treatments – instead, we look at all aspects of everyday life that can affect a person living with a skin condition, with the goal of improving their quality of life.

To learn more about LEO Innovation Lab visit: http://leoinnovationlab.com

About LEO Pharma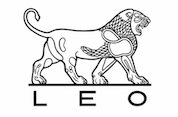 Pharmaceutical company LEO Pharma specializes in dermatology helping people globally, that suffer from skin conditions such as psoriasis, eczema, actinic keratosis or acne. LEO Pharma is owned entirely by the LEO Foundation and has no shareholders. Its profits are reinvested to develop new solutions to support the overall mission: To help people achieve healthy skin.