Background and Situational Overview
The typical approach for sand mining is through large on-site ponds and floating dredges where heavy minerals are recovered to a heavy-mineral concentrate (HMC) by wet separation methods within large floating concentration equipment. This requires significant and costly infrastructure, as well as significant rehabilitation of the area mined. Additionally, regions where these mining areas are located often face significant water scarcity challenges, which can significantly limit water availability for mining operations.
There are situations where the current (wet) separation methods described above for sand mining are impractical. Examples of such conditions include:
More developed areas where there may be high-grade mineral concentrations, but insufficient space for traditional infrastructure and where water scarcity is often an issue
More remote area where the area is large, but the concentration of minerals is lower in grade, making traditional methods cost-prohibitive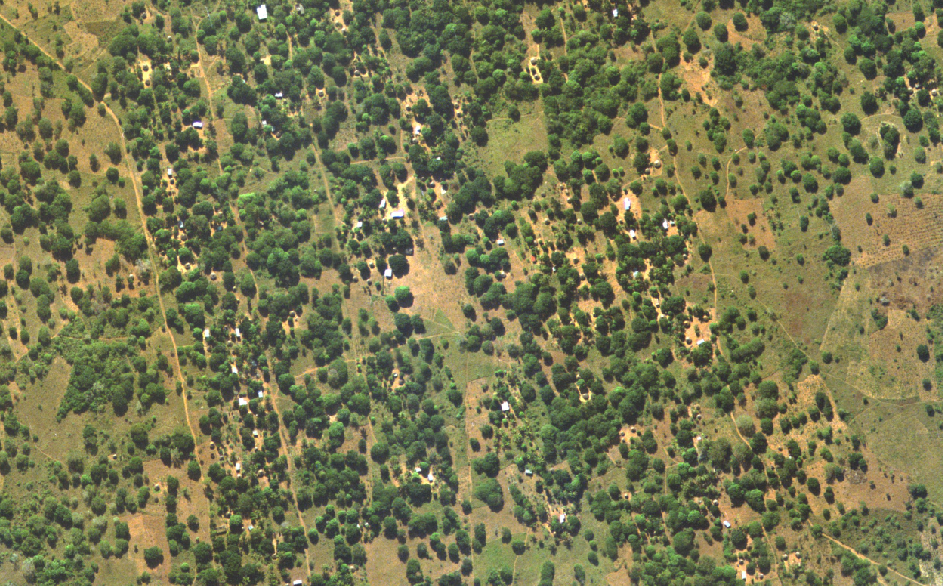 Goals for this Ideation Challenge
Rio Tinto and their stakeholders are interested in your ideas for new and novel methods of mining mineral sands that provide on-site initial separation/concentration of minerals and which:
Minimize or eliminate the need for water in processing (e.g. eliminate need for ponds)
Minimize other disruptions or impacts during and after mining (e.g. physical, environmental, noise)
Your ideas will be evaluated for their potential to achieve the following:
Enable on-site concentration of total heavy minerals (THM) content (1 order of magnitude or greater), prior to being transporting off-site for further processing
Ability to achieve a mass reduction (tails removal) of at least 80%
The sand mining current process is described in detail here. For the purpose of defining the scope of this challenge, we have categorized the key elements of the sand mining process as shown and summarized below.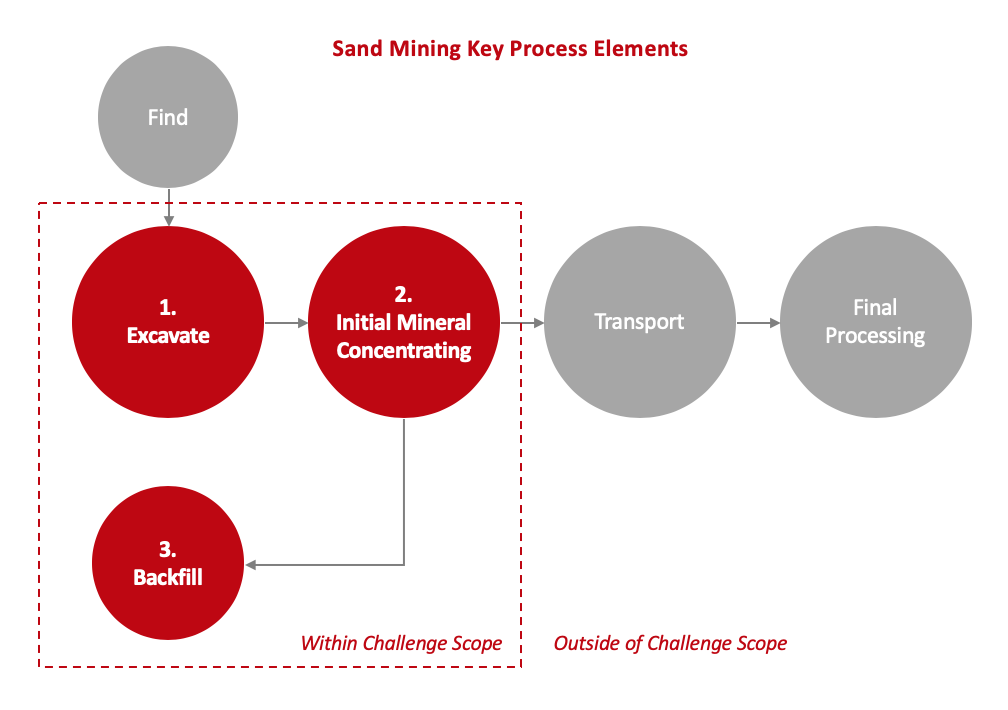 Within Challenge Scope:
Excavation - Excavate raw material using 'small footprint' equipment to minimize disruption of area.
Initial Mineral Concentration – Initial processing on-site for initial mineral separation and concentration, without the need for ponds & floating dredges.
Backfill - Separated waste streams are replaced in-ground, likely supplemented by additional materials.
The process elements described above are all conducted on-site today and expected to be conducted on-site for new solution ideas. Your ideas and concepts may address a single process element or any combination of these elements. The initial descriptions as discrete steps should also not limit your thinking, and new solutions may combine or integrate elements in new ways. Initial mineral separation and concentration today are done via ponds and dredges as described above. New, novel approaches to on-site processing should strive to eliminate the need for part or all of this infrastructure.

Outside of Challenge Scope:
These process elements (outside of dotted lines) are considered out of scope for this challenge but are being shared for context.
Find – Rio Tinto is currently able to identify mineral deposits, including the specific areas for targeted mining within defined larger areas.
Transport – Rio Tinto has existing approaches for cost-effective transport of materials after initial onsite processing to an off-site centralized location for final separation/processing.
Final Processing – Partially separated materials are further processed, likely using proven wet processing. Rio Tinto will use current technologies and capabilities for this work.
Longer-term Goals
Solutions to this ideation challenge will help Rio Tinto and its stakeholders understand possible approaches to this problem that may be outside of the mining industry and will help inform the scope for a follow-on challenge(s) that Rio Tinto anticipates sponsoring on this topic later in 2020. Rio Tinto's long-term objective is to develop and commercialize an innovative and market-changing sand-mining solution that enables Rio Tinto to:
Gain access to new sources of valuable minerals from sand mining in areas that were previously not environmentally or economically feasible
Explore and develop the potential for new low-impact mining solutions in situations where current methods are impractical
Address the worldwide challenge of water scarcity in mining areas

While not a direct criteria for this Ideation Challenge, we are providing the following additional success measures for context. At the end of any follow-on concept/feasibility challenge(s), we would ask for evidence that any new sand mining process could perform to the following levels:
Achieve 70%+ recovery of the total heavy minerals (THM) onsite, prior to transporting off-site for further processing
Achieve the above through ≥7x mass reduction (tails removal) while producing a concentrate of 100 Tons per Hour to provide satisfactory ROI
Technical Description
Mineral sands deposits are frequently formed in existing or previous coastal environments, where the action of ocean currents, waves and wind have formed sand dunes with the typical beige beach sand appearance that would be familiar to many. These sands are comprised mainly (>90%) of quartz (SiO2), but also include the content of heavy minerals (HM). The total heavy minerals (THM) can be many different minerals, including ilmenite, zircon, rutile, monazite, and garnets, to name a few. The quartz tends to be of coarser size with lower specific gravity or density (average particle size usually ranges between 300 to 400microns with 2.7sg) where the THM tends to be finer with higher density (125 to 150microns with a range of 3 to 5sg). The moisture content of above water table In-Situ sands is expected to be between 3-5%. The actions of nature have deposited these sands together; where the concentration of THM is >3% mass, it becomes economically feasible to mine.
The following two scenarios are representative situations where current sand mining approaches are needed. Ideally, your solution will address both scenarios, but we are also interested in your idea if it focuses only on one (based on the limitations of the proposed solution):
We are interested in ideas for mining mineral sand deposits in those situations where the current (wet) separation methods described previously are impractical. Examples of these such conditions include:
More developed areas where there may be high-grade mineral concentrations, but there is not space for infrastructure and where water scarcity is often an issue
More remote area where the area is large, but the concentration of minerals low in grade, making traditional methods cost-prohibitive

Technology Needs
Rio Tinto Iron and Titanium (RTIT) is seeking new technical concepts or solutions that can enable on-site recovery of as much of the heavy minerals as possible through the removal of the quartz sand tailings while minimizing or eliminating the need for water, infrastructure or other disruptions to the area.
By taking advantage of the characteristics of heavy minerals compared to quartz tailings, one can use particle size, shape, density, magnetic susceptibility or other methods to separate and concentrate the heavy minerals on site. The concentrate will then be transported off-site for further processing into final products, using proven methods within a fixed plant. The following potential solution paths are provided as examples of areas of interest, but ideas and solutions beyond those listed are encouraged:
Novel means of (dry) mechanical separation, such as via screening, air classifier, gravity & dense medium separator, et al
Magnetic or electrostatic separation methods that take advantage of differentiating characteristics of the material components
Combinatory approaches that can accomplish THM concentrations by recirculating the material for multiple passes
Non-traditional wet-processing solutions that require minimal water and enable 'inline' wetting and separation/concentration of THM materials
The addition of novel backfill materials earlier in the process that can catalyze or enhance THM separation/concentration
Novel approaches to the design of excavation/backfill equipment that can be transported and operate effectively in limited spaces
Solutions that integrate or synergize steps related excavation, separation/concentration or backfill


JUDGING CRITERIA
Section
Description
Weight
Innovativeness

Novelty/uniqueness of the proposed approach (e.g. used in non-mining applications, combining known methods together in a unique manner, completely new to the world, etc.)
Potential for RTIT to achieve unique access to existing or potential intellectual property that could enable competitive advantage

30
Potential for Low Impact

Potential for avoiding disruption to the local area, through small footprint, ability to work in limited spaces, etc.
Potential for minimal or no use of water (ie. dry processing)

50
Potential for Feasibility

Not expected to be fully vetted as technically feasible, but defines an initial vision or path for developing into commercially viable solution (ideally within ~3 years)
Not expected to have a complete cost analysis, but provides reasonable rationale for how new process could be cost-competitive once commercialized when compared with current wet-separation mining approaches

20
RULES
As explained above, this is an ideation Challenge where winning ideas can be used by Rio Tinto. This challenge will most likely be followed by larger scope challenges that will be open to first stage challenge participants as well as any other innovators. Please see the provided Terms & Conditions for more details.