ABOUT THE CHALLENGE
Build augmented reality interfaces for first responders OR develop smart city data streams to simulate disaster scenarios.
HOW TO ENTER
Step 1: Get Smart, Register Your Team
Learn more about the challenge phases, problem, emergency scenarios, submission requirements, and eligibility terms to participate in this prize challenge. Team up with a public safety partner and complete the registration form to set up your participant profile.

Step 2: Develop your Concept
Depending on your area of expertise, learn about the Phase 1 submission requirements for the AR submission or IoT submission, then develop your idea!

Step 3: Submit your Entry
Log in and complete your submission on the challenge platform.
The AR contest submission is due May 6th.
The IoT contest submission is due May 6th.
1. Augmented Reality Contest
Create AR interfaces for first responders (heads-up displays) or incident command (holograms), utilizing smart building and personal area network sensor data.
Background
Public Safety operates in challenging environments during emergency response. As America's first responder community supplements their land mobile radios with broadband communication technologies, there is a need to improve their ability to leverage new technologies with enhanced user interfaces designed around the first responder's context of use.
Problem Definition
Developers have the opportunity to leverage augmented reality (AR) technology, such as heads-up display and holographic interfaces, to convey actionable information to first responders without distractions or cognitive overload.
These solutions can significantly improve a first responder's situational awareness allowing them to more effectively plan and respond during incidents. Today, however, current advancements in AR technology have been largely unavailable to first responders.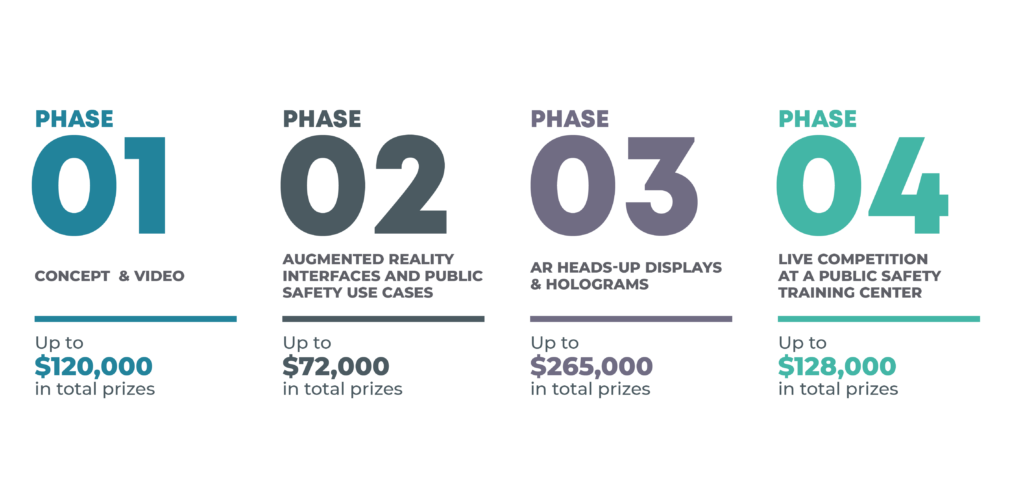 Submit a concept paper and mock up video to win cash awards to prototype your solution, partner with the public safety community, and travel to key events.
Up to 15 finalists will receive exclusive business acceleration services; Successful contestants will attend in-person training with and loaned hardware from Magic Leap and additional collaboration and mentorship opportunities with Challenge partners and impactful public safety partners.
2. Internet of Things Contest
Determine which sensors are most useful for first responders to successfully complete their tasks in four scenarios. Create time stamped data streams to accurately simulate disaster scenarios.
Background
It is projected that more than 70 billion IoT devices will be connected by 2025. America's first responder community seeks to supplement their traditional radio communications with information provided by broadband communications technologies, such as smart city and personnel location data.
Problem Definition
Today, first responders do not have convenient access to the critical information that they need to make informed decisions during emergency disasters.
Researchers can build solutions that provide first responders access to IoT devices', smart buildings' and smart cities' data streams. These systems would allow our public safety community to optimize resource deployment and decrease the time it takes for incident command and boots-on-the ground first responders to make live-saving decisions.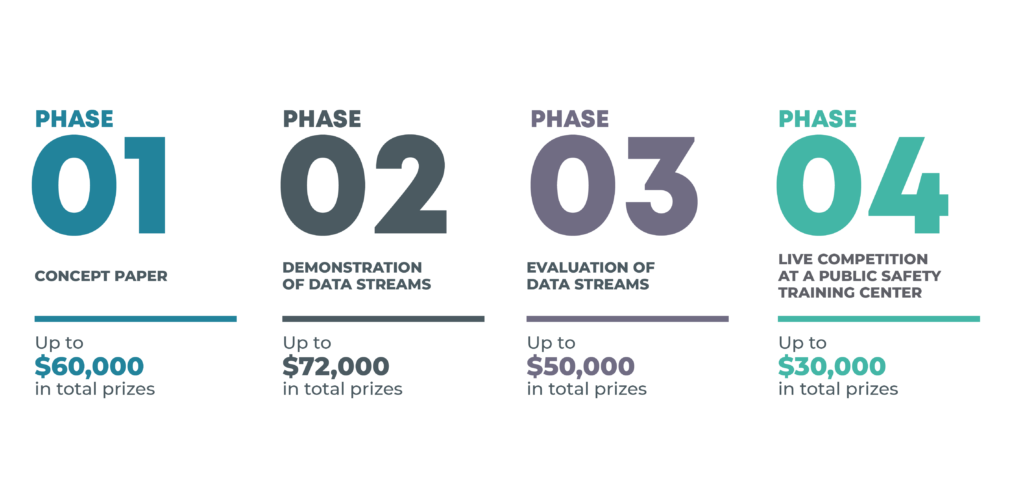 Help America's first responders, while winning cash awards to develop your emulated data streams, travel to key events and expand your network in the public safety community.
Successful contestants will demo their data appliances at the 2020 International Wireless Communications Expo (IWCE) and up to four finalists will see their solutions used by the public safety community in staged emergency scenarios during the final live event.