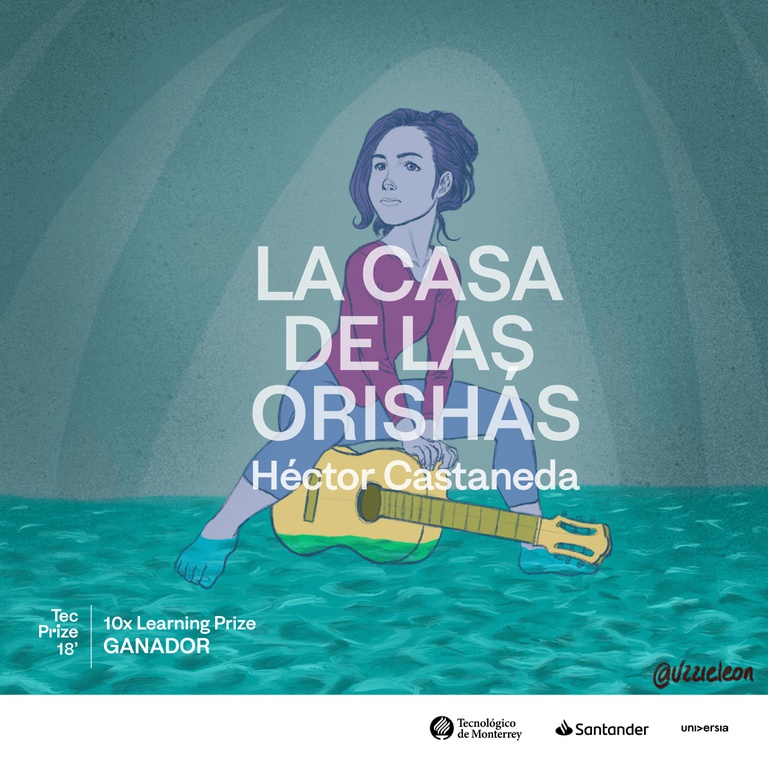 Estimados innovadores,
Por este medio informamos que TecPrize ha concluido la etapa de evaluación de proyectos y tenemos el gusto de anunciar que la historia de ciencia ficción titulada titulada "La Casa de las Orishás"- escrita por Héctor Castaneda originario de El Salvador ha sido declarada por el panel de jueces como la ganadora del primer 10x Learning Prize en la categoría de Cuento Corto, al cumplir con los criterios de evaluación y satisfacer las expectativas de calidad requeridas.
Muchas felicidades, Héctor. Además de ganar un premio, Hector será invitado al comité de TecPrize donde apoyará a los expertos educativos que definirán el siguiente reto para desarrollar soluciones radicales que construyan la educación superior del futuro, y su historia "La Casa de las Orishás", será publicada de forma íntegra en un reconocido medio de comunicación.
Agradecemos a todos los participantes que compartieron sus proyectos para imaginar con nosotros el futuro de la educación en el año 2049. Igualmente, otorgamos nuestro reconocimiento al equipo de voluntarios y jueces que se sumaron para evaluar las 451 participaciones y que han sido parte esencial de este proceso, realizando un análisis minucioso de cada una de las propuestas.
Alentamos a todos quienes participaron a seguir conectados. En los próximos días contactaremos a algunos innovadores que compartieron su visión, ya que su creatividad, talento y forma de pensar no pasaron desapercibidos. El 10x Learning Prize es solo el comienzo de nuestra colaboración.
Atentamente,
Comité organizador TecPrize
---
Dear innovators,
We hereby inform you that TecPrize has concluded its evaluation stage and we are pleased to announce that the science fiction story entitled "The House of the Orishás" - written by Héctor Castaneda, from El Salvador, has been declared, by our panel of judges, as the winner of the first 10x Learning Prize in the short story category.
Congratulations, Hector. In addition to winning a cash prize, Hector will be invited to join the committee that will design TecPrize's next challenge which aims to develop radical solutions that help build the higher education of the future. Additionally, Hector's story, "La Casa de las Orishás", will be published in a well-known media outlet.
We thank all the participants who shared their projects and dared to imagine the future of education in the year 2049. Likewise, we will like to acknowledge the extraordinary work of our team of volunteers and judges, who evaluated the 451 submissions and who that have been an essential part of this process by making a thorough analysis of each of the proposals received.
We invite you to stay in touch. In the coming days we will personally contact some innovators, because your creativity, talent and mindset did not go unnoticed. to give them a pleasant surprise. The 10x Learning Prize is just the beginning of our collaboration.
Sincerely,
Organizing Committee TecPrize
---