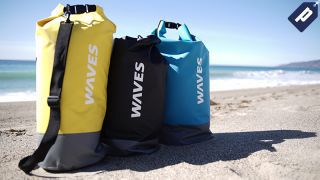 short description
Take home a piece of Austin's colorful history made from local Austin congress banners and use it to carry more than your memories.
Describe your idea
For our idea we want to use the vinyl banners and convert them into affordable, customized, and environmentally friendly dry bags. We create dry bags out of the vinyl banners provided from our local city's banners on Congress Avenue. Our idea would be innovative because not only is it made locally it is also memorable and environmentally friendly while also creating the jobs for the unemployed. Our idea is also viable because tourist will always want some form of souvenir and will need some thing light and durable to hold their stuff in while they are walking around, so we have a large range of customers. Our idea can also can also be scalable because we can look over the numbers and maintain a steady budget. Finally it can be fundable because we were lucky enough to have the banners come free and we can use the start up money to pay for the equipment and materials
Describe your knowledge, skills and abilities
My team members and I have done plenty of research on competitors, profits and revenue, and prices for employment and equipment. We've also learned how to use our entrepreneurial skill for communication, organization, and research. We used our individual skills like our creativity or our speaking skills and even our organizational skills to perfect our idea.
Describe how your idea will utilize materials and create jobs
When we sat down to discuss what we needed for our idea we found that we would need things like a sewing machine, straps, rings, and obviously the vinyl banner. We will also be creating jobs at the same time because we will be needing people with experience with sewing to create the bags from the given materials. The cool thing about the bags is that the materials to make them are actually be really cheap and when we hire our employees we will still be able to break even. Our group will also be give job opportunities for people who are hard-to-employ, all they would need is the ability to sew in a timely manor.
Describe the environmental impact
The cool thing about our idea is that we will take the unused banners and create colorful bags that won't be sitting in land fills or collecting dust. Plus will also be reducing the use of plastic and paper bags that are handed out during ACL and can be reused multiple things. One cool feature about the bag is that they are water proof, durable, and reusable. So they can be used multiple times and last a long time while also cutting down on the number of plastic and paper bags.
Describe the product end of life-cycle
Eventually every product comes to its end of life-cycle but I see the products life living past its expectancy. I believe our bags will be one of a kind and become part of Austins history, maybe even become a valuable souvenir. I believe that over time the bags will increase in fame, popularity, and value.