The Settings section (located just below the Legal Agreement) contains a variety of miscellaneous features you can utilize on your challenge. The top part of it contains check-boxes for the following features:
Challenge languages: each page is defaulted to English, but you can also translate the buttons and other 'hard-coded' areas (i.e. anything outside of the areas you're able to edit, like to Overview section) into Spanish. We will be looking to offer additional languages in the future.
Enable Resources: this creates a new, separate tab to the left of your FAQ one. Here, you can upload documents or provide key insights that would help your innovators develop their solutions
Enable Interviews: this will also create a tab called 'Resources' next to your FAQ one. The only difference is the fields you input information in. Here you can include people you have interviewed while developing the challenge, or to help your innovators develop their solutions.
Forum Pre-Moderation: if you wish to review and approve messages before they are publicly posted the forum, you can check this box. You will receive a notification each time you have new message to approve or reject.
Forum Closed: if you do not want to have the Forum tab on your challenge, check this box and it will be hidden from users.
Show Judges: anyone added as a judge will be highlighted in their own section within your Community tab.
Enable Blind Judging: if you wish to hide the HeroX user names from your judges, check this box. This is typically used in challenges where there's a high probability of conflicts of interest, or if you just prefer your judges not know the names of those they are evaluating.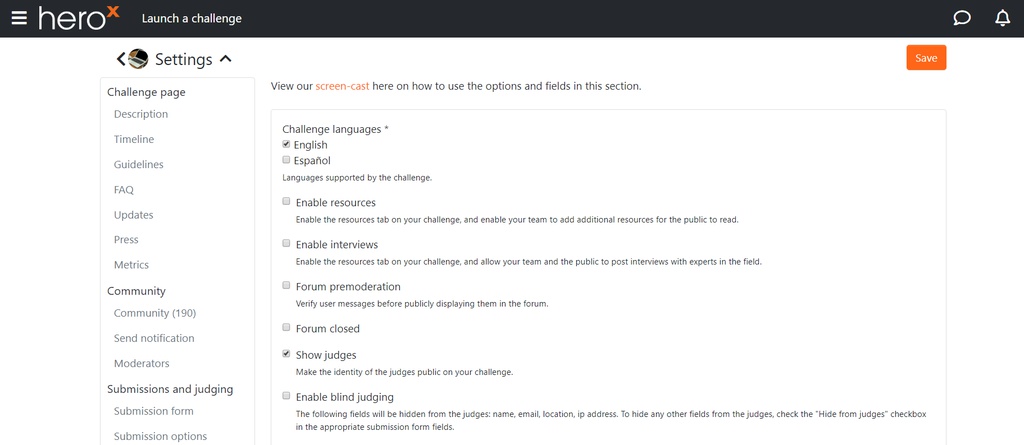 Below the set of check-boxes, are two text fields:
Twitter share: users can share your challenge on a variety of social media channels, including Twitter. If you have specific messaging you would like to populate as the default text when your challenge is shared, input it here (240 character maximum).
Custom competitor message: when a user registers for your challenge, they will automatically get a message from HeroX confirming their registration. If you wish to include some additional information with this message, you can input it here.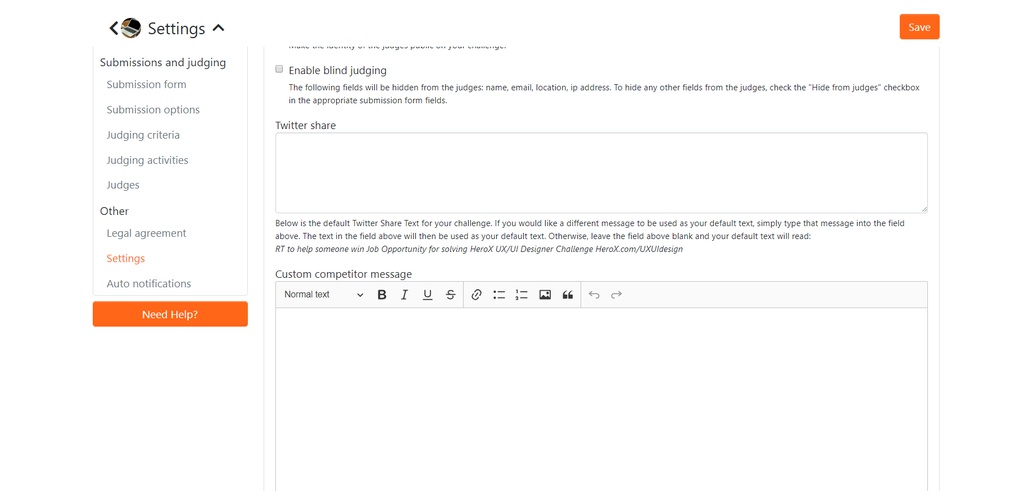 Finally, just below the text fields are 3 buttons:
Get Help: send a message to the HeroX team if you have a question or are running into technical difficulties.
Enable Public Voting: if you want to add Voting events to your Timeline, you will need to click this button first to enable it.
Delete Challenge: if you have mistakenly created a challenge or want to start over, you can click this button to delete it completely. Please be aware that this action cannot be undone so only use it if absolutely necessary.