You're invited to join the 2020 competition presentations and participate in the selection of the Industry Choice winner of the U.S. Department of Energy Solar District Cup 2020 Competition!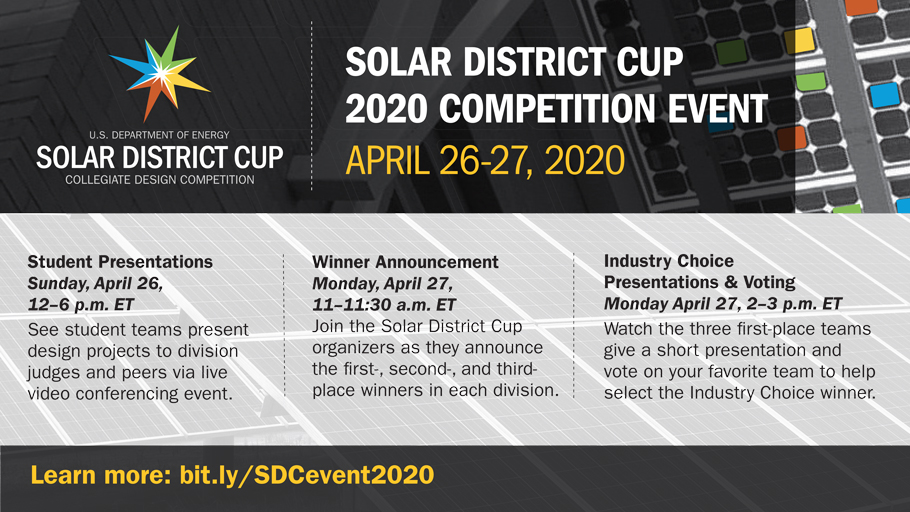 Over the 2019/2020 academic school year, collegiate students have worked on developing creative solar solutions for a campus or urban district. This weekend is the culmination of their hard work as they compete in the final competition event.
All events are open to public and industry attendance.
Here's the flow of events:
Sunday, April 26, 12-6 p.m. ET

Using live video conferencing, students will present to a panel of judges, other competing teams within their division, and guests.
Students will give 15-minute presentations followed by 10 minutes of Q&A with the division judges.
Judge deliberations will take place after the student presentations have concluded.

Monday, April 27, 11-11:30 a.m. ET

First-, second-, and third-place winners in each division will be announced by live video conference.

Monday, April 27, 2-3 p.m. ET

The three first-place winners will give 8-minute project story presentations to a public audience by live video conference.
The audience will vote on their favorite team to win the Industry Choice award.
Don't miss this exciting opportunity to watch the 26 competing teams present their solutions and help select the Solar District Cup 2020 Industry Choice winner—RSVP on the 2020 Event page to see the presentations and vote on your favorite team on April 27!