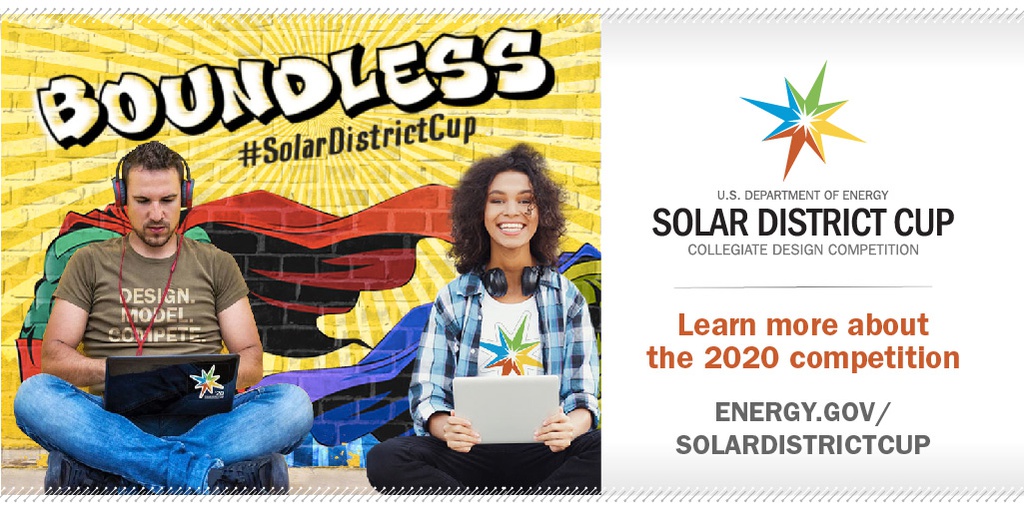 After several months of hard work creating solar system designs for three distinct district use cases, 35 teams from 32 collegiate institutions have been selected as finalists in the 2020 edition of the U.S. Department of Energy Solar District Cup Collegiate Design Competition!
The collegiate institutions continuing as finalists in the Solar District Cup 2020 are:
Alfred University
Appalachian State University
Arizona State University
Brown University
California Polytechnic State University
California State University, Los Angeles
Clemson University
Colorado School of Mines
Cornell University
Creighton University
Dartmouth College
Embry-Riddle Aeronautical University
Florida International University
Georgia Institute of Technology
Hanover College
Illinois Institute of Technology
Indiana University--Purdue University Indianapolis
Marquette University
Missouri University of Science and Technology
New Mexico State University
Northern Arizona University
Santa Clara University
The Ohio State University
The University of Arkansas
The University of Massachusetts Lowell
The University of Virginia
University at Buffalo, The State University of New York
University of Cincinnati
University of Colorado Boulder
University of South Florida
West Virginia University
Western Washington University
Congratulations to these finalist teams! They are now competing against the other finalist teams within each of their assigned divisions to create optimized solar + storage solutions for their campus or urban district.
In April 2020, teams will present their projects to a panel of judges at Solar and Energy Storage Southeast in Atlanta. Judges will identify the first-, second-, and third-place teams in each division and Solar and Energy Storage Southeast attendees will vote to choose an industry choice winner from amongst the three first place teams.
With so much development in education, networking, and presentation skills throughout the competition, we're confident all our competitors will walk away as champions of the Solar District Cup 2020!