Congratulations to the three winners of the Geothermal Lithium Extraction Prize! In Phase 3, finalist teams fabricated and tested their designs and presented their prototypes to a panel of expert reviewers. Selected teams will take home $500,000–$1 million for their impactful solutions to extract lithium cost effectively from geothermal brines.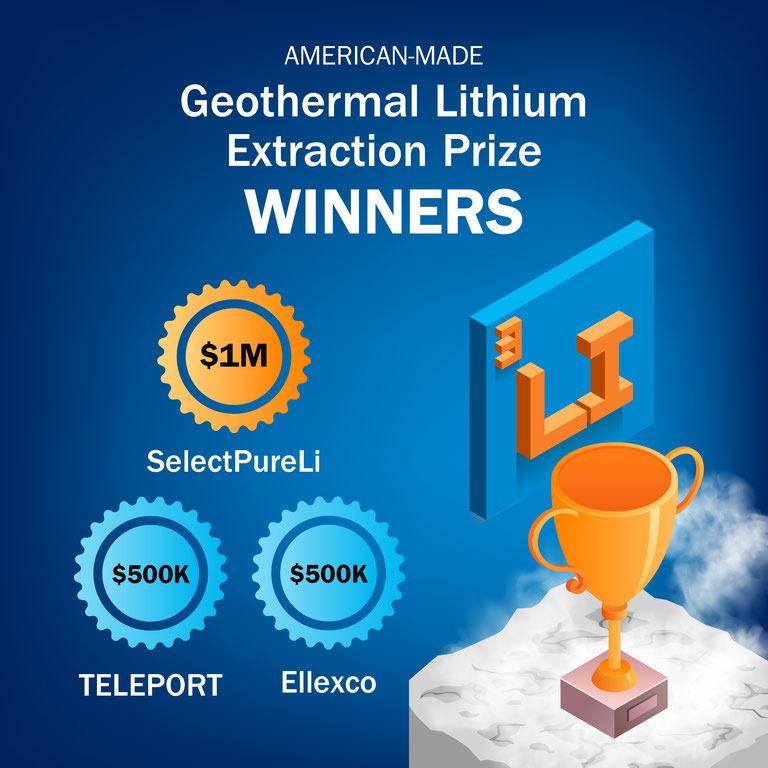 Join us in congratulating the Lithium Extraction Prize Winners!
SelectPureLi

University of Illinois Urbana-Champaign (PI), Urbana and Champaign, IL
Xerion Advanced Battery Corp., Kettering, OH

TELEPORT

University of Virginia (PI), Charlottesville, VA
PowerTech Water, Lexington, KY

Ellexco

George Washington University (PI), Washington, DC
University of Chicago, Chicago, IL
You can find more information about the prize and the winning teams on energy.gov.
Read the full announcement on energy.gov.
Congratulations, again!
---