Two more teams can add "Solar Prize Winner" to their accolades after pitching winning concepts and taking home cash prizes during Go! Demo Day on Sept. 12!
During this final contest of the prize, teams worked on developing and testing their product or prototype, building their network, and making a long-term plan for the success of their concept. The two teams who most successfully demonstrated their progress—and received $500,000 cash—are as follows:
ReJoule (Signal Hill, CA): This team is developing a fast, new method for testing the health of decommissioned electric vehicle (EV) batteries and using these batteries to develop an integrated solution for storing solar power and dispatching it at peak hours. This allows for fast screening of used batteries and certification for use in grid scale storage of solar energy.
Latimer Controls (Boulder, CO): This team is developing an intelligent control software that enables utility-scale PV to provide power reliably and on demand. This will replace grid reliance on fossil fuels, drive higher profitability for PV operators, and generate revenue increases for solar asset owners with low capital cost.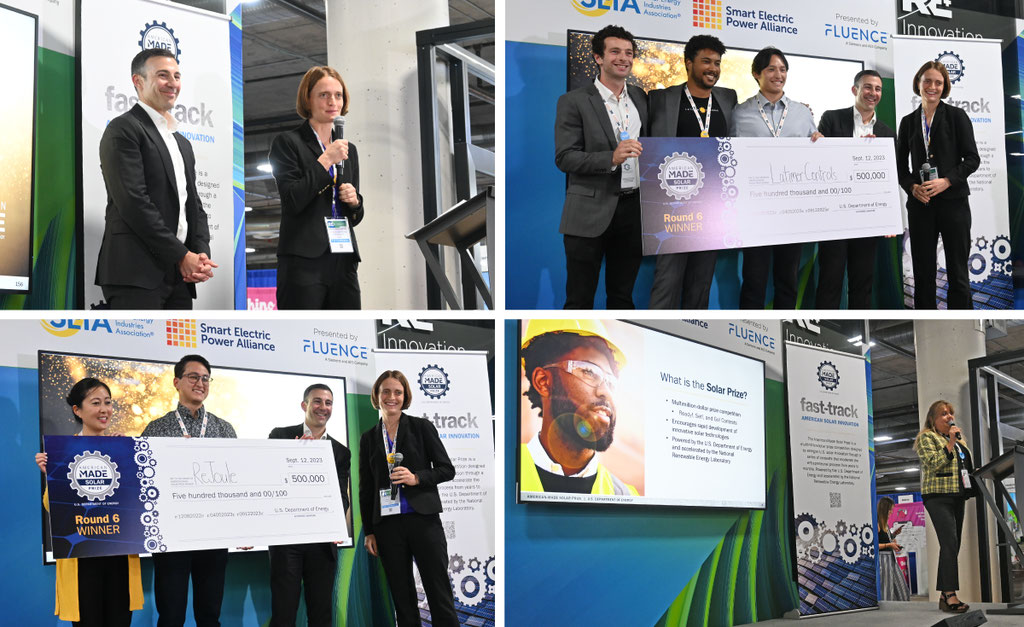 The teams also received $75,000 in technical support vouchers to help the team bring their concept to fruition. The pitch showcase and winner announcement took place during the RE+ Conference in Las Vegas.
In addition to the grand prize, ReJoule, was also awarded $50,000 for their winning submission to the Justice, Equity, Diversity, and Inclusion (JEDI) Contest, which focuses on advancing solar in underserved communities. They are the first Solar Prize team to win both the grand prize and the JEDI Contest prize.
Congratulations to everyone who participated in Round 6 and contributed their innovative ideas for energizing solar innovation! Don't forget, Round 7 is open and accepting submissions now through Sept. 27. We highly encourage Solar Prize newcomers and alumni to apply!
---