After successful final pitches at the RE+ Conference on Sept. 20, five Solar Prize Round 5 teams took home top honors and cash awards for their innovative solar concepts. During the final Go! Contest, teams worked on developing and testing their product or prototype, building their network, and making a long-term plan for the success of their concept.
The following Hardware Track winners were awarded $500,000 cash and $75,000 in vouchers to help the team bring their concept to fruition.
Origami Solar, Bend, OR: This team is developing steel PV module frames leveraging U.S.-made and formed steel. Compared to current frames made from imported aluminum, these frames lower the carbon emissions associated with making the frames and reduce PV system costs, while supporting a U.S.-based supply chain.
TECSI Solar, El Sobrante, CA: This team is developing a residential solar module that simplifies the ordering and installation process by combining the racking, flashing, hardware, and power electronics into a single product. TECSI's all-in-one solar module eliminates the aluminum frame, reducing the greenhouse gas emissions of the installation.
Software track winners, below, received $200,000 each, and $50,000 in vouchers.
illu, Sunnyvale, CA: This team is building a mobile and desktop tool for operations and maintenance workflow management that will assist field technicians and simplify distributed solar maintenance.
SolarGrade, Carlsbad, CA: This team is building a management platform to improve inspection, operations, and maintenance of PV systems leveraging field technician inputs and data analytics.
In addition, Midday Tech from San Francisco, CA, was awarded $100,000 for their winning submission to the Justice, Equity, Diversity, and Inclusion (JEDI) Contest, which focuses on advancing solar in underserved communities. Midday Tech is building a platform to connect consumers who purchase voluntary carbon offsets with high-impact rooftop solar projects in underserved communities.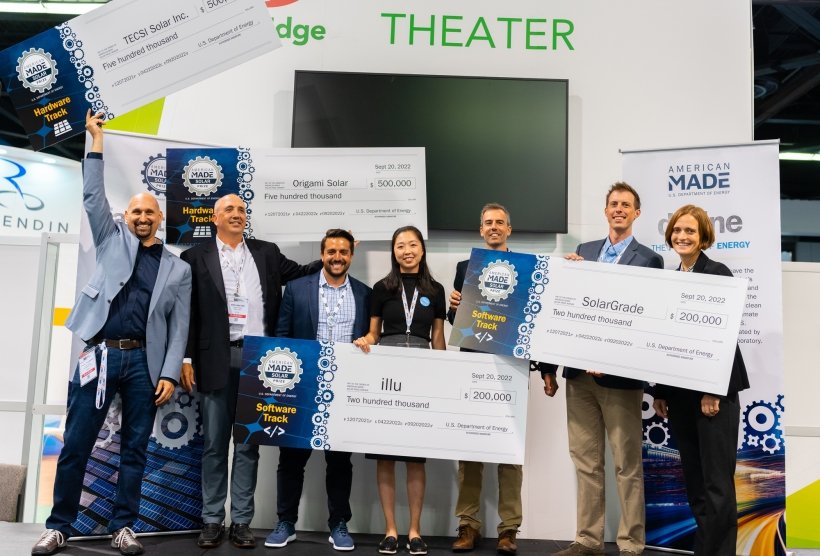 Congratulations to everyone who participated in Round 5 and contributed their innovative ideas for energizing solar innovation. The prize administrators are so proud of the work you've all accomplished throughout this competition and look forward to seeing your continued success.
Don't forget, Round 6 is open and accepting submissions now through Oct. 6. We highly encourage Solar Prize newcomers and alumni to apply!
---