Congratulations to the finalists moving on to the Go! Contest of the Solar Prize Round 5, announced today at the American-Made Earth Day Celebration. Ten Hardware Track teams were each awarded $100,000 in cash prizes and $75,000 in vouchers to advance their innovation from proof-of-concept to prototype in the final contest.
Semifinalist teams showcased their concepts during the virtual Round 5 Set! Demo Day event, where they were asked to show progress in developing and demonstrating early-stage proofs-of-concept. A panel of industry experts reviewed the teams' pitch videos and conducted a 10-minute question-and-answer session with each team to discuss their innovations in more detail before selecting the finalists.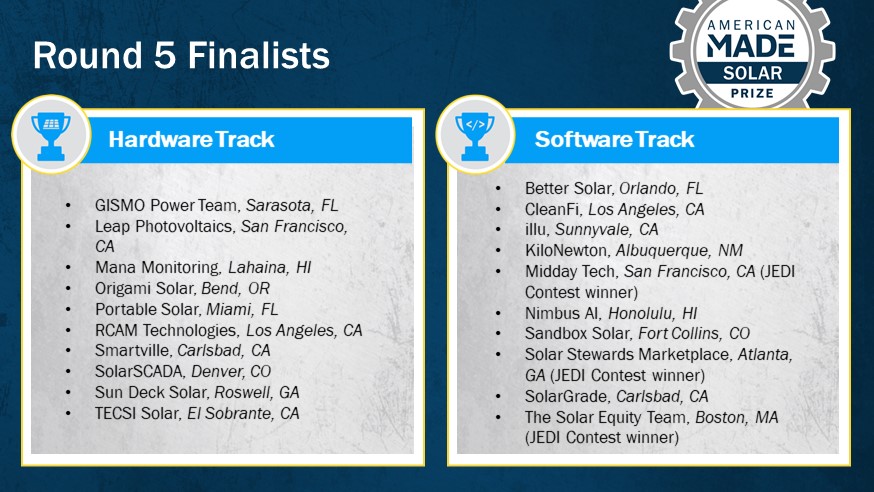 Now, after months of diligent work from the teams and careful deliberation by the judges, the finalist teams have been announced:
Gismo Power (Sarasota, FL) – This team is developing a portable carport that has an integrated solar PV system and electric vehicle charger and can be stored in a garage during periods of harsh weather. As a portable electric appliance, it can be taken with the owner when they move homes.
Leap Photovoltaics (San Francisco, CA) – This team is developing a silicon solar cell that uses silicon particles instead of traditional silicon wafers. These particle-based cells have the potential to be much lower in cost compared to incumbent technologies and can be manufactured with a U.S. supply chain.
Mana Monitoring (Lahaina, HI) – This team is developing a plug-and-play energy management system that synchronizes on-site solar energy generation with electric vehicle charging. The goal is to charge electric vehicles from the locally produced solar power as much as possible and reduce the use of grid power during expensive peak hours.
Origami Solar (Bend, OR) – This team is developing steel PV module frames manufactured using a roll-forming process. Compared to current frames made from aluminum, these frames can reduce PV system costs due to cheaper materials and higher manufacturing speeds.
Portable Solar (Miami, FL) – This team is developing an awning PV panel mounting system that can seamlessly integrate into the manufacturing process and distribution channels of the manufactured home industry. This could reduce the cost of residential solar for manufactured homes.
RCAM Technologies (Los Angeles, CA) – This team is developing 3D-printed concrete gravity anchors that are manufactured on-site for floating solar panel installations. This allows for the production of highly optimized anchor designs for each solar system.
Smartville (Carlsbad, CA) – This team is developing an energy storage system that combines recycled electric vehicle batteries with a novel power conversion system and state-of-the-art battery controls. These battery controls enable the system to use different makes and models of electric vehicle batteries and can extend their useful lifetime as compared to traditional battery controls.
Solar SCADA (Denver, CO) – This team is developing a supervisory control and data acquisition (SCADA) system that combines all the sensors, calibration, communication, and data feeds needed to operate a solar energy system into standalone, ready-to-use packages. The SCADA system is low cost and quick to install, targeting the commercial and industrial solar sector.
Sun Deck Solar (Roswell, GA) – This team is developing a solar-powered electric vehicle charging station that utilizes a self-assembling design to reduce installation costs.
TECSI Solar Inc. (El Sobrante, CA) – This team is developing a solar panel designed for residential use, which simplifies the ordering and installation process by combining the racking, flashing, hardware, and power electronics into a single product.
The finalists will present their technologies one last time at Go! Demo Day in September 2022. Ultimately, only two teams will win the final prize, each receiving an additional $500,000 cash prize and $75,000 support voucher to help them bring their technologies to market.
Congratulations to the finalist teams and all of the Solar Prize Round 5 competitors!