Lithium-Ion Battery Recycling Prize
Innovation happens when the right resources, people, and passion come together to address a challenge. With the Lithium-Ion Battery Recycling Prize, teams of creative individuals, entrepreneurs, and businesses will advance conceptual solutions to prototypes and finally to pilot demonstrations to address challenges with the lithium-ion battery recycling supply chain. The goal of this $5.5-million phased prize competition is to develop and demonstrate processes that, when scaled, have the potential to capture 90% of all discarded or spent lithium-ion batteries in the United States for eventual recovery of key materials for re-introduction into the U.S. supply chain.
A prize competition structured for success
The Battery Recycling Prize is an opportunity for anyone interested in accelerating ideas and solutions. It is designed to strengthen and scale the very best ideas and teams through three progressive phases.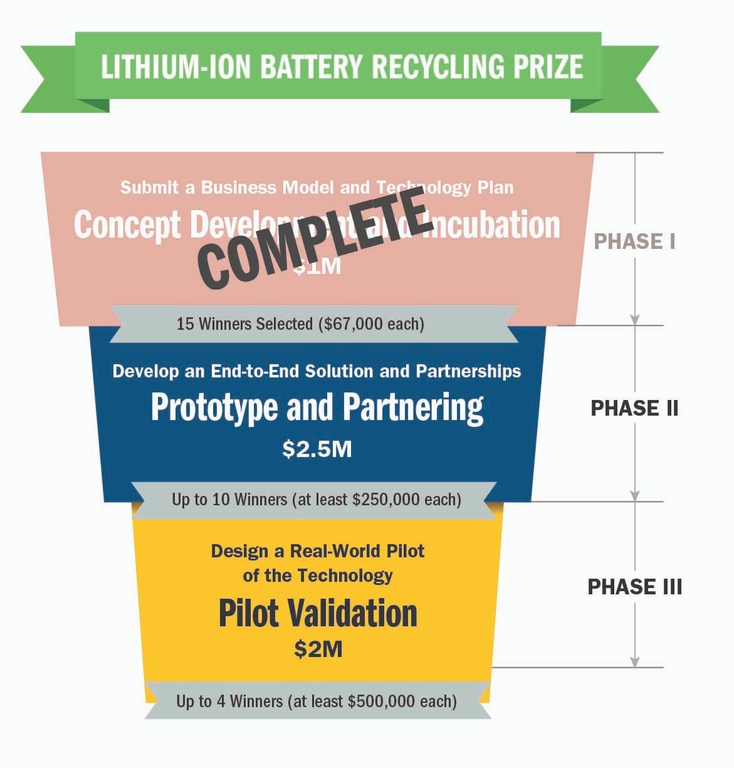 $5.5 million in incentives for innovation
The three phases of contests will fast-track efforts to find innovative solutions to solve current challenges associated with collecting, sorting, storing, and transporting spent/discarded lithium-ion batteries for eventual recycling.
Tracks of interest to this Battery Recycling Prize
Applicants have the option of applying to a single track or multiple tracks that have been identified as barriers in this challenge. The five tracks are: collection, separating and sorting, safe storage and transportation, reverse logistics, and other ideas. (Reverse logistics is the process of moving goods from their typical final destinations in order to capture value or for proper disposal.) Tracks are not meant to encompass all the challenges associated with increasing the volume of the lithium-ion battery recycling supply chain, but to offer pathways to approach the challenges. The five possible tracks are further explained below:
Track 1: Collection — Develop a system or systems to incentivize and increase collection volume; this can include development of infrastructure or distributed network, deployment of social media, or devising a new business model.
Track 2: Separation and Sorting — Create a system of automated sorting and separation that is more effective (faster, more accurate, and cheaper) than current technologies.
Track 3: Safe Storage and Transportation — Develop solutions that could render batteries safe or inert during storage and shipping for further downstream processing.
Track 4: Reverse Logistics — Conceive solutions that minimize the cost of moving batteries out of end users' hands to recycling facilities, smooth the recycling supply chain, and anticipate the flow of materials.
Track 5: Other Ideas — Devise a radical idea or solution not otherwise addressed in the challenge that meets its goals while spurring market innovation.
Anyone can compete
Competitors are entrepreneurial individuals or teams, legally residing or based in the United States, who are scientists, researchers, business owners, students, university faculty members, or anyone with the desire and drive to transform ideas into impactful realities.
For more information about the Lithium-Ion Battery Recycling Prize, refer to the official rules or this informational webinar.