Thank you to everyone who submitted an idea to the American-Made Solar Prize Ready! Contest. We're excited that 20 teams have been selected as semifinalists and were announced today by the U.S. Department of Energy. Each of these teams won a $50,000 cash prize and are now eligible to advance to the Set! Contest.
Round 4 includes innovations in three subject areas: systems integration, concentrating solar-thermal power, and photovoltaics. Here are the Round 4 semifinalists:
Systems Integration
Artificial Intelligence Enabled Battery-Less Solar Hybrid Inverter (San Jose, CA)
Harnessing the Sun Using Medium Voltage Silicon Carbide (SiC) Power Devices (Newtonville, NY)
Concentrating Solar-Thermal Power
Solar AirWall (Merritt Island, FL)
Room Temperature Metal Coating for CSP Mirror(Honolulu, HI)
Aerogel Insulated Solar Collector for Process Heat (Boston, MA)
Photovoltaics
Roofing for the Sol (Petaluma, CA)
Lightfoot – Solar-Powered Vehicles (San Francisco, CA)
Stable and Scalable Perovskite Solar Cells(West Lafayette, IN)
Saving Solar Power (Columbia, MD)
Self-Cleaning Solar Power (Boston, MA)
Integrated Solar Power and Insulated Wall System (Easthampton, MA)
Solar Panel with Heatsink (North Oaks, MN)
The Mighty Power System (Monmouth County, NJ)
NanoSpray: Low Cost Solutions for Back Contacts (Brooklyn, NY)
Urban Energy Solar Canopy (Brooklyn, NY)
Next-Gen Solar Roofing Product Collaboration(Highland, NY)
Boosting Energy Yield from Dusty Solar Panels(Stony Brook, NY)
Rocking Solar Tracker (Mason, OH)
More Power Less Dirt (Corvallis, OR)
Cost-Effective Eco-Friendly PV Recycling (Austin, TX)
Learn more about each submission by checking out the HeroX Community tab.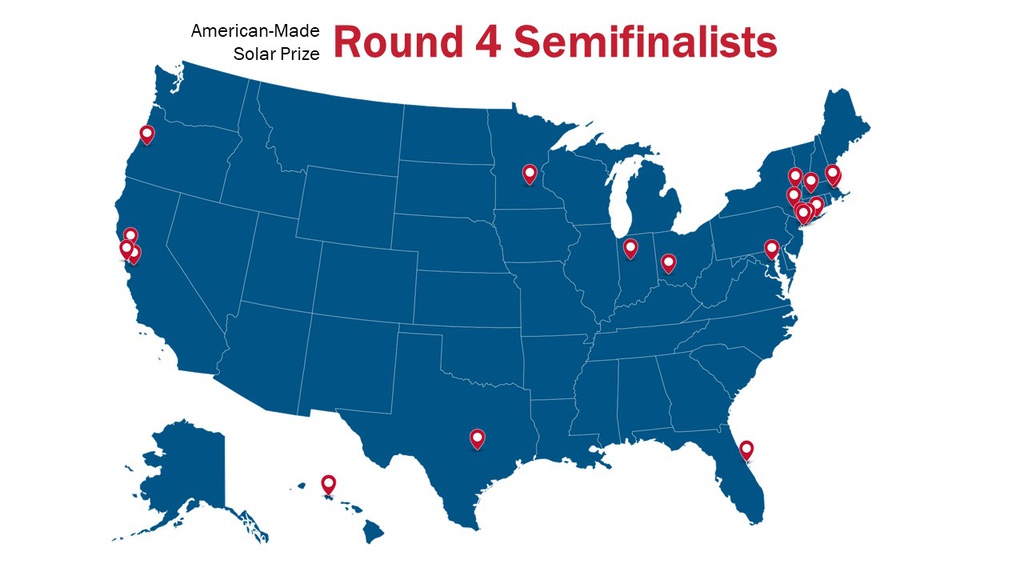 There were numerous, impressive submissions to the Ready! Contest. In fact, we received more than 130 submissions from across the country for Round 4. Many of these were great ideas but needed additional development and refinement to advance to the next level.
If you submitted an idea and were not chosen as a semifinalist, we encourage you to keep innovating and looking for opportunities to improve your idea. In the coming weeks, you will receive an e-mail from the prize administrator with comments and feedback on your submission from the judges who reviewed it.
We also suggest applying to U.S. Department of Energy's Small Business Innovation Research and Small Business Technology Transfer (SBIR/STTR) funding program. Through SBIR/STTR, small businesses can receive up to $200,000 to engage in high-risk, innovative research and development with the potential for commercialization. Learn more about the solar topics and how to submit a letter of intent by Jan. 4, 2021.
We want to thank all teams for competing in the Solar Prize Round 4 Ready! Contest and hope you continue to be an active member of the Solar Prize community. Please continue to utilize the American-Made Network to improve your ideas and watch for other opportunities to make them a reality by signing up for our American-Made Challenges Newsletter.
Should you have questions, please feel free to reach out at . Congratulations, again, to the Round 4 semifinalists!
---