The third application period for the Perovskite Startup Prize Countdown Contest is open for new and previous competitors. The next submission deadline is Jan. 7, 2022.
The Perovskite Startup Prize consists of two consecutive contests—Countdown and Liftoff—that accelerate efforts to develop new, innovative perovskite solar companies with the potential to manufacture commercially viable products in the United States. This prize is unique in its structure, as both contests open quarterly until all prize funds have been awarded.
The race has already started, and the prize administrators invite you to join! New and previous participants are highly encouraged to enter the next Countdown Contest application period.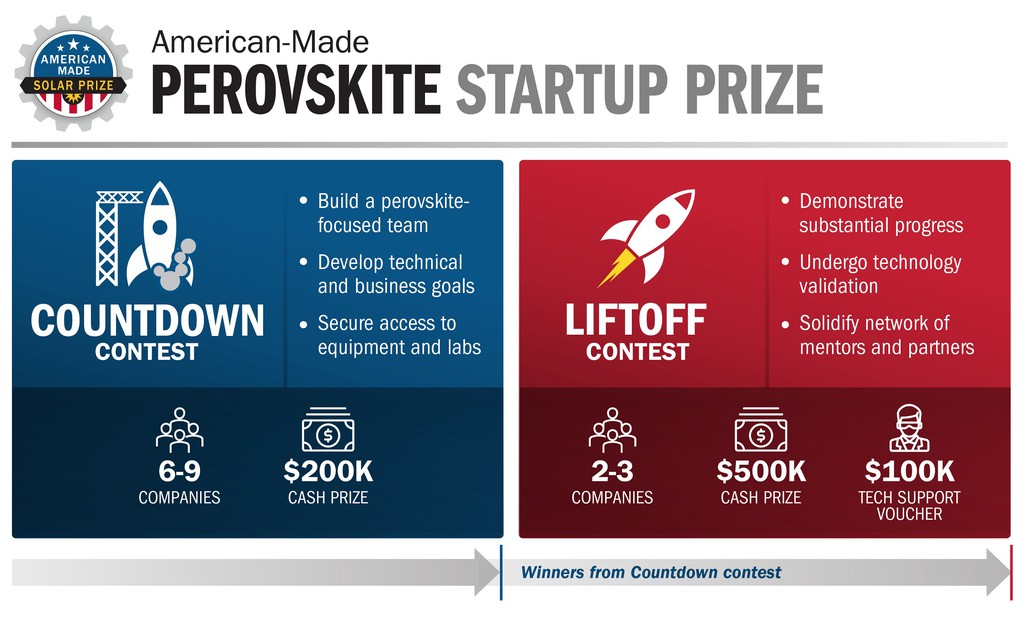 As a reminder, finalists of the Countdown Contest receive a $200,000 cash prize and are eligible to compete in Liftoff. Winners of the Liftoff Contest receive a $500,000 cash prize plus $100,000 in technical support vouchers. There are still 5-8 prizes available in the Countdown Contest, which remains open to anyone until 6-9 finalists have been selected or all funds have been distributed.
Need help getting started? The Perovskite Startup Prize is working with ADL Ventures to help teams get a jumpstart on entering the race. The prize administrators have created a unique Mentor Network to help teams gain momentum through the prize. If you are interested in working with a Mentor, please contact .
The prize team is eager for you to join the race and prove that you have what it takes to win the Perovskite Startup Prize! Start working on your submissions now to be ready to submit on Jan. 7, 2022. Good luck!
---