The U.S. Department of Energy (DOE) Advanced Manufacturing Office's (AMO's) Water Resource Recovery Prize challenges multidisciplinary teams to present innovative solutions for resource recovery at small- to medium-sized water treatment facilities. To help lower the cost of treatment by extracting additional value from wastewater, the prize seeks to increase resource recovery from municipal wastewater treatment plants across the United States.
The Water Resource Recovery Prize is part of the Water Security Grand Challenge, which seeks to advance transformational technology and innovation to meet the global need for safe, secure, and affordable water. This multiphase competition challenges interdisciplinary teams to innovate cost-effective, innovative water treatment technology system configurations and business plans that:
Accelerate the recovery of valuable resources.
Lower the ultimate cost of small- to medium-sized water resource recovery facilities.
The DOE has launched the prize, inspiring teams that include small- to medium-sized water resource recovery facilities (WRRFs) to compete for up to $1 million in cash prizes by developing ideas that provide potential wastewater treatment recovery strategies for wastewater treatment facilities.
PRIZE STAGES
The prize consists of two phases. Phase 1 challenges teams to submit two high-level facility engineering schematics, a business case demonstrating improvement relative to the existing baseline conditions, and a technical description validating the potential for cost-effectiveness and viability of the resource recovery plan. In Phase 2, selected teams from Phase 1 will be expected to provide a more detailed plan for financing and construction, supported by quantitative analysis and/or modeling.
UPDATE 3/31/20: Due to COVID-19, Phase 1 has been extended by 30 days to May 28, 2020, at 5p.m. ET. The winners of Phase 1 will be announced in July 2020. The selected winners will progress to Phase 2, whose winners will be announced in August 2021.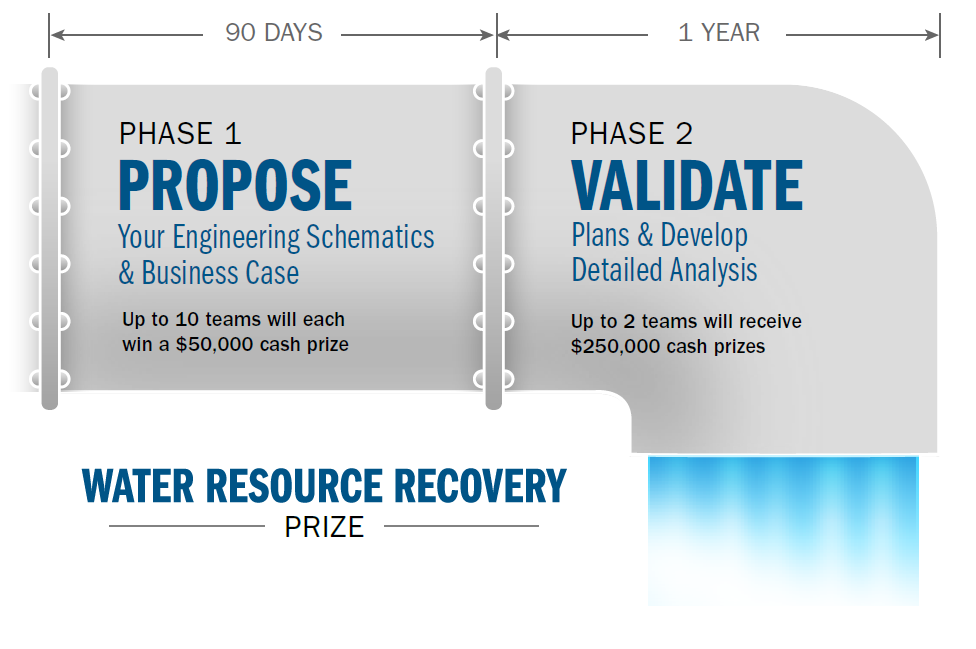 UP TO $1 MILLION IN CASH PRIZES
This prize will distribute a total of up to $1 million of combined cash prizes. As many as ten winners selected in Phase 1 will receive up to $50,000, while no more than two winners selected in Phase 2 will receive $250,000 in cash prizes.
PRIZE GOALS
The purpose of this prize is to encourage teams of wastewater treatment plants, engineering and design firms, technology developers, resource customers, and others to develop holistic resource recovery plans for their respective wastewater treatment systems.
The proposed solutions should represent innovations that could move the sector of small- and medium-sized WRRFs beyond their current technological status while addressing these challenges:
Financial stress on municipal budgets. WRRFs purchase about $2 billion of electricity each year and face more than $200 billion in future capital investment needs to meet water quality objectives.
Cost of disposal of residual biosolids. By turning recoverable resources into marketable products, WRRFs can create new revenue streams for upgrading water treatment infrastructure, reducing nutrient pollution, and providing sources of alternative water supplies.
Increasing the value of recoverable resources to offset the cost of recovery. Recoverable resources include energy that can be used on-site or sold, nutrients such as phosphorous and nitrogen that can be used as fertilizer, and clean water that can be reused for agricultural, industrial, and drinking water purposes.
Advancing system-level energy efficiency. Recovering energy from wastewater reduces the amount of grid electricity required to operate the wastewater treatment plant. Recovered water can also offer a substitute for water sources with a higher level of embedded energy for industrial, agricultural, and municipal use. Moreover, recovered nutrients can be less energy-intensive substitutes for fertilizer on agricultural land.