Fish Protection Prize
The Fish Protection Prize is catalyzing new solutions, designs, and strategies to prevent fish from swimming into water infrastructure, such as water diversions and pipes and intakes at hydropower dams. We're seeking innovative ideas to advance fish exclusion technology.
The U.S. Department of Energy (DOE) Water Power Technologies Office (WPTO), in collaboration with the U.S. Bureau of Reclamation, has launched the Fish Protection Prize, inspiring innovators to compete for $700,000 of combined cash prizes and voucher support to help protect fish from these threats. As many as three winners will be selected.
PRIZE STAGES
The prize consists of three stages that provide the structure and resources needed to move methods for protecting fish from water diversions and intakes from initial concept, to technical design, to prototyping, to field-tested systems.
This prize builds on the initial Fish Exclusion Prize, run by the Bureau of Reclamation, released on March 6, 2019. The winners of the first prize were announced in December 2019. This next three-staged prize invites you to share your innovative approach—along with a design and research plan—for keeping fish away from water diversions and intakes.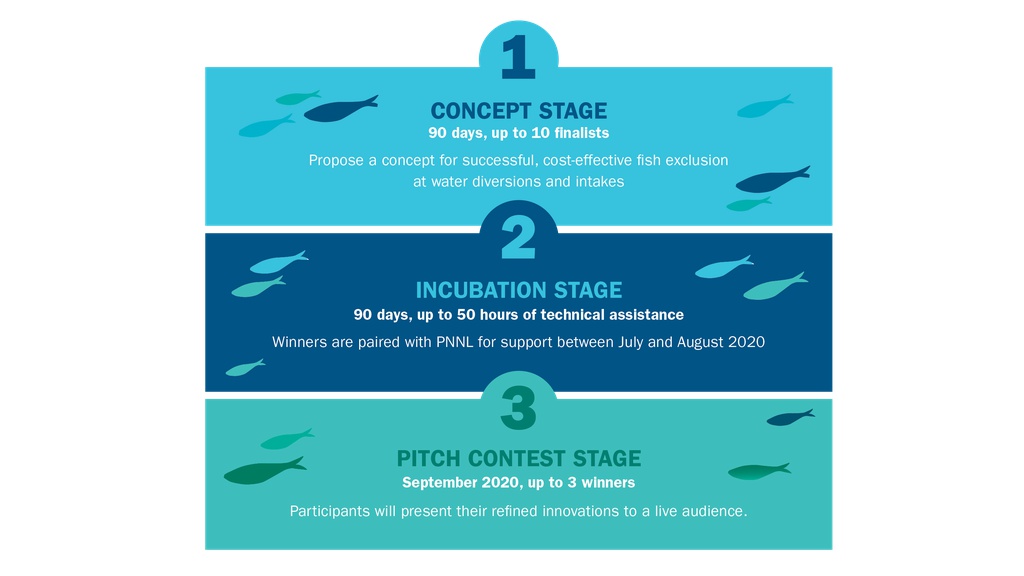 $700,000 IN CASH PRIZES AND VOUCHER SUPPORT
This prize will distribute a total of $700,000 of combined cash prizes and voucher support.
PRIZE GOALS
The purpose of this prize is to incentivize the development of innovative solutions to advance fish exclusion technology.
While the prize is soliciting solutions of all shapes and sizes, organizers identified the following six topic areas as having the greatest potential for successful and cost-effective fish exclusion:
Sensory deterrents - Sensory deterrent systems are used to prevent the upstream movement of fish. Technologies that make up this innovation category include but are not limited to: Acoustic Air Bubble Curtains, Electrical Barrier, Underwater Sound, and Underwater Strobe Lights.
Turbulence and velocity-based deterrents – Influencing and controlling turbulence and velocity in river channel design can be employed to deter fish from diversions, pipes, and intakes.
Combination stimulus barriers – This innovation category can utilize multiple stimulus or sensory deterrents, or a combination of physical and non-physical barriers to avert fish from diversions, pipes, and intakes.
Diversion or intake layouts/geometry – This category addresses the design, planning, and implementation of diversions and intakes for the purpose of fish exclusion.
Fish screen materials or coatings - Structures or surface coatings meant to prevent fish from entering hydroelectric dams, aqueducts, river diversions, or other anthropogenic structures, are developed with the intent to supply water free of debris to power plants and other facilities without harming aquatic life.
Fish screen cleaning methods – This innovation category can include various fish screen cleaning technology including but not limited to air burst, water jet, and brush systems.
Please review the official rules for the application process and instructions for competing.