Congratulations to the four winners of the EPIC Prize Round 2! During the final phase, teams demonstrated that their plans were successful, and their programs could replicate and scale. Selected teams will take home a total of $500,000 for their impactful solutions that strengthen entrepreneurial ecosystems, energy startups, and America's clean energy future.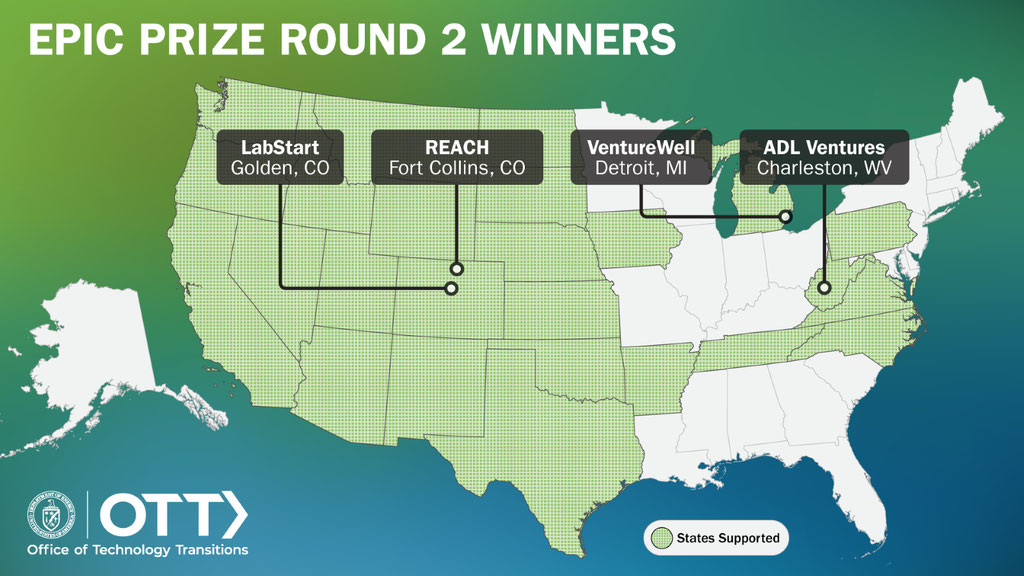 Join us in congratulating the EPIC Prize Round 2 winners!
The Deployment Engine (Charleston, WV) – ADL Ventures is creating a low-carbon, mass deployment accelerator that connects innovative decarbonization technologies with construction industry customers and deployment opportunities in Appalachia. 
REACHing founders @ the Food, Energy & Water Nexus (Fort Collins, CO) – REACH's accelerator is dedicated to supporting founders at the nexus of food, water, and energy through innovative programming and embedded engineers-in-training (EITs).
Energy & Mobility Innovation in Michigan (Hadley, MA and Detroit, MI) – Ascend by VentureWell bridges the gap between customer discovery and investment readiness in Detroit by focusing on emissions reductions, smart mobility technologies, infrastructure development, and job creation.
LabStart: Accessibility to Lab IP Entrepreneurship (Golden, CO) – LabStart is helping launch and accelerate clean energy companies led by people from underrepresented communities and based on technology from DOE National Laboratories.
You can find more information about the prize, winning teams, and the U.S. Department of Energy Office of Technology Transitions on energy.gov.
Read the full announcement on energy.gov.
---