Congratulations to the teams selected to move onto Phase 3 as EPIC Prize Round 2 finalists! These 10 incubators and accelerators will each be awarded $100,000 in cash prizes for implementing their high-impact ideas that are catalyzing place-based energy innovation. See below for the full list of finalist teams.
All Phase 2 participants will receive reviewers' comments within the next few weeks. For those teams selected to move onto Phase 3, check your email for next steps. We will be sharing a registration link to the Phase 3 informational webinar soon.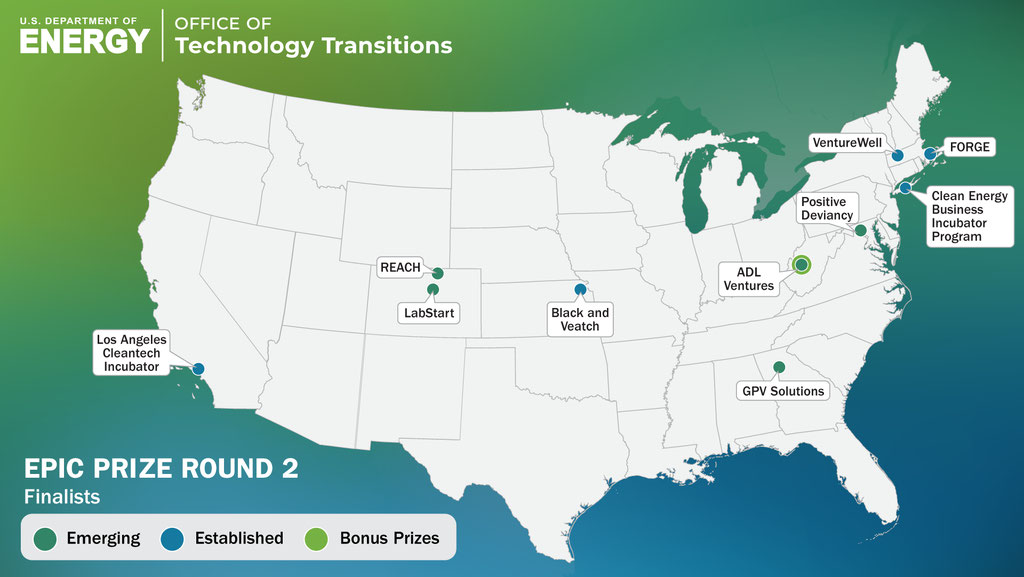 EPIC Prize Round 2 Finalists:
ADL Ventures (Charleston, WV)
Black and Veatch (Overland Park, KS)
Clean Energy Business Incubator Program (Stony Brook, NY)
VentureWell (Hadley, MA)
FORGE (Somerville, MA)
GPV Solutions (Austell, GA)
Positive Deviancy (Sterling, VA)
LabStart (Golden, CO)
REACH (Fort Collins, CO)
Los Angeles Cleantech Incubator (Los Angeles, CA)
You can find more information about the prize, semifinalist teams, and the U.S. Department of Energy Office of Technology Transitions on energy.gov.
Read the full press release on energy.gov.
Congratulations again!