With only three weeks remaining in the Energy Storage Innovation Prize, we are sharing our final Tech Focus for the competition: chemical energy storage. Fossil fuels are one of the most well-known examples of storing energy in chemical bonds; however, other chemical forms—such as biomass, gases, and batteries—can contribute to the decarbonization of the electric grid.
Chemical energy storage includes hydrogen and other energy-carrying chemicals that can be produced using diverse domestic energy sources (e.g., renewables, nuclear, and fossil), enabling ultra-high energy density, long duration/seasonal storage, and the ability to couple and decouple from the grid in unique ways. –Energy Storage Grand Challenge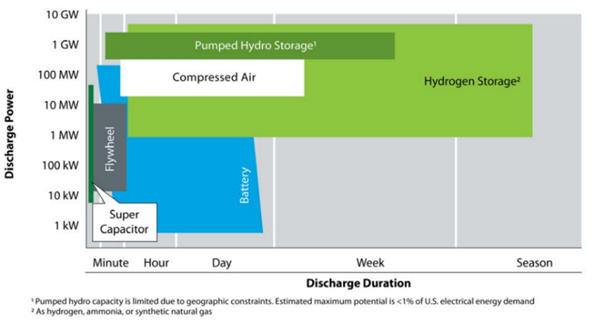 As outlined by Pacific Northwest National Laboratory, chemical storage can add power to the grid and also store excess power from the grid for later use. Alternatively, many chemicals used for energy storage, like hydrogen, can decarbonize industry and transportation. The flexibility of being able to return stored energy to the grid or sell the chemical for industrial or transportation applications provides additional opportunities for revenue and decarbonization not possible for storage devices like batteries.
For the purposes of this prize, emerging innovations in chemical carriers and hydrogen are eligible technologies of interest. For chemical storage to be competitive with other storage technologies, cost reductions in the manufacturing and synthesis of materials are crucial. Hydrogen energy storage systems, in particular, provide multiple opportunities to increase the resiliency and improve the economics of energy supply systems underlying the electric grid, gas pipeline systems, and transportation fuels, as outlined in this paper from the National Renewable Energy Laboratory.
Example Research: Hydrogen Energy Earthshot
Although the Energy Storage Innovation Prize specifically supports the Long Duration Storage Shot, the Energy Earthshot family also includes the Hydrogen Shot, which seeks to reduce the cost of clean hydrogen by 80% to $1 per 1 kilogram in 1 decade ("1 1 1"). The Hydrogen Shot establishes a framework and foundation for clean hydrogen deployment in the American Jobs Plan, which includes support for demonstration projects. Industries are beginning to implement clean hydrogen to reduce emissions, yet many hurdles remain to deploying it at scale.
Currently, hydrogen from renewable energy costs about $5 per kilogram. Achieving the Hydrogen Shot's 80% cost reduction goal can unlock new markets for hydrogen, including steel manufacturing, clean ammonia, energy storage, and heavy-duty trucks. This would create more clean energy jobs, reduce greenhouse gas emissions, and position America to compete in the clean energy market on a global scale. These efforts would ensure that environmental protection and benefits for local communities are a priority.
Your innovative ideas can help drive major breakthroughs to solve the climate crisis. Together, the Long Duration Storage Shot, Hydrogen Shot, and other Energy Earthshots will accelerate breakthroughs of more abundant, affordable, and reliable clean energy solutions within the decade. Learn more about this initiative.
---