Congratulations to the three teams who were just named winners in the EnergyTech University Prize 2023!
On April 3, 16 competing student teams presented their business plans at the EnergyTech UP National Pitch Event during Zpryme's Energy Thought Summit in Austin, Texas. The winners were announced at the summit by the U.S. Department of Energy's Office of Technology Transitions (OTT).
The three teams awarded cash prizes are:
1st Place, awarded $50,000: Team Heliotrope, New York University: This team is developing efficiency-boosting coatings that increase solar panel efficiency by 10-15%.
2nd Place, awarded $30,000: Team ReLi, University of Virginia: This team presented a business plan to recycle all forms of lithium-ion batteries to recover critical materials and reintroduce them back into the supply chain by leveraging national lab technologies.
3rd Place, awarded $20,000: Team Icorium, The University of Kansas: This team is utilizing membrane technology and extractive distillation to separate and recycle complex refrigerant mixtures at the end of their life.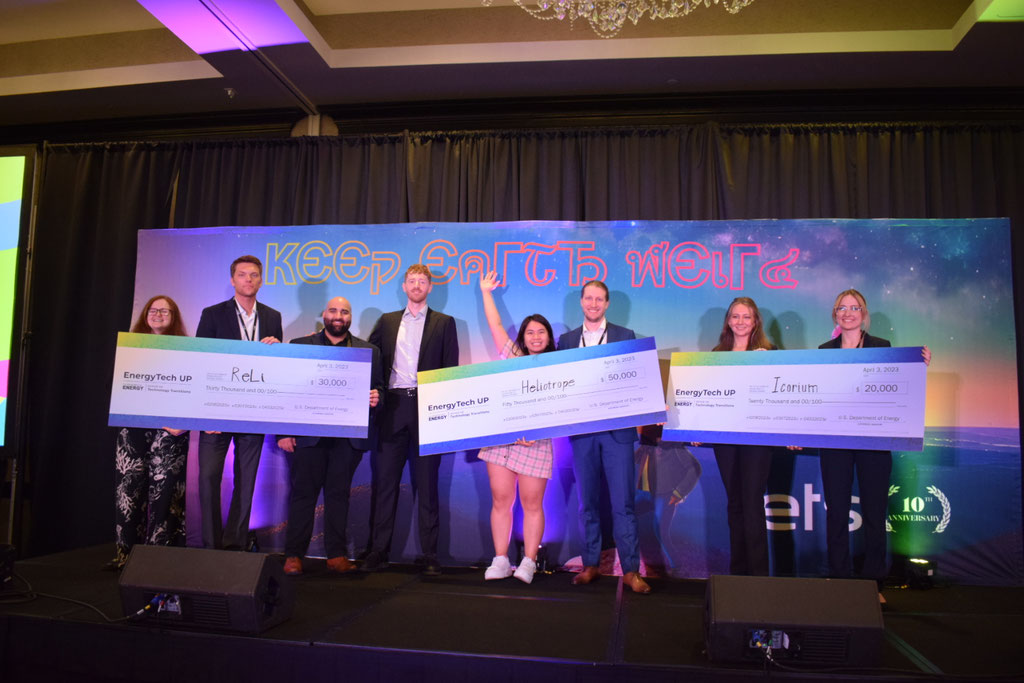 Read the full announcement here.
OTT extends their congratulations to the national winners and appreciates the work that all of the 184 teams put into this year's successful competition.
OTT also announced that planning for next year's competition is already underway! Anyone interested in competing or supporting a team next year can follow the EnergyTech UP HeroX page for updates and information.
Congratulations to the EnergyTech UP 2023 National Winners and all other participating students!
---