The Solar Prize administrators are excited to share that Round 4 semifinalists will be announced on Dec. 4 in conjunction with the Solar Prize Demo Day and Networking Event. This event will feature an open networking session, the Round 4 semifinalist announcement, and the Round 3 winner announcement. You are invited to attend and hear the live semifinalist announcement.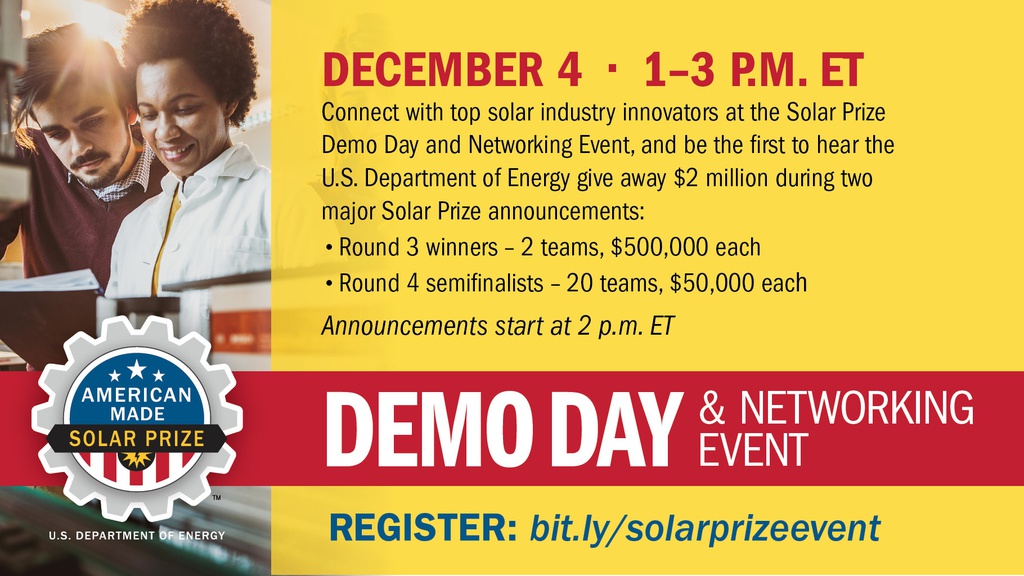 As a reminder, 20 Round 4 teams will be announced as semifinalists, each earning $50,000 in cash prizes and continuing to the Set! Contest. Two Round 3 winners will also be announced at this event, each earning $500,000 and marking the end of this round of the competition.
The event will run from 1-3 p.m. ET, with the announcements starting at 2 p.m. ET. Attendees will be able to network before and after the event, making critical industry connections and meeting their fellow Solar Prize competitors. We highly encourage you to join the networking session before the announcement to take advantage of this opportunity.
We are eager for the announcement of the Round 4 semifinalists and know you are, too! RSVP here for the event.