On July 10, the U.S. Department of Energy announced the launch of the American-Made Solar Prize Round 4. This competition encourages innovators to come up with ideas to energize solar energy manufacturing in new and exciting ways.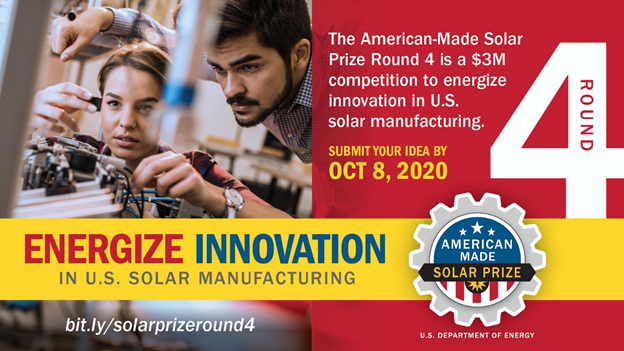 Sponsored by the Energy Department and administered by the National Renewable Energy Laboratory, the Solar Prize brings new technologies to pre-commercial readiness in less than a year for more rapid entry into the marketplace. Round 4 is open to new and past Solar Prize competitors.
Competitors have access to a diverse and powerful support network that leverages the expertise of national laboratories, energy incubators, and other resources across the United States. The American-Made Network helps competitors solve pressing technology challenges, forge connections, and advance potentially game-changing ideas and innovations.
To get things started with the fourth round of competition, the National Renewable Energy Laboratory (NREL) Solar Prize team will host a kick-off webinar on Tuesday, Sept. 1, at 1 p.m. ET. During this time, the prize administrators will give an overview of the program, including timelines, competition goals, and how to work with the Network. Administrators will also host a Q&A session.
Are you interested in having an impact on the solar energy future? Do you have a groundbreaking idea that solves some of solar's toughest challenges? Register for the Solar Prize Round 4 Kick-off Webinar to learn about competition and don't forget to submit an application by Oct. 8, 2020!