The U.S. Department of Energy has selected six winners in Phase Two — the Prototype Phase — of the L-Prize competition. The six teams share a prize pool of $2 million for demonstrating exceptional energy efficiency, connectivity and control, visual quality, environmental sustainability, and attention to diversity, equity, and inclusion (DEI) in lighting design, manufacturing, and application.
In the Prototype Phase, competitors were invited to submit working prototypes that meet the rigorous L-Prize requirements and exceed the capabilities of currently available products in two categories: Luminaires and Connected Systems. All of the winners demonstrated extraordinary performance and capabilities. Winning luminaires overcame historical tradeoffs between efficacy and quality of light to achieve 160+ lumens per watt with exceptional quality of light performance. All winning luminaires and connected systems are digitally interoperable with other luminaires and connected systems using the D4i™ protocol, moving beyond shortcomings of analog 0-10V and proprietary interfaces. Finally, all of the winning connected systems demonstrated resilience and grid interactive features. Winning systems showed resilience to power, internet, and network disruptions, and the capability to dynamically respond to peak demand and price signals from the electric grid.
Congratulations to the following Luminaire Track winning teams:
Signify Innovation – Bridgewater, New Jersey
Generation Flex: Light Without Compromise is a modular luminaire with groundbreaking efficacy balanced with excellent color quality and novel optics that offer good light distribution with reduced high angle glare. The highly modular design and lightweight form factor provide flexibility and potential sustainability benefits. The team proposed a DEI pilot supply chain program that favors suppliers with DEI programs.
Lightly – Boothwyn, Pennsylvania
Low-Carbon Biodegradable Luminaire is an architectural-grade linear luminaire, utilizing locally sourced materials grown in the United States. The high-efficacy luminaire is made of novel, biodegradable materials, including wood, hemp, and wool as alternatives to plastic and metal. The localized production/supply chain uses poplar harvested in the area, and a declare label provides material transparency.
Grid Interactive Efficient Building Alliance (GiEBA) – San Diego, California
Helios HPR-LP160is a high-efficacy architectural-grade 2'x4' troffer with integral networked communications based on the open-source Google Thread wireless protocol. The troffer collects and stores luminaire data beyond the L-Prize requirements, and the built-in wireless capability allows for a basic sensor to be installed without wireless capabilities. The luminaire is designed for disassembly with modular components and easy-to-follow end-of-life diagrams for disassembly and recycling.
Congratulations to the following Connected Systems Track winning teams:
Signify Innovation – Bridgewater, New Jersey
Interact Next Gen: Light the Way to Building Goals is a simple, scalable wireless solution that interfaces with other building systems. A map-based user interface provides intuitive configuration and control, and role-based apps right-size the capabilities and data to user needs. An all-in-one sensor offers capabilities beyond lighting (e.g., temperature and humidity control, beacon for positioning) and energy harvesting switches provide installation and sustainability benefits with no battery or wiring.
Autani – Columbia, Maryland
Autani Insights 4REAL, with sensing by Leviton, is a highly interoperable system, with a rich feature set of options and capabilities, that uses open standard protocols. Tiered offerings allow the system to be packaged and right-sized for customer needs and level of sophistication. The comprehensive, well-documented OpenAPI-compliant interface allows access to all available datapoints, enhancing value and energy-savings opportunities through integration with other systems.
McWong International – Sacramento, California
Bluetooth® Mesh Wireless Lighting Control System is a wireless lighting control system with an easy-to-use, intuitive interface. Non-proprietary Bluetooth Mesh communication protocols enable off-the-shelf components to be used and allow more user choice, futureproofing, and cost reduction benefits. The ability to produce a configuration commissioning report offers a quick, unique, and actionable feature for determining compliance with control narratives or developing designer punch lists.
Learn more about each submission at the HeroX Teams tab.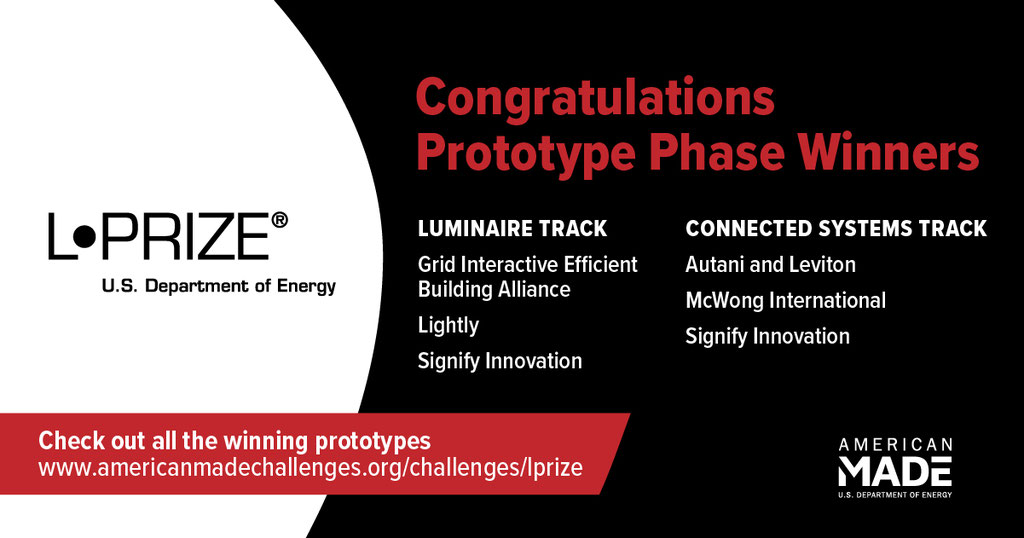 If you submitted an idea and were not chosen as a Prototype Phase winner, we encourage you to keep innovating and submit an entry to the upcoming Manufacturing and Installation Phase. In the coming weeks, you will receive an e-mail from the prize administrator with comments and feedback on your submission from the judges who reviewed it.
Thank You for Your Participation
We want to thank all teams for competing in the L-Prize Prototype Phase and we hope you continue to be an active member of the L-Prize community.
If you have questions, please contact .
---