RE+, the nation's largest conference for renewable energy professionals, will play host to the Solar Prize Round 6 Go! Demo Day, where finalists will present pitches and winners will be announced.
The conference, which is taking place Sept. 11–14 in Las Vegas, offers attendees the opportunity to make valuable connections with industry peers, and the American-Made team will be on hand throughout the conference to talk about opportunities to get involved in prizes and beyond. Learn more about ways to connect with the American-Made program, including Solar Prize alumni and Round 6 finalists, at RE+.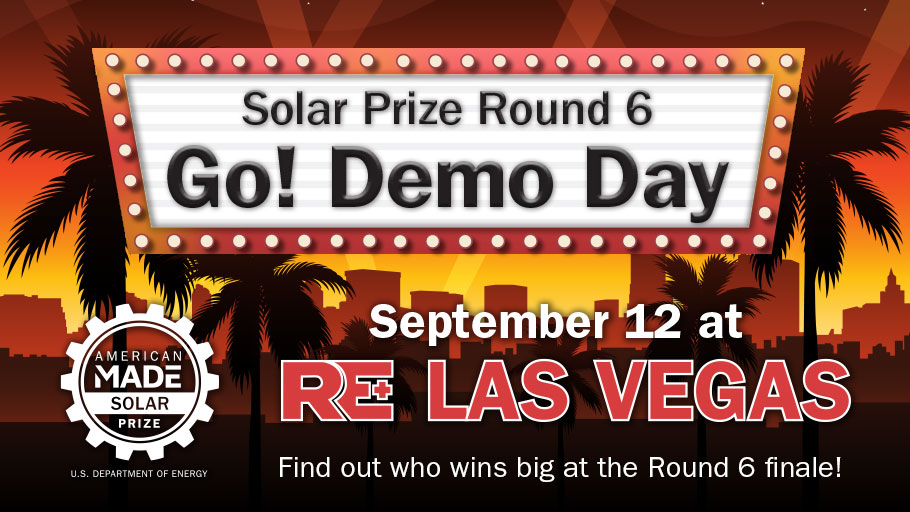 Conference attendees are also invited to take a front row seat at the Solar Prize Go! Demo Day, taking place Sept. 12 at 4 p.m. PT. The prize's 10 finalists will present their game-changing solar innovations to a panel of industry judges, after which two teams will be named winners and awarded $500,000, and additional prizes in the Justice, Equity, Diversity, and Inclusion (JEDI) Contest! It's a great opportunity to hear about competitors' innovative technologies first hand.
Register for RE+ now to network with energy industry professionals and see the live Solar Prize Round 6 finale. We hope to see you there!