Dear Solar Prize community,
Thank you for your submission to the American-Made Solar Prize Round 3 Ready! Contest and for your patience during the selection process. We're excited that 20 teams have been selected as semifinalists and were announced today by the U.S. Department of Energy. These teams are being contacted by the Solar Prize Team and are eligible to advance to the Set! Contest.
Here's a brief description of the 20 semifinalists:
Photovoltaics:
Durable Antireflective and Self-Cleaning Glass (Pittsburgh, PA)
Pursuit Solar - More Power, Less Hassle (Denver, NC)
PV WaRD (San Diego, CA)
Remotely Deployed Solar Arrays (Charlottesville, VA)
Robotics Changing the Landscape for Solar Farms (San Antonio, TX)
TrackerSled (Chicago, IL)
Transparent Polymer Barrier Films for PV (Bristol, PA)
Solar for Snow (Duluth, MN)
SolarWall Power Tower (Buffalo, NY)
Systems Integration:
Affordable Local Solar Storage via Utility Virtual Power Plants (Parker, TX)
Allbrand Solar Monitor (Detroit, MI)
Beyond Monitoring – Next Gen Software and Hardware (Atlanta, GA)
Democratizing Solar with Artificial Intelligence Energy Management (Houston, TX)
Embedded, Multi-Function Maximum Power Point Tracker for Smart Modules (Las Vegas, NV)
Evergrid: Keep Solar Flowing When the Grid Is Down (Livermore, CA)
Inverter Health Scan (San Jose, CA)
JuiceBox: Integrated Solar Electricity for Americans Transitioning out of Homelessness and Recovering from Natural Disasters (Claremont, CA)
Low-Cost Parallel-Connected DC Power Optimizer (Blacksburg, VA)
Powerfly: A Plug-and-Play Solar Monitoring Device (Berkeley, CA)
Simple-Assembly Storage Kit (San Antonio, TX)
Read the descriptions of the projects that won the Round 3 Ready! Contest.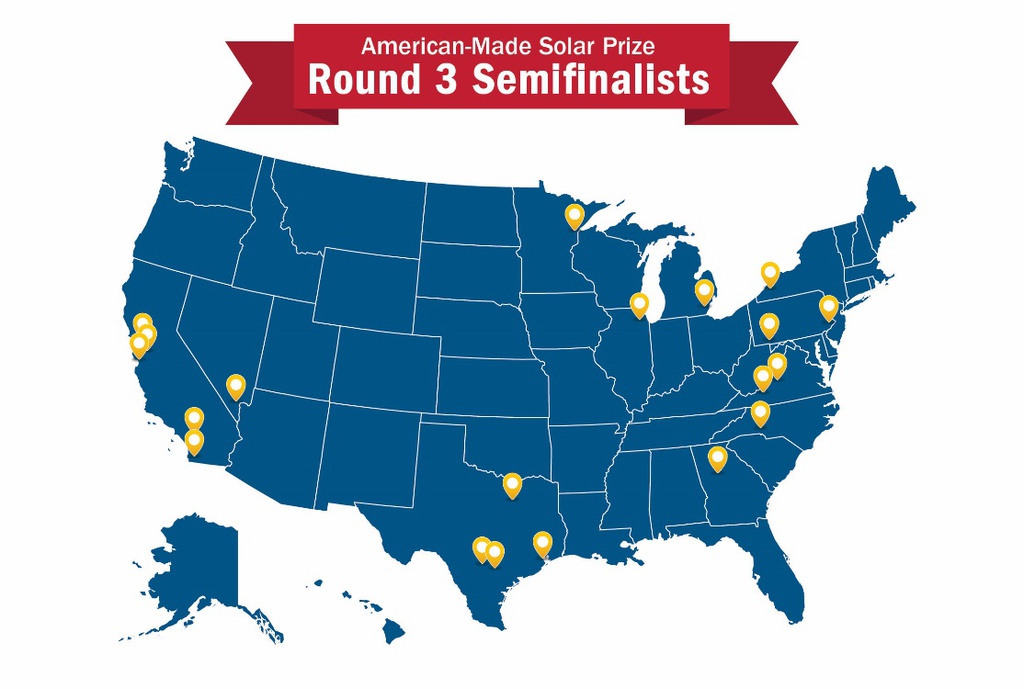 If you are not one of the semifinalists, we encourage you to keep innovating and looking for opportunities to improve your idea. There were numerous, impressive submissions to the Ready! Contest. In fact, there were more than 120 submissions from across the country. Many of these were great ideas but needed additional development and refinement to advance to the next level. In the coming weeks, you will receive an e-mail from the Prize Administrator with comments and feedback on your submission from the judges that reviewed it.
We want to thank all teams for competing in the Ready! Contest and hope you continue to be an active member of the Solar Prize community. Please continue to utilize the American-Made Network to improve your ideas and watch for other opportunities to make them a reality.
Should you have questions, please feel free to reach out at .