Yesterday, the Solar Prize Round 5 launched the fifth round of competition, this time with two tracks that focus on hardware and software components separately. With this two-track structure, Round 5's Hardware and Software Tracks offer a combined $4.6 million in cash prizes, double the winners, and a new challenge that addresses environmental justice.
Participants across both tracks will follow the same timeline but compete for separate prize pools.
Hardware Track: The Hardware Track offers $3 million in cash prizes to competitors over three progressive contests. This track places an emphasis on developing physical solar innovations that energize U.S. manufacturing.
Software Track: The Software Track offers $1.6 million in cash prizes over three contests, plus an additional challenge that awards competitors who meet justice, equity, diversity, and inclusion (JEDI) requirements. This track accelerates the development, validation, and commercialization of innovative solar software solutions that increase the competitiveness of the U.S. solar industry.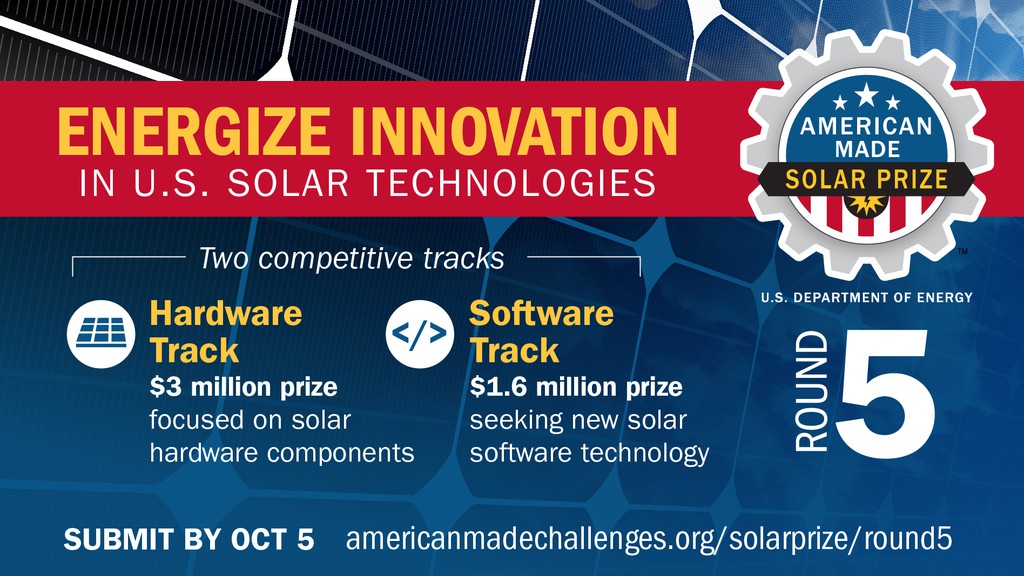 The goal for developing two tracks in the Solar Prize Round 5 is to allow more entrepreneurs to compete in the solar innovation space. The U.S. Department of Energy recognizes the need for both hardware and software technologies in the industry.
The prize administrators invite all Solar Prize alumni and new competitors to submit an idea to Round 5!
Have questions about competing? Learn more about the two-track structure, milestones, and more at the Solar Prize Round 5 Informational Webinar on Tuesday, July 13, at 3 p.m. ET. Register here for the webinar.
Follow the Hardware Track and Software Track on HeroX for updates.