The conclusion of Round 5 of the Solar Prize will take place Sept. 20 at RE+, the nation's largest conference for renewable energy professionals. Conference attendees are invited to watch team pitches during the day, visit their booths in the conference Expo Hall, and hear the Solar Prize winner announcements that evening.
Learn more about ways to connect with the Solar Prize at RE+.
During the competition's final event, Go! Demo Day, Software Track finalist teams will present a short pitch on their technology to industry peers at 2-3:30 p.m. in the Grid Edge Theater. If you're attending the conference, we invite you to come hear about all the innovative concepts these finalist teams have developed over the last year! Attendees can also learn more about each Software Track team's concept at team booths located around the Expo Hall.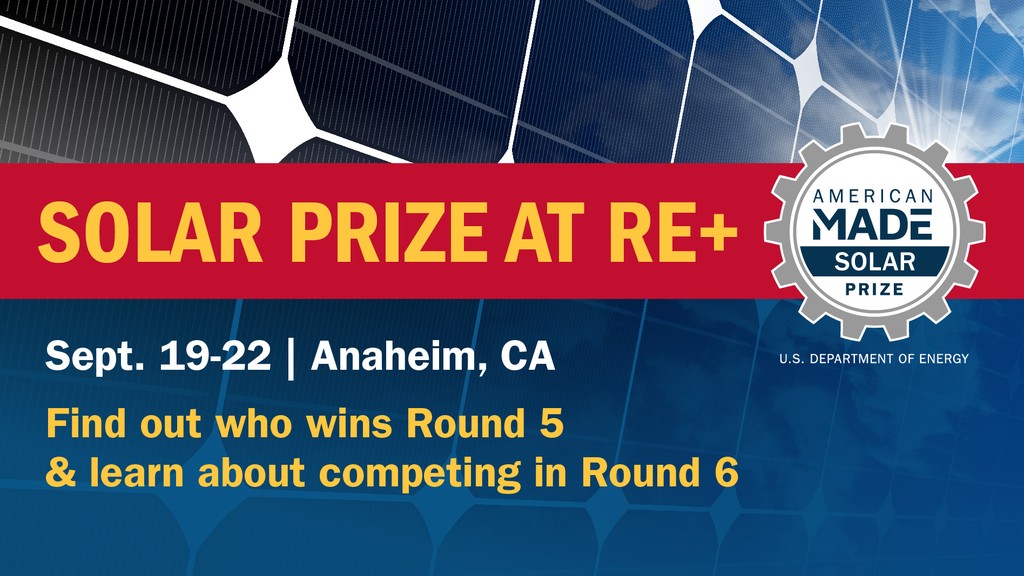 The American-Made program will also host a booth on the show floor, and attendees are invited to learn more about the Solar Prize Round 6 and other American-Made Challenges from prize administrators from the U.S. Department of Energy and the National Renewable Energy Laboratory. Select Solar Prize alumni from Rounds 2-4 will have booth spaces as well and will showcase the progress they've made since completing the competition.
On the evening of Sept. 20, the final winner of the Solar Prize Round 5 Software Track will be announced and awarded $200,000, plus $50,000 in vouchers to help the team bring their concept to fruition. In addition, one winner of the Justice, Equity, Diversity, and Inclusion (JEDI) Contest will be announced and awarded $100,000 (Note: Teams need not win the Go! Contest in order to be eligible to win the JEDI contest.) The winner announcement will take place at the RE+ conference at 5 p.m. PT/8 p.m. ET. You can also watch the livestream of the winner announcement on the American-Made Challenges Twitter feed.
Stay tuned to find out who wins!