Congratulations to the finalists moving on to the Go! Contest of the Solar Prize Round 5, announced today at the American-Made Earth Day Celebration. Ten Software Track teams were each awarded $60,000 in cash prizes, and three of those teams received an additional $33,333 for their submissions to the optional Justice, Equity, Diversity, and Inclusion (JEDI) Contest, which focuses on advancing solar adoption in underserved communities.
Semifinalist teams showcased their concepts during the virtual Round 5 Set! Demo Day events, after demonstrating their software's minimum viable products. A panel of industry experts reviewed the teams' pitch videos and conducted a 10-minute question-and-answer session with each team to discuss their innovations in more detail before selecting the finalists.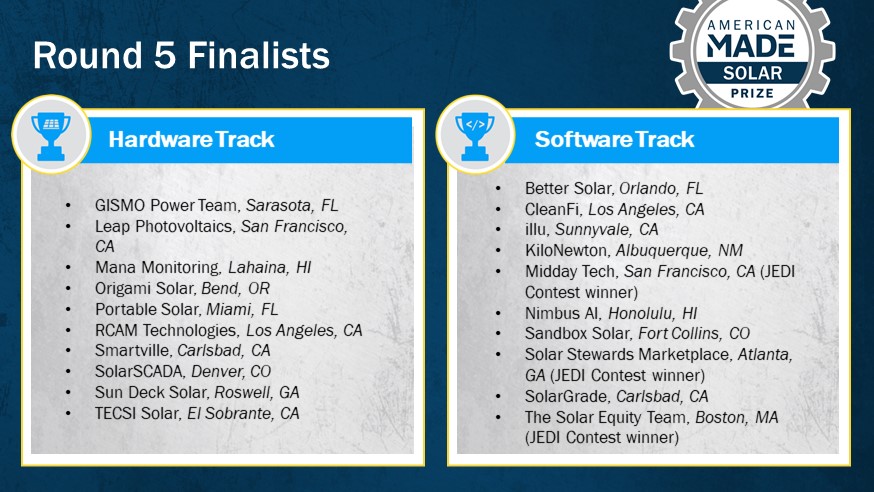 Now, after months of diligent work from the teams and careful deliberation by the judges, the finalist teams have been announced:
Better Solar (Orlando, FL): This team is building machine vision software to process electroluminescence (EL) imagery and automatically identify PV defects with application to both PV module manufacturing and PV plant maintenance.
CleanFi (Los Angeles, CA): This team is developing a platform that seeks to automate solar project financing for the small-and-midscale commercial sector, including facilitating the use of commercial property assessed clean energy (C-PACE).
illu (Sunnyvale, CA): This team is building a mobile and desktop tool for operations and maintenance workflow management that will assist field technicians and simplify distributed solar maintenance.
KiloNewton (Albuquerque, NM): This team is developing geospatial software to optimally site utility-scale solar and avoid challenging terrain, helping to avoid costly discoveries that can come in later stages of project development.
Midday Tech (San Francisco, CA): This team is building a platform to connect consumers who purchase voluntary carbon offsets with high-impact rooftop solar projects in underserved communities. (JEDI Contest winner)
Nimbus AI (Honolulu, HI): This team is creating day-ahead probabilistic solar irradiance forecasts leveraging recent advances in satellite imagery and advanced machine learning algorithms.
Sandbox Solar (Fort Collins, CO): This team is building software to help design agrivoltaic projects, with a focus on simulating the microclimates under solar modules and predicting crop growth yields.
SolarGrade (Carlsbad, CA): This team is building a workflow management platform to facilitate inspection, operations, and maintenance of PV systems leveraging field technician inputs and data analytics.
Solar Stewards Marketplace (Atlanta, GA): This team is creating a marketplace for a new type of renewable energy credit (REC), a social REC, that allows corporate purchasers to buy RECs produced in underserved communities, aligning better with their corporate missions. (JEDI Contest winner)
The Solar Equity Team (Boston, MA): This team is developing a platform that connects larger installations that have surplus solar generation with nonprofits and underserved consumers to enable an easy peer-to-peer credit sharing transaction. (JEDI Contest winner)
The finalists will present their technologies one last time at Go! Demo Day in September 2022. Ultimately, only two teams will win the final prize, each receiving an additional $200,000 cash prize and $50,000 support voucher to help them bring their technology to market.
Congratulations to the finalist teams and all of the Solar Prize Round 5 competitors!