We're excited that 20 teams have been selected and announced as Solar Prize Round 5 Hardware Track Ready! Contest semifinalists by the U.S. Department of Energy. Each of these teams won a $50,000 cash prize and are now eligible to advance to the Set! Contest.
The Hardware Track semifinalist technologies includes innovations in three subject areas: photovoltaics, systems integration, and concentrating solar-thermal power. Here are the Round 5 Hardware Track semifinalists:
Photovoltaics
Arcadia SR, Simplifying Residential Solar to a Single Product (El Sobrante, CA)
Bio-Inspired 3D-Printed Concrete Anchors for Floating Photovoltaics (Los Angeles, CA)
Integrated Greenhouse for Food and Clean Water (East Lansing, MI)
Optimizing Landfill Solar Power Production and Return on Investment (Derry, NH)
Patina: Solar That Works in the Shade (San Mateo, CA)
Portable Solar Carport With Integrated Electric Vehicle Charger (Sarasota, FL)
Rapid Deployment Hybrid Microgrid (Nashville, TN)
Roll-Formed Steel Frames for Photovoltaic Modules (Bend, OR)
Saving Water With Combined Solar and Agriculture (Scotts Valley, CA)
Self-Assembled Solar for Half the Cost (Miami, FL)
Solar-Powered Cooling, Heating, and Electricity (San Diego, CA)
Spectrum Shifting Nanocoating (Hayward, CA)
Sun Deck Solar Electric Vehicle Charging Station (Roswell, GA)
Wafer-Free Crystalline Silicon Solar Cells (San Francisco, CA)
Systems Integration
Artificial Intelligence Solar Site Controller Synchronizing Electric Vehicle Charging (Lahaina, HI)
Power Electronics for the Next Generation of Photovoltaics (Albuquerque, NM)
Riding the Solar Curve (Carlsbad, CA)
Solactivator: Economical Backup Power for Blackouts (Fremont, CA)
SolarSCADA: Modular SCADA Specific to Solar (Denver, CO)
Concentrating Solar-Thermal Power
Ten Thousand Splendid Suns (Orinda, CA)
Learn more about each submission by checking out the HeroX Community tab and view the Software Track semifinalists, too.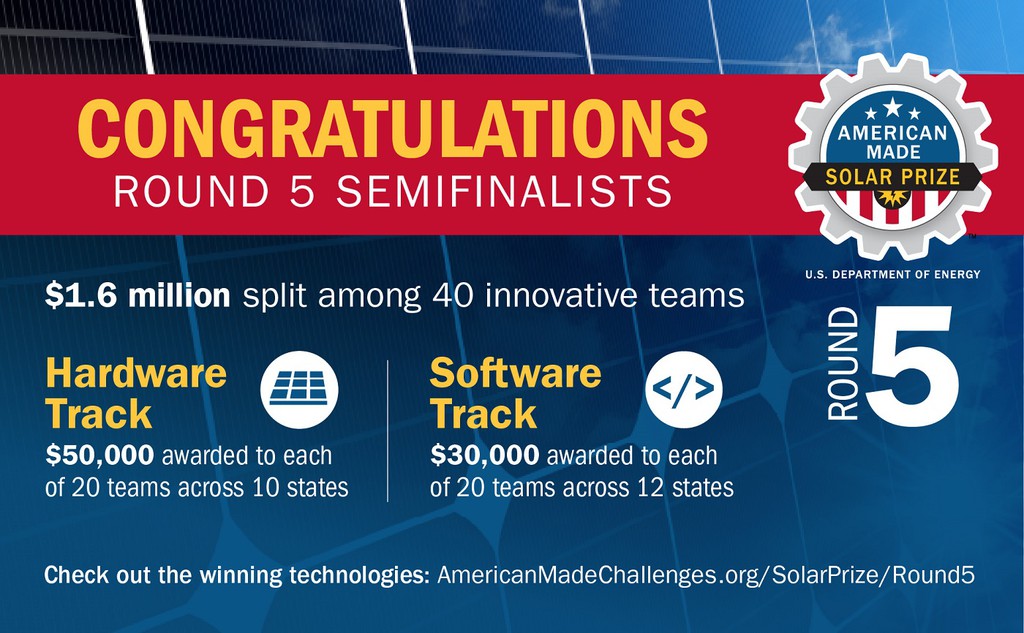 There were numerous, impressive submissions to the Ready! Contest. In fact, we received more than 175 submissions from across the country between both Round 5 tracks. Many of these were great ideas but needed additional development and refinement to advance to the next level.
If you submitted an idea and were not chosen as a semifinalist, we encourage you to keep innovating and looking for opportunities to improve your idea. In the coming weeks, you will receive an e-mail from the prize administrator with comments and feedback on your submission from the judges who reviewed it.
Additional Funding Opportunities
We also suggest applying to U.S. Department of Energy's Small Business Innovation Research and Small Business Technology Transfer (SBIR/STTR) funding program. Through SBIR/STTR, small businesses can receive up to $200,000 to engage in high-risk, innovative research and development with the potential for commercialization. Learn more about the current funding opportunities and how to submit a letter of intent by Jan. 3, 2022.
Several Power Connectors are providing resources and education to help you successfully apply for SBIR/STTR. Learn more and find support by attending one of these upcoming events or reaching out to one of the supporting Power Connectors.
Thank You for Your Participation
We want to thank all teams for competing in the Solar Prize Round 5 Ready! Contest and hope you continue to be an active member of the Solar Prize community. Please continue to utilize the American-Made Network to improve your ideas and watch for other opportunities to make them a reality by signing up for our American-Made Challenges Newsletter.
Should you have questions, please feel free to reach out at . Congratulations, again, to the Round 5 semifinalists!