Congratulations to the 25 local education agencies (LEAs) selected as Phase 1 Winners of the Energy Champions Leading the Advancement of Sustainable Schools Prize (Energy CLASS Prize)! Winning teams will each take home a $100,000 cash prize to help establish, train, and support energy managers – or Champions – in their districts. These Energy Champions will join the Energy CLASS Prize Training Network, a collaborative of Phase 1 Winners and experts in the field of energy management, to develop skills and build capacity for making critical energy upgrades in their LEAs. During Phase 2 of the competition, they will receive tailored training and coaching to pursue projects that will reduce utility costs, improve indoor air quality, and enhance learning environments in their districts' schools. At the end of Phase 2, based on progress and performance, Phase 1 Winners will have an opportunity to earn an additional $50,000.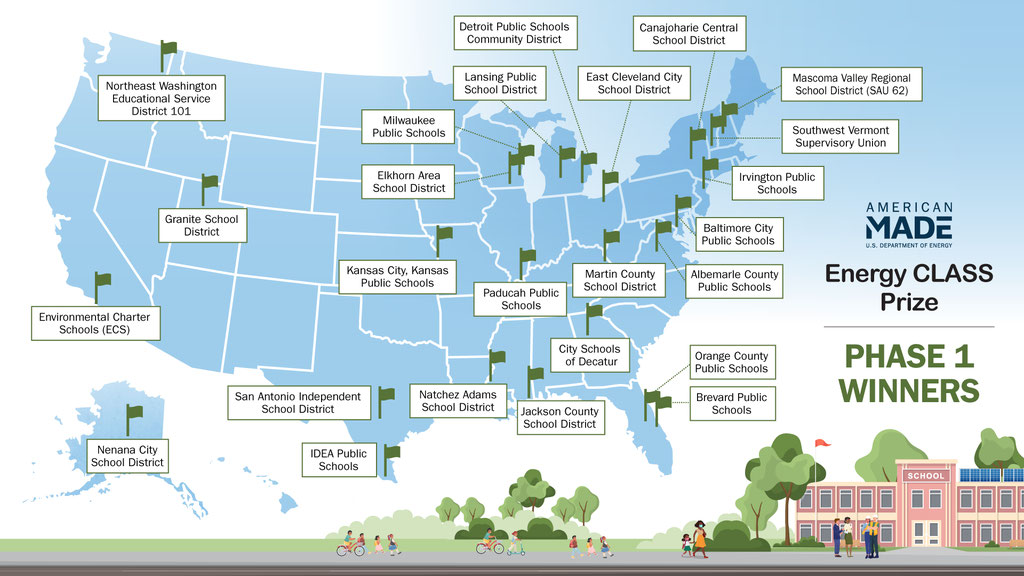 Join us in congratulating the Phase 1 Winners!
Albemarle County Public Schools, VA
Baltimore City Public Schools, MD
Brevard Public Schools, FL
Canajoharie Central School District, NY
City Schools of Decatur, GA
Detroit Public Schools Community District, MI
East Cleveland City School District, OH
Elkhorn Area School District, WI
Environmental Charter Schools, CA
Granite School District, UT
IDEA Public Schools, TX
Irvington Public Schools, NJ
Jackson County School District, MS
Lansing Public School District, MI
Martin County School District, KY
Mascoma Valley Regional School District – SAU 62, NH
Milwaukee Public Schools, WI
Natchez Adams School District, MS
Nenana City School District, AK
Northeast Washington Educational Service District 101, WA
Orange County Public Schools, FL
Paducah Public Schools, KY
San Antonio Independent School District, TX
Southwest Vermont Supervisory Union, VT
Unified School District No. 500, Kansas City, Kansas Public Schools, KS
All Phase 1 participants will receive reviewers' comments within the next few weeks. Phase 1 Winners will receive instructions via email for moving into Phase 2.
You can find more information about the Prize, the winning teams, and the Renew America's Schools Program on energy.gov.
Read the full press release on energy.gov.
Congratulations, again!